NCBI GenBank
Pateobatis fai
(JORDAN & SEALE, 1906)
Pink whipray
Classification:
Elasmobranchii Myliobatiformes Dasyatidae
Reference of the original description
The fishes of Samoa. Descriptions of the species found in the Archipelago, with a provisional check-list of the fishes of Oceania.
Bulletin of the Bureau of Fisheries, 25: 175–455, figs 1–111, pls 38–53
Image of the original description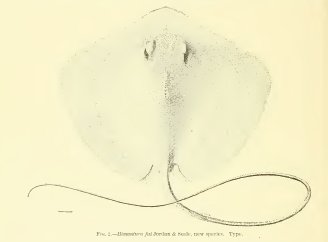 Pateobatis fai (JORDAN & SEALE, 1906)
Synonyms / new combinations and misspellings
Himantura fai
Types
Pateobatis fai
Himantura fai
Holotype:
USNM
: 51712
Description :



Citation:

Pateobatis fai

(JORDAN & SEALE, 1906): In: Database of modern sharks, rays and chimaeras, www.shark-references.com, World Wide Web electronic publication, Version 09/2019

Please send your images of
"Pateobatis fai"
to
info@shark-references.com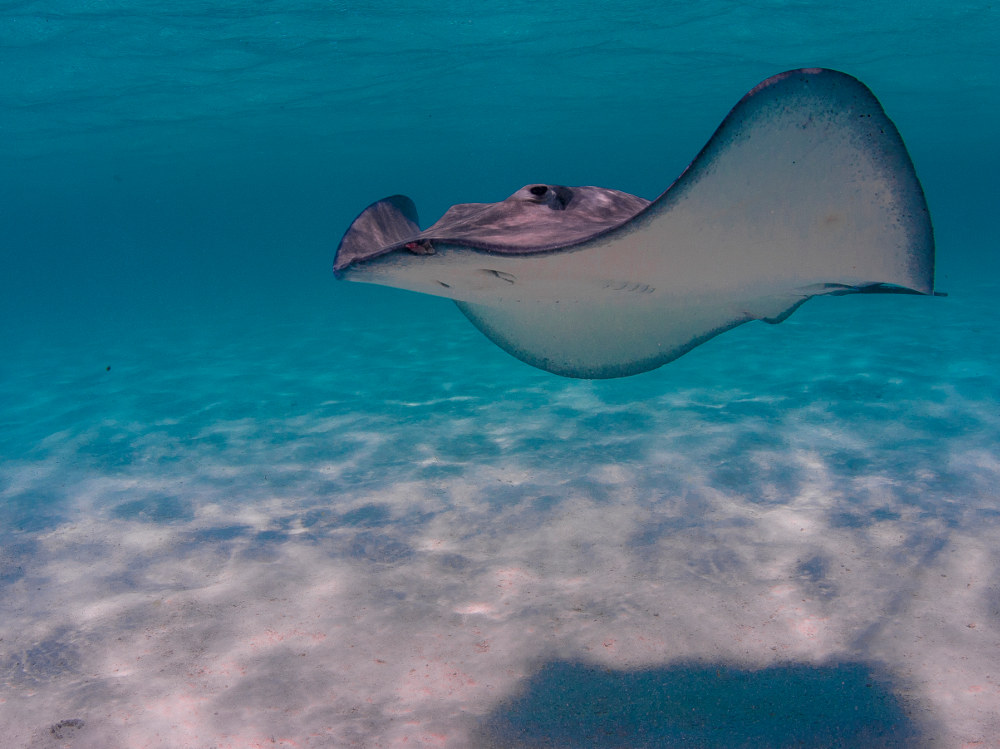 Pateobatis fai
(JORDAN & SEALE, 1906), Moorea © Julia Spaet
Common names

Pink whip ray,

Pink whipray
Short Description
Uniformly tan to brownish pink dorsally. Inhabits lagoon and seaward sand flats from the intertidal to at least 200 m. Occurs in large aggregations (Ref.
37816
).
Distribution
Indo-Pacific: possibly widespread from South Africa to Micronesia. Possible synonym of Himantura gerrardi. Frequently confused with Himantura jenkinsii (Ref.
9840
). First records: 2012: Persian Gulf, at Mina Zayed fish market quayside, Abu Dhabi
[16482]
; Source:
www.gbif.org
Human uses
fisheries: minor commercial; price category: low; price reliability: very questionable: based on ex-vessel price for species in this family
Biology
Exhibit ovoviparity (aplacental viviparity), with embryos feeding initially on yolk, then receiving additional nourishment from the mother by indirect absorption of uterine fluid enriched with mucus, fat or protein through specialised structures
[733]
. Distinct pairing with embrace
[17086]
. Size at birth ~ 55 cm WD
[2539]
. Found on the continental shelf (Ref.
75154
).
Size / Weight / Age
183 cm TL (male/unsexed; (Ref.
40637
)); max. published weight: 18.5 kg (Ref.
40637
)
Habitat
reef-associated; marine
Remarks
shark-references Species-ID=14656;
Parasites (arranged by Jürgen Pollerspöck)
Monogenea
Cestoda
Pterobothrium platycephalum (SHIPLEY & HORNELL, 1906) DOLLFUS, 1930 [15789]
Isopoda
Gnathia grandilaris COETZEE, SMIT, GRUTTER & DAVIES, 2008 [21221]