Physogaleus secundus
(Winkler, 1874)
Classification:
Elasmobranchii Carcharhiniformes Carcharhinidae
Reference of the original description
Deuxième mémoire sur des dents de poissons fossiles du terrain bruxellien.
Archives du Musée Teyler, 4(1): 16–48, fig. A–F, pl. 2.
Image of the original description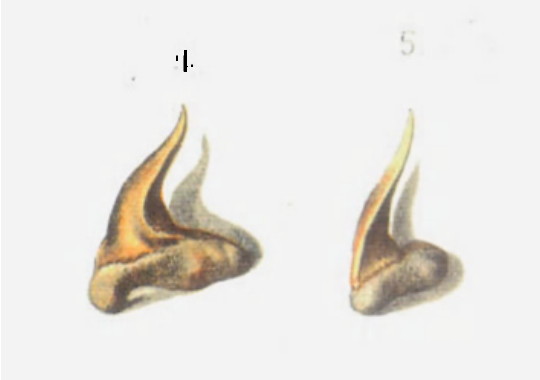 Physogaleus secundus (WINKLER, 1876), described as Trigonodus secundus Winkler Fig. 4 and 5, Middle Eocene, Lutetian; Neder-Ockerzeel, Belgium
Synonyms / new combinations and misspellings
Alopiopsis (Physodon) secundus, Carcharias (Physodon) secundus, Galeorhinus cf. falconeri, Physodon cf. secundus, Physodon secundus, Physogaleus aff. secundus, Physogaleus cf. rosehillensis, Physogaleus cf. secundus, Physogaleus rosehillensis, Rhizoprionodon secundus, Scoliodon secundus, Trigonodus secundus
Types
Physogaleus secundus
Description:



Citation:

Physogaleus secundus (Winkler, 1874): In: Database of fossil elasmobranch teeth www.shark-references.com, World Wide Web electronic publication, Version 10/2021

Please send your images of
"Physogaleus secundus"
to
info@shark-references.com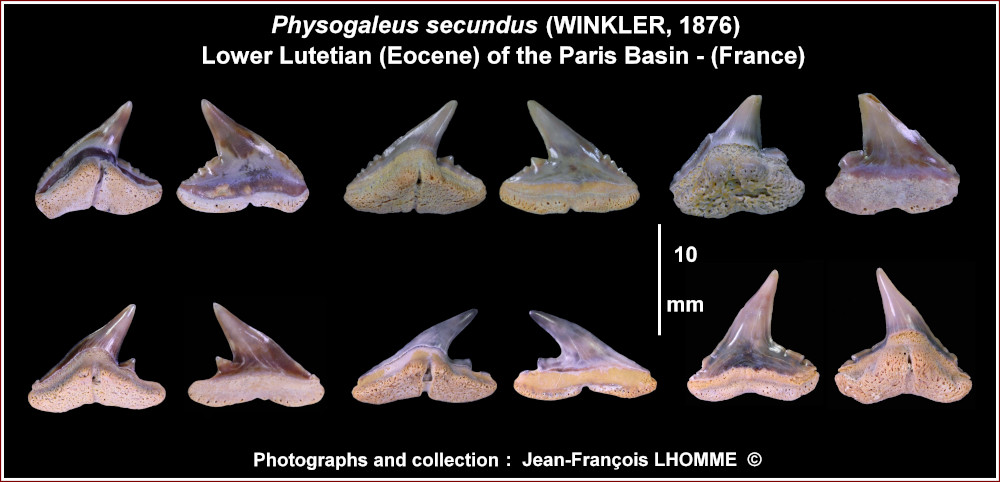 Physogaleus secundus
(WINKLER, 1876) Eocene, Lower Lutetian, Paris Basin, France © Jean-Francois LHOMME,
www.vertebres-fossiles.com
Distribution Geographic
widespread in most of Eocene deposits, mainly of Europe and North America (CAPPETTA & CASE 2016
[24889]
)
Distribution Strategraphy
types from Middle Eocene, Lutetian; Neder-Ockerzeel, Belgium
Description
Diagnose after Winkler, 1876
[2576]
: TRIGONODUS SECUNDUS Winkler. Depuis quelque temps j'ai publié clans les Archives du il fusée Teyler une description de quelques restes de poissons du terrain heersien du Brabant (L'ouvrage cité, T. IV, p. 1.).J'y ai parlé d'une espèce nouvelle de squalidien, à laquelle j'ai donné le nom de Trigonodus primus, parce que cette espèce est la première que l'on connaît dans le genre nouveau du nom de Trigonodus. Les dents de ce poisson se caractérisent par une couronne dentaire en forme de cône, très élancée, pointue, et un peu courbée ou plutôt ondulée. Cette couronne est située sur une racine large et robuste, d'une forme très remarquable: elle se présente comme un monticule ou une pyramide à trois faces, et à large base, qui forme en dessous un triangle à angles arrondis. Au milieu de cette face inférieure de la racine s'observe une dépression circulaire, tandis que l'émail de la couronne forme une espèce de lambeau, se terminant en un petit tubercule à la face interne de la racine. J'ai cru nécessaire de rappeler ici cette diagnose de ces dents, parce que j'ai trouvé parmi les dents du bruxellien de la collection Vincent quatre échantillons qui ont une ressemblance marquée avec les dents du heersien, que je viens de décrire furtivement. La ressemblance est tellement grande qu'il n'est nullement douteux que le poisson qui a possédé ces dents, doit être rangé dans le même genre avec le Trigonodus primes. Pourtant il y a quelque différence entre les deux espèces, et cela me porte à regarder ces dents du bruxellien comme devant appartenir à une espèce nouvelle du même genre. Leur couronne est plus élancée et plus courbée, la face inférieure de la racine est plus triangulaire. La dépression circulaire des dents du Trigonodus primas se présente ici comme un petit trou au milieu d'une rainure profonde, qui traverse perpendiculairement la face inférieure, et la divise en deux parties plus ou moins triangulaires à angles arrondis. Les fig. 4 et 5 de notre planche représentant deux de ces dents agrandies, trois fois, nous font connaître toutes ces particularités, mieux qu'une description pourrait le faire. Pour cette raison je crois donc avoir le droit de voir clans ces dents du bruxellien une nouvelle espèce du genre Trigonodus, qui s'est présentée pour la première fois clans le terrain heersien, et je propose de la nommer Trigonodus secundus Winkler parce qu'elle est la deuxième espèce de ce genre remarquable que j'ai le plaisir de porter à la connaissance du monde savant.
Remarks
valid after Cappetta (1980) p. 37
[328]
; Cappetta & Case (2016) p. 58
[24889]
; Ebersole et al. (2019) p.95
[27789]
;