NCBI GenBank
Platyrhina hyugaensis
IWATSUKI, MIYAMOTO & NAKAYA, 2011
Hyuga fanray
Classification:
Elasmobranchii Rhinopristiformes Platyrhinidae
Reference of the original description
A review of the genus Platyrhina (Chondrichthys: Platyrhinidae) from the northwestern Pacific, with descriptions of two new species.
Zootaxa, 2738: 26–40
Image of the original description
Image in copyright.
Description :



Citation:

Platyrhina hyugaensis

IWATSUKI, MIYAMOTO & NAKAYA, 2011: In: Database of modern sharks, rays and chimaeras, www.shark-references.com, World Wide Web electronic publication, Version 04/2019

Please send your images of
"Platyrhina hyugaensis"
to
info@shark-references.com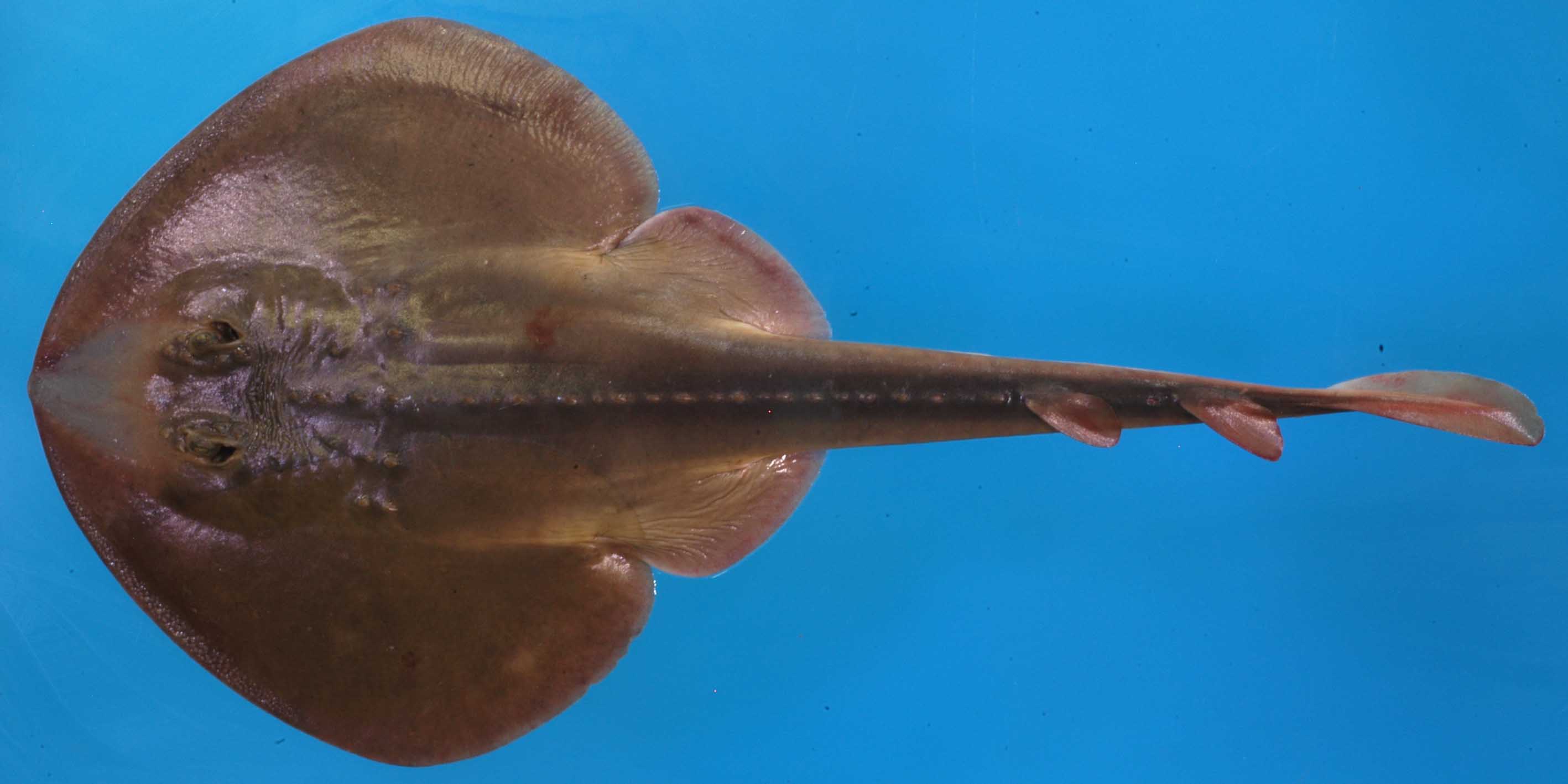 Platyrhina hyugaensis IWATSUKI, MIYAMOTO & NAKAYA, 2011: MUFS 23164; paratype, 43.1 TL, female , Japan, Meitsu, Miyazaki © Iwatsuki, Yukio, Department of Marine Biology & Environmental Sciences, Miyazaki, Japan
Common names
Hyuga fanray
Short Description
This species is distinguished from its congeners by the following set of characters: a row of thorns (strongly hooked) on mid-dorsum of tail; a pair of thorns on anterior part of scapular region (apparent to touch in smallest specimen; 161 mm TL); thorns on orbital, nape and scapular regions not encircled by light yellow or white pigment; dorsal surface covered with minute dermal denticles of uniform size and shape, no obvious larger dermal denticles (smooth to touch) (Ref.
86259
).
Distribution
North Pacific: southern Japan.
Biology
According to local divers in Miyazaki, this species often occurs on very shallow sandy bottoms, at depths as shallow as ca. 1 m, in the summer season off the Nichinan Coast, Miyazaki. It is frequently captured by set net within a depth of ca. 50 m from early spring (March) to autumn (November). It was observed by a local fisherman and a fish merchant (pers.comm.), that this species was not included in almost daily set net catches (depth ca. 8-50 m) from November to March in 2007-2008 in northern Miyazaki (Kadokawa Bay) and southern Miyazaki (Meitsu, Nichinan Coast) which indicate that the species avoids lower sea temperatures in the winter season (Ref.
86259
).
Size / Weight / Age
Max length : 43.1 cm TL (female)
Habitat
Marine; pelagic-neritic; depth range 1 - 50 m (Ref.
86259
)
Remarks
shark-references Species-ID=11162;