NCBI GenBank
Platyrhina psomadakisi
WHITE & LAST, 2016
Andaman Fanray
Classification:
Elasmobranchii Rhinopristiformes Platyrhinidae
Reference of the original description
Platyrhina psomadakisi sp. nov., a new species of fanray (Batoidea: Platyrhinidae) from the Andaman Sea, the first record of this family in the Indian Ocean.
Zootaxa, 4121 (5): 533–544
Description :



Citation:

Platyrhina psomadakisi

WHITE & LAST, 2016: In: Database of modern sharks, rays and chimaeras, www.shark-references.com, World Wide Web electronic publication, Version 07/2019

Please send your images of
"Platyrhina psomadakisi"
to
info@shark-references.com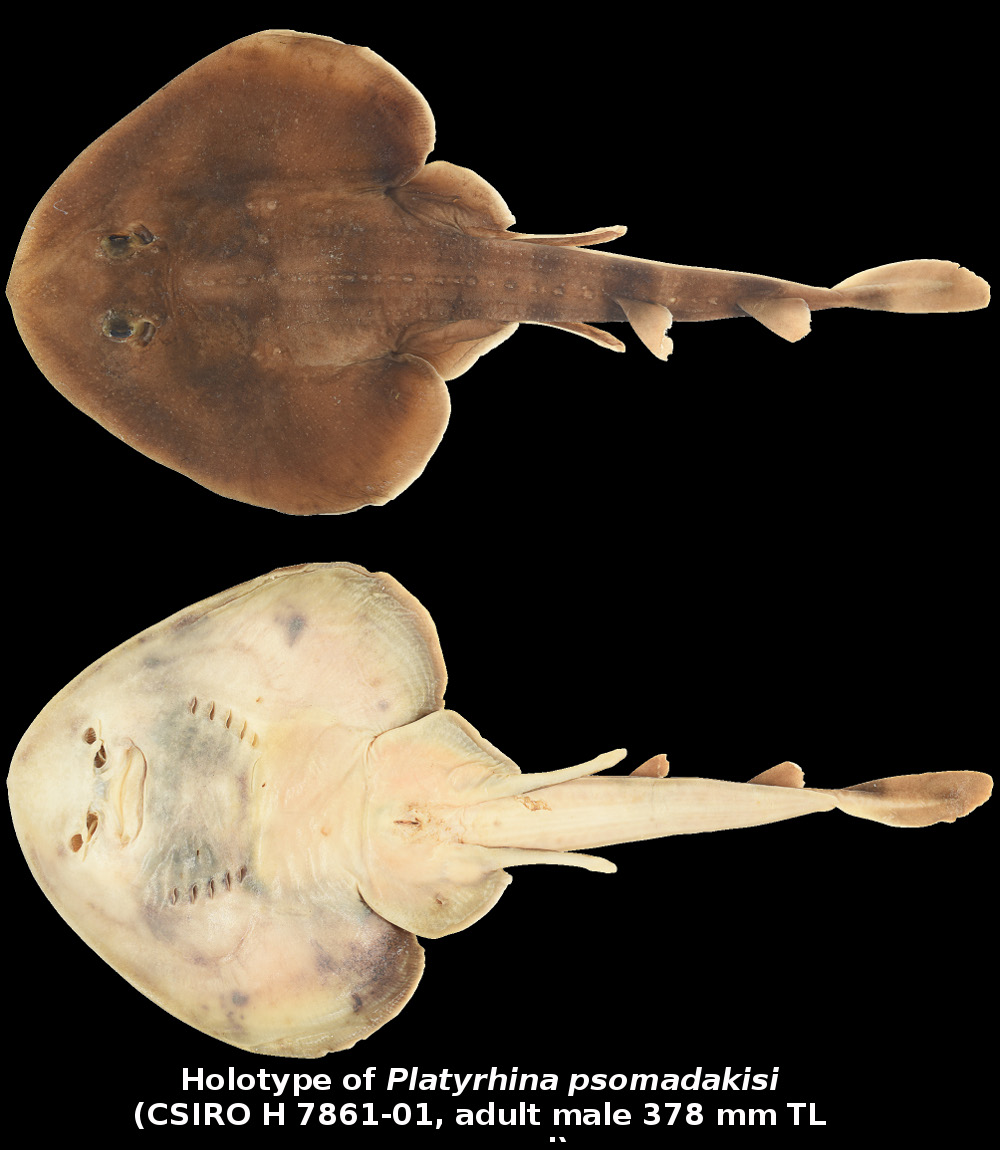 Holotype of Platyrhina psomadakisi sp. nov. (CSIRO H 7861-01, adult male 378 mm TL, preserved); © WHITE & LAST, 2016
Common names
Andaman Fanray
Short Description
Original diagnosis after WHITE & LAST, 2016
[24213]
: A medium-sized fanray with the following combination of characters: a single row of hooked thorns on dorsal midline body and tail (extending from nape to first dorsal fin); thorns on orbital, nape and scapular regions not encircled by pale pigment; dorsal surface of adults with patches of prickly denticles (rough to touch); dorsal fins well separated, interdorsal distance 8.5–9.1% TL; greyish brown dorsally with a series of darker brown saddles on tail.
Distribution
off Myanmar in the Andaman Sea at depths of 58–158 m (types)
[24213]
Size / Weight / Age
types: an adult male (378 mm TL), a juvenile male (197 mm TL) and two females (341 and 245 mm TL).
[24213]
Habitat
demersal; marine; depth range 58-158 (types)
[24213]
Dentition
Teeth very small, rhomboidal, quincuncial; crowns pointed in adult male holotype, blunt in female and juvenile paratypes; ca. 71 rows in upper jaw in holotype; upper and lower jaw teeth similar in shape and size.
[24213]
Remarks
shark-references Species-ID=14590;