NCBI GenBank
Psammobatis rutrum
JORDAN, 1891
Spade sand skate
Classification:
Elasmobranchii Rajiformes Arhynchobatidae
Reference of the original description
Scientific results of Explorations by U.S. Fishcomission Streamer Albatross. No. XVIII. List of fishes obtained in the Harbor of Bahia, Brazil, and in adjacent waters.
Proceedings of the United States National Museum, 13: 313–336
Image of the original description
No image in first description.
Synonyms / new combinations and misspellings
Malacorhina cirrifer, Psammobatis cirrifer
Description :



Citation:

Psammobatis rutrum

JORDAN, 1891: In: Database of modern sharks, rays and chimaeras, www.shark-references.com, World Wide Web electronic publication, Version 09/2020

Please send your images of
"Psammobatis rutrum"
to
info@shark-references.com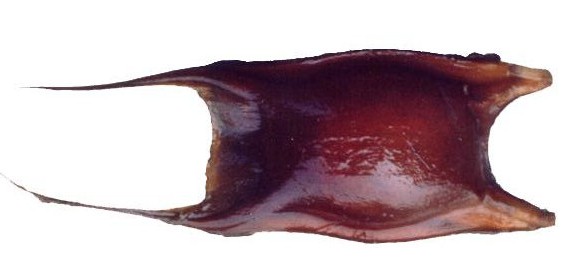 Egg capsule of Psammobatis rutrum ISH 81-171 (52.2 x 35.4 mm) © Hajime Ishihara, Japan
Common names

Rayita sin orlas,

Ray,

Spade sand skate
Short Description
Original description of JORDAN, 1891
[9947]
: 1. Psammobatis rutrum, sp. nov. Taken near Cape San Matios, 42° 24" S. lat., 01° 38' 30" W. long, at a depth of 43 fathoms. Station 2678. Dredged on January 14, 1888. Allied to Psammobatis rudis Günther. Snout short, very bluntly rounded, its tip ending in a short, sharp, abruptly mucronate, fleshy tip, this exserted tip not quite half length of eye. This tip is the exserted snout which separates from each other the ti])s of the pectorals. Length of snout from mouth to the base of tip of snout not quite twice width of clett of mouth. Length of snout from eye is 3J times interorbital space. Snout soft in substance, the rostral cartilages inconspicuous, the area between the pectorals translucent, broadly triangular. Disk just as broad as long and about one-fifth longer than tail, its outlines all rounded spiracle considerably shorter than eye. Eye rather large, its length greater than interorbital width. Nostrils each with a conspicuous infolded tube-like flap; ventrals deeply notched on the side; the first rays thickened and produced. Tail with a distinct lateral fold. Dorsals moderate, close to the end of the tail, which has a well developed caudal, separate from the dorsal. Back and tail with a median series of strung spines, the strongest being at the shoulder; two irregular series on each side of this, the spines smaller than those of the median row; some additional spines on shoulder; series of stout spines above each eye ; snout and anterior* part of pectorals with small spines in numerous series ; a patch of small spines on posterior i)art of pectoral ; a large patch of spines still smaller and more closely set on ventral. Snout smooth below. Color light brown, everywhere thickly speckled and freckled with blackish in fine pattern ; each pectoral with about a dozen small round spots of the ground color, smaller than the eye, and each surrounded by a dark ring. Some of these spots are obscure and fade into the general coloration of the body. Upper i)art of eye spotted ; middle part of snout with a large, triangular, translucent area. Some faint dusky spots on lower side of the outer margin of pectoral. This species is known from a single female specimen, llj inches long, the tail 5J, dredged by the Albatross off Cape San Matios, on the east coast of Patagonia. This species differs from Psammobatis rudis in having median row of spines instead of a median groove, in the different coloration, and the generally rougher disk.
Distribution
Southwest Atlantic: Rio de Janeiro, Brazil to Uruguay and northern Argentina. Source:
www.gbif.org
Biology
Oviparous, paired eggs are laid. Embryos feed solely on yolk
[733]
. Distinct pairing with embrace. Young may tend to follow large objects, such as their mother
[17086]
.
Size / Weight / Age
30.0 cm TL (male/unsexed;
[19579]
)
Habitat
bathydemersal; marine; depth range 73 - 150 m
[19579]
Remarks
shark-references Species-ID=5211;