NCBI GenBank
Pseudobatos glaucostigmus
(JORDAN & GILBERT, 1883)
Speckled guitarfish
Classification:
Elasmobranchii Rhinopristiformes Rhinobatidae
Reference of the original description
Descriptions of a New Species of Rhinobatus (Rhinobatus glaucostigma) from Mazatlan, Mexico.
Proceedings of the United States National Museum, 6: 210–211
Image of the original description
No image in first description.
Synonyms / new combinations and misspellings
Rhinobatos glaucostigma, Rhinobatos glaucostigmus, Rhinobatus glaucostigma
Types
Pseudobatos glaucostigmus
Rhinobatos glaucostigma
Syntype:
USNM
: 28205
USNM
: 28206
USNM
: 29547
USNM
: 29602
Description :



Citation:

Pseudobatos glaucostigmus

(JORDAN & GILBERT, 1883): In: Database of modern sharks, rays and chimaeras, www.shark-references.com, World Wide Web electronic publication, Version 09/2019

Please send your images of
"Pseudobatos glaucostigmus"
to
info@shark-references.com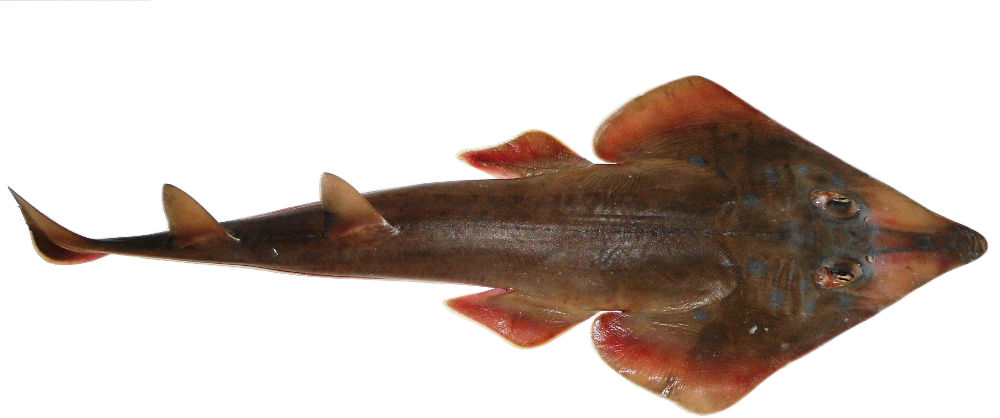 Pseudobatos glaucostigmus (JORDAN & GILBERT, 1883), © Raúl E. Lara-Mendoza, Laboratorio de Investigación, Universidad Autónoma de Sinaloa
Common names

Guitarra,

Guitarra diablo,

Guitarra punteada,

Poisson-guitare marbré,

Speckled guitarfish,

Splaty-spotted guitarfish
Short Description
Diet: 2013: off Nayarit, Mexico (data from 176 individuals): diet was dominated by crustaceans, primarily decapods, brachyurans, and cumaceans. Diets were similar between sexes and maturity stages
[21301]
;
2015: south-eastern Gulf of California (data from 464 individuals): diet was dominated by shrimps (%IPSIR =43⋅47), amphipods (%IPSIR =18⋅89) and crabs (%IPSIR =18⋅07).
[22824]
;
Distribution
Eastern Central Pacific: Gulf of California to Ecuador. Source:
www.gbif.org
Biology
Exhibit ovoviparity (aplacental viviparity), with embryos feeding initially on yolk, then receiving additional nourishment from the mother by indirect absorption of uterine fluid enriched with mucus, fat or protein through specialised structures
[733]
.
Size / Weight / Age
TL min/max: 7,4/87 cm
[22085]
;
weight-length relationship: 2015: Sinaloa, Mexico (data of 1129 specimens, 491 female and 638 males): females: TL min/max: 7.4 to 87 cm (mean of 39.7 cm); males: TL min/max: 8.3 to 71.9 cm (mean of 40.3 cm); Total weight: females: WT: 6 to 2256 g (mean of 332.1 g); males: WT: 6 to 900 g (mean of 284.5 g)
[22085]
Remarks
shark-references Species-ID=14579;
Parasites (arranged by Jürgen Pollerspöck)
Monogenea