IUCN Red List

NCBI GenBank
Pseudobatos prahli
(ACERO & FRANKE, 1995)
Gorgona guitarfish
Classification:
Elasmobranchii Rhinopristiformes Rhinobatidae
Reference of the original description
Nuevos registros de peces cartilaginosos del Parque Nacional Natural Gorgona (Pacífico Colombiano), II. Rayas y descripción de una nueva especie.
In: La Isla de Gorgona, Nuevos estudios Biologicos. Biblioteca José Jeronimo Triana / Instituto de Ciencias Naturales, Museo de Historia Natural, Universidad Nacional de Bogota, 11: 9–21
Image of the original description
Image in copyright.
Synonyms / new combinations and misspellings
Rhinobatos prahli, Rhinobatus prahli
Description :



Citation:

Pseudobatos prahli

(ACERO & FRANKE, 1995): In: Database of modern sharks, rays and chimaeras, www.shark-references.com, World Wide Web electronic publication, Version 09/2019

Please send your images of
"Pseudobatos prahli"
to
info@shark-references.com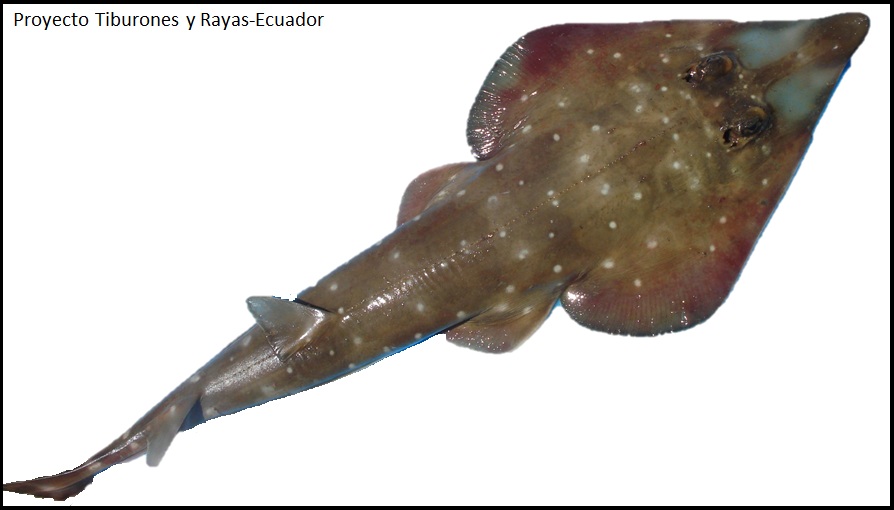 Pseudobatos prahli (ACERO & FRANKE, 1995) © Dra. Maribel Carrera Fernández, Universidad Laica Eloy Alfaro de Manabí, Manta, Ecuador
Common names

Gorgona guitarfish
Short Description
Rostral cartilage distally enlarged; anterior nasal prolongations reaching medial margin of nostrils; posterior margin of spiracle with 2 folds, the medial one rudimentary; a line of about 77 prickles between nuchal region and first dorsal fin; 3 or 4 prickles on shoulders, few tubercles on snout and small prickles on anterior margin of orbits; body covered dorsally with about 80 white dots (3 to 5 mm in diameter) over a brown body; underbody white except snout with a black diamond shape blotch, extending backward laterally
[11898]
.
Distribution
Eastern Pacific: known from the type locality, Isla de Gorgona, Colombia, and from northern Peru.
new records: 2010: Amargal (05°34′47.7′′N, 77°30′50.4′′W) near to Cabo Corrientes and Parguera (03°14′39′′N 78°09′58′′W) diving zone of Gorgona Island, both Colombian Pacific coast
[9838]
;
Human uses
fisheries: of no interest
Biology
Exhibit ovoviparity (aplacental viviparity), with embryos feeding initially on yolk, then receiving additional nourishment from the mother by indirect absorption of uterine fluid enriched with mucus, fat or protein through specialised structures
[733]
.
Size / Weight / Age
TL min/max: 52,0 cm/81,0 cm, Weight (g) min/max: 540 g/2200 g (Database: 30 specimens, collected between October 2013 and August 2014 from the artisanal fisheries in 'Los Esteros' located in Manta City, Ecuadorian Pacific (0° 56' 59'' S; 80° 42' 34'' W) and from 'La Poza' located in Santa Rosa City (02° 13'0'' S; 80° 58' 0'' W))
[22773]
Habitat
demersal; marine; depth range 70 - 70 m
[785]
Remarks
shark-references Species-ID=14585;