Ptyktoptychion eyrensis
(Long, 1985)
Classification:
Holocephali Chimaeriformes Callorhinchidae
Reference of the original description
A new Cretaceous chimaerid (Pisces, Holocephali) from South Australia.
Transactions of the Royal Society of South Australia, 109(2), 49–53
Synonyms / new combinations and misspellings
Edaphodon eyrensis
Description:



Citation:

Ptyktoptychion eyrensis (Long, 1985): In: Database of fossil elasmobranch teeth www.shark-references.com, World Wide Web electronic publication, Version 01/2023

Please send your images of
"Ptyktoptychion eyrensis"
to
info@shark-references.com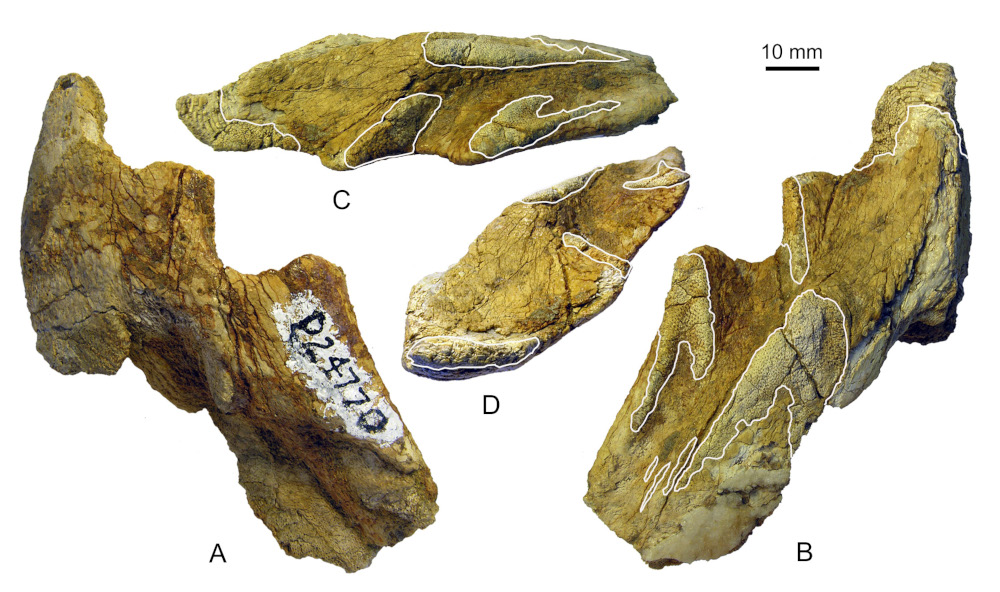 Ptyktoptychion eyrensis
(LONG, 1985), holotype, left mandibular (L = 108.5 mm, Km= 29 mm) plate (SAM P24770) in labial (A), occlusal (B), lateral (C), and mesial (D) views. Оutlines of some tritoral structures (excepting the additional tritors in D) are highlighted by white lines © Evgeny V. Popov
Description
Original diagnose after Long (1985) p. 49
[29439]
: An Edaphodon having a mandibular toothplate twice as long as broad with four tutors: of which the two posterior and the single symphysial ones are large, and the lateral median one is small. Oral margin angular with anterior ends of outer and lateral median trtiors forming right angles.
Remarks
valid after Popov (2021)
[29413]
;
References

Systematic Reassessment of Edaphodon eyrensis Long, 1985 (Holocephali, Chimaeroidei) from the Early Cretaceous of South Australia.
Journal of Vertebrate Paleontology, 40(6), Article e1884564
DOI:
10.1080/02724634.2020.1884564


Jurassic fishes of Gondwana.
Revista de la Asociación Geológica Argentina, 63(4): 586–612