NCBI GenBank
Raja asterias
Delaroche, 1809
Starry ray
Classification:
Elasmobranchii Rajiformes Rajidae
Reference of the original description
Suite du mémoire sur les espèces de poissons observées à Iviça. Observations sur quelques-uns des poissons indiqués dans le précédent tableau et descriptions des espèces nouvelles ou peu connues.
Annales du Muséum d'Histoire Naturelle, Paris, 13, 313–361
Synonyms / new combinations and misspellings
Dasybatis asterias, Raia asterias, Raia punctata, Raia stellata, Raja jojenia, Raja punctata, Raja punctatus, Raja schultzii, Raja stellata, Raja (Raja) asterias
Description :



Citation:

Raja asterias

Delaroche, 1809: In: Database of modern sharks, rays and chimaeras, www.shark-references.com, World Wide Web electronic publication, Version 07/2022

Please send your images of
"Raja asterias"
to
info@shark-references.com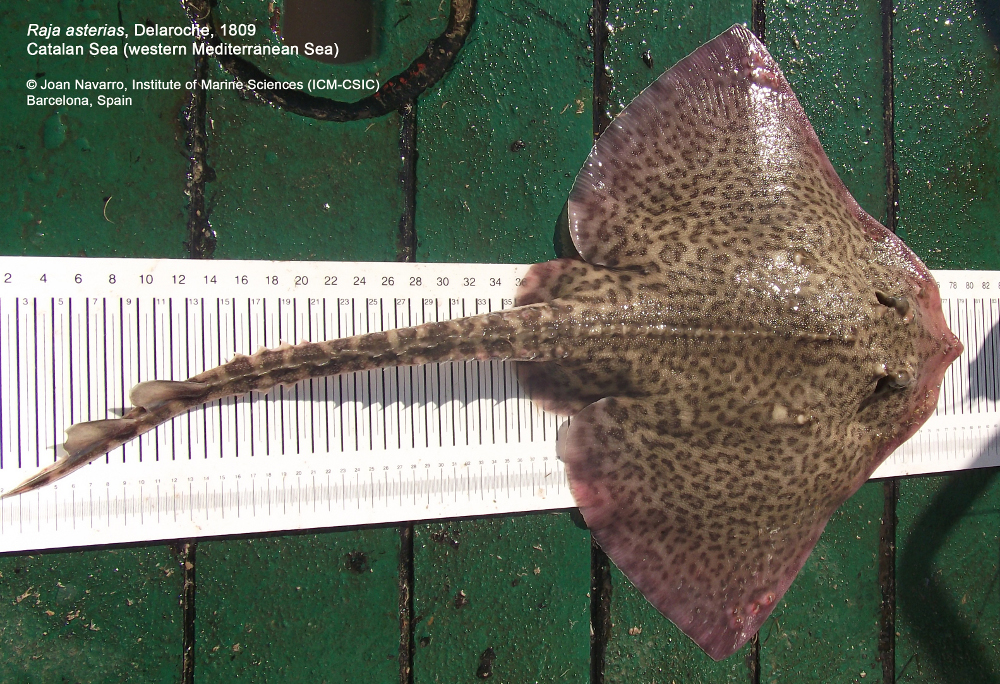 Raja asterias
DELAROCHE, 1809, female © Joan Navarro, Institute of Marine Sciences (ICM-SCIC), Barcelona, Spain
Common names

Mittelmeer-Sternrochen,

Rochen,

Sternrochen,

Raia estrellada,

Raya estrellada,

Raie étoilée,

Atlantic starry skate,

Mediterranean starry ray,

Starry ray,

Starry skate,

Arzilla,

Arzilla di rena,

Baracola bianca,

Picara stizziata,

Picara tunna,

Pichira fimminedda,

Pichira schizzata,

Raggia,

Ragia stiddata,

Raja d"arena,

Rascia,

Raseta,

Rassa,

Razza armata,

Razza stellata,

Scritta,

Raia-pintada
Distribution
Eastern Atlantic: endemic to the Mediterranean but may spread to the Strait of Gibraltar, northern Morocco and possibly south to Mauritania.
First record: 2017
[25180]
: in southern Portugal and northern Morocco Source:
www.gbif.org
Human uses
fisheries: minor commercial; price category: medium; price reliability: questionable: based on ex-vessel price for species in this genus
Biology
Oviparous, paired eggs are laid. Embryos feed solely on yolk
[733]
. Spawning peak in summer to early autumn with 30 to more than 100 egg-cases per year depending on the size of the female
[7182]
. Distinct pairing with embrace. Young may tend to follow large objects, such as their mother
[17086]
. Inhabits inshore waters. Feeds on all kinds of benthic animals.
Size / Weight / Age
70.0 cm TL (male/unsexed;
[7180]
)
Habitat
demersal; marine; depth range ? - 343 m
[17735]
Remarks
shark-references Species-ID=5522;
Parasites (arranged by Jürgen Pollerspöck)
Monogenea
Cestoda
Copepoda
Isopoda