NCBI GenBank
Raja montagui
FOWLER, 1910
Spotted ray
Classification:
Elasmobranchii Rajiformes Rajidae
Reference of the original description
Notes on batoid fishes.
Proceedings of the Academy of Natural Sciences of Philadelphia, 62: 468–475
Image of the original description
No image in first description.
Synonyms / new combinations and misspellings
Raia montagui, Raia oculata, Raja oculata, Raja (Raja) montagui
Description :



Citation:

Raja montagui

FOWLER, 1910: In: Database of modern sharks, rays and chimaeras, www.shark-references.com, World Wide Web electronic publication, Version 09/2020

Please send your images of
"Raja montagui"
to
info@shark-references.com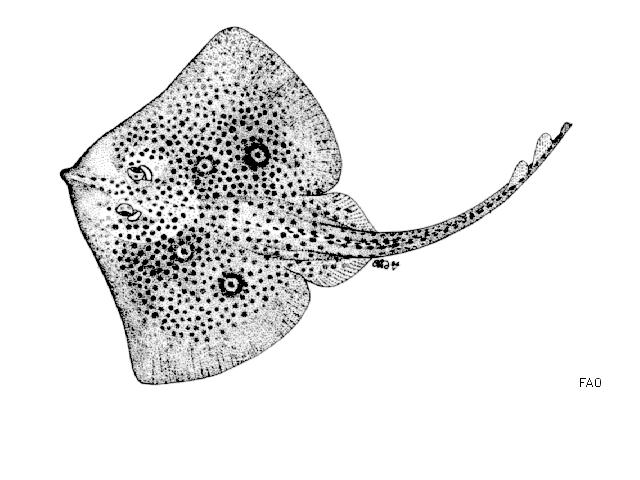 Raja montagui FOWLER, 1910, © FAO, www.fish-base.org
Common names

Fleckenrochen,

Fleckrochen,

Gefleckter Rochen,

Mittelmeer Sternrochen,

Rochen,

Raia pintada,

Raya estrellada,

Raya pintada,

Raya radiada,

Raie douce,

Raie étoilée,

Homelyn ray,

Spotted homelyn ray,

Spotted ray,

Spotted skate,

Starry ray,

Pichira schizzata,

Razza aculata,

Razza maculata,

Razza stellata,

Raia-manchada,

Raia-pintada
Short Description
Upper surface almost smooth in young, but prickly in large specimens, except for bare centers of pectoral fins and hind part of disc, underside nearly smooth; orbital thorns separate, a regular row of 20-50 usually persistent thorns from nape to first dorsal fin; upper surface brownish with numerous small dark spots which do not reach the margins of the disc, frequently a concentration of dark spots forming a ring around a pale centre on hind part of each pectoral fin, underside white
[7182]
.
Distribution
Eastern Atlantic: Shetlands, southern North Sea and the western Baltic to Mauritania, including the western part of the Mediterranean (to Tunisia and western Greece). Source:
www.gbif.org
Human uses
fisheries: minor commercial; aquarium: public aquariums; price category: medium; price reliability: reliable: based on ex-vessel price for this species
Biology
Oviparous, paired eggs are laid. Embryos feed solely on yolk
[733]
. Egg-cases laid during summer
[7182]
. Fecundity: 24-60 eggs per year. Distinct pairing with embrace. Young may tend to follow large objects, such as their mother
[17086]
.
Size / Weight / Age
80.0 cm TL (male/unsexed;
[20075]
)
Habitat
demersal; marine; depth range 20 - 345 m
[17735]
Remarks
shark-references Species-ID=5709;
Parasites (arranged by Jürgen Pollerspöck)
Monogenea
Cestoda
Nematoda
Copepoda
Brachiella inconcinna RICHIARDI, 1880 (nomen nudum) [16609]
Eudactylina similis SCOTT, 1902 [16598]
Lernaeopodina longimana (OLSSON, 1869) [16598]
Hirudinea
Pontobdella muricata (LINNAEUS, 1758) [26062]