NCBI GenBank
Raja radula
DELAROCHE, 1809
Rough ray
Classification:
Elasmobranchii Rajiformes Rajidae
Reference of the original description
Suite du mémoire sur les espèces de poissons observées à Iviça. Observations sur quelques-uns des poissons indiqués dans le précédent tableau et descriptions des espèces nouvelles ou peu connues.
Annales du Muséum d'Histoire Naturelle, Paris, 13: 313–361, Pls. 20–25.
Synonyms / new combinations and misspellings
Batis radula, Raia radula, Raja atra, Raja cf. radula, Raja (Raja) radula
Description :



Citation:

Raja radula

DELAROCHE, 1809: In: Database of modern sharks, rays and chimaeras, www.shark-references.com, World Wide Web electronic publication, Version 09/2020

Please send your images of
"Raja radula"
to
info@shark-references.com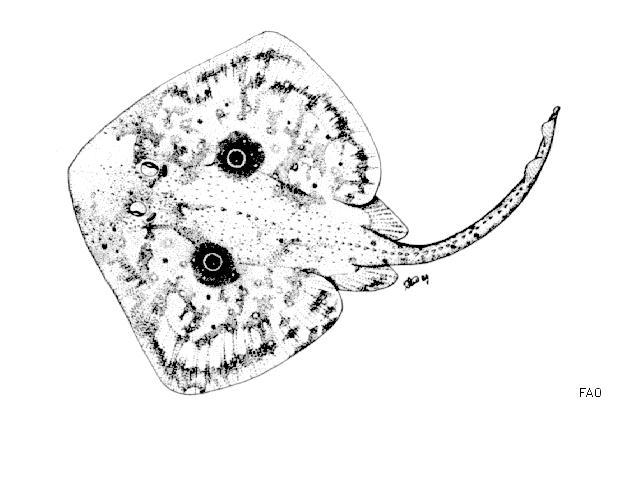 Raja radula
DELAROCHE, 1809, © FAO, www.fish-base.org
Common names

Rauer Rochen,

Raurochen,

Raya áspera,

Raie râpe,

Rough ray,

Rough skate,

Picara spinosa,

Picara tunna,

Pichira magnusa,

Pichira spinusa,

Rasa,

Rasa spinosa,

Raspo,

Razza scuffina,

Raia-áspersa
Short Description
Diet: Ionian Sea 2010 (data base: 43 specimens, between 13.4–65 cm for males and 18.5–80 for females, 1 empty): The diet of Raja radula was mainly based on crustaceans (88.48%IRI; Liocarcinus pusillus 45.25%IRI, Liocarcinus depurator 12.38% and Liocarcinus arquatus 5.82%), followed by algae 3.36%IRI, polychaetes (1.93%IRI) and molluscs (0.09 %IRI)
[17749]
; Gulf of Gabès (central Mediterranean Sea) 2013 (data base: 950 specimens, between 139 to 383 mm, 183 empty): Crustaceans 63.80%IRI, Teleosts 34.66%IRI, Molluscs 1.28%IRI, Polycheates 0.18%IRI, Sipunculids 0.01%IRI, Echinoderms 0.07%IRI
[17748]
;
Distribution
Eastern Atlantic: known only from the Mediterranean but may penetrate through the Strait of Gibraltar and possibly to northern Morocco. Some Atlantic records probably misidentifications of Raja naevus and/or Raja africana. Source:
www.gbif.org
Human uses
fisheries: commercial
Biology
Oviparous, paired eggs are laid. Embryos feed solely on yolk
[733]
. Spawns throughout the year with maximum number of egg-cases laid in late spring and summer, embryos developing in about 4 months
[7182]
. Distinct pairing with embrace. Young may tend to follow large objects, such as their mother
[17086]
. Ranges from coastal waters to about 300 m depth. Feeds on all kinds of bottom animals.
Size / Weight / Age
70.0 cm TL (male/unsexed;
[7180]
); males: 13.4–65 cm
[17748]
; females: 18.5–80
[17748]
Habitat
demersal; marine; depth range ? - 300 m
[7180]
Remarks
shark-references Species-ID=5756;
Parasites (arranged by Jürgen Pollerspöck)
Monogenea
Calicotyle kroyeri DIESING, 1850 [7377]
Cestoda