Raja thiedei
Reinecke, 2015
Classification:
Elasmobranchii Rajiformes Rajidae
Reference of the original description
Batoids (Rajiformes, Torpediniformes, Myliobatiformes) from the Sülstorf Beds (Chattian, Late Oligocene) of Mecklenburg, northeastern Germany: a revision and description of three new species.
Palaeovertebrata, 39, Article e2
Description:



Citation:

Raja thiedei Reinecke, 2015: In: Database of fossil elasmobranch teeth www.shark-references.com, World Wide Web electronic publication, Version 12/2021

Please send your images of
"Raja thiedei"
to
info@shark-references.com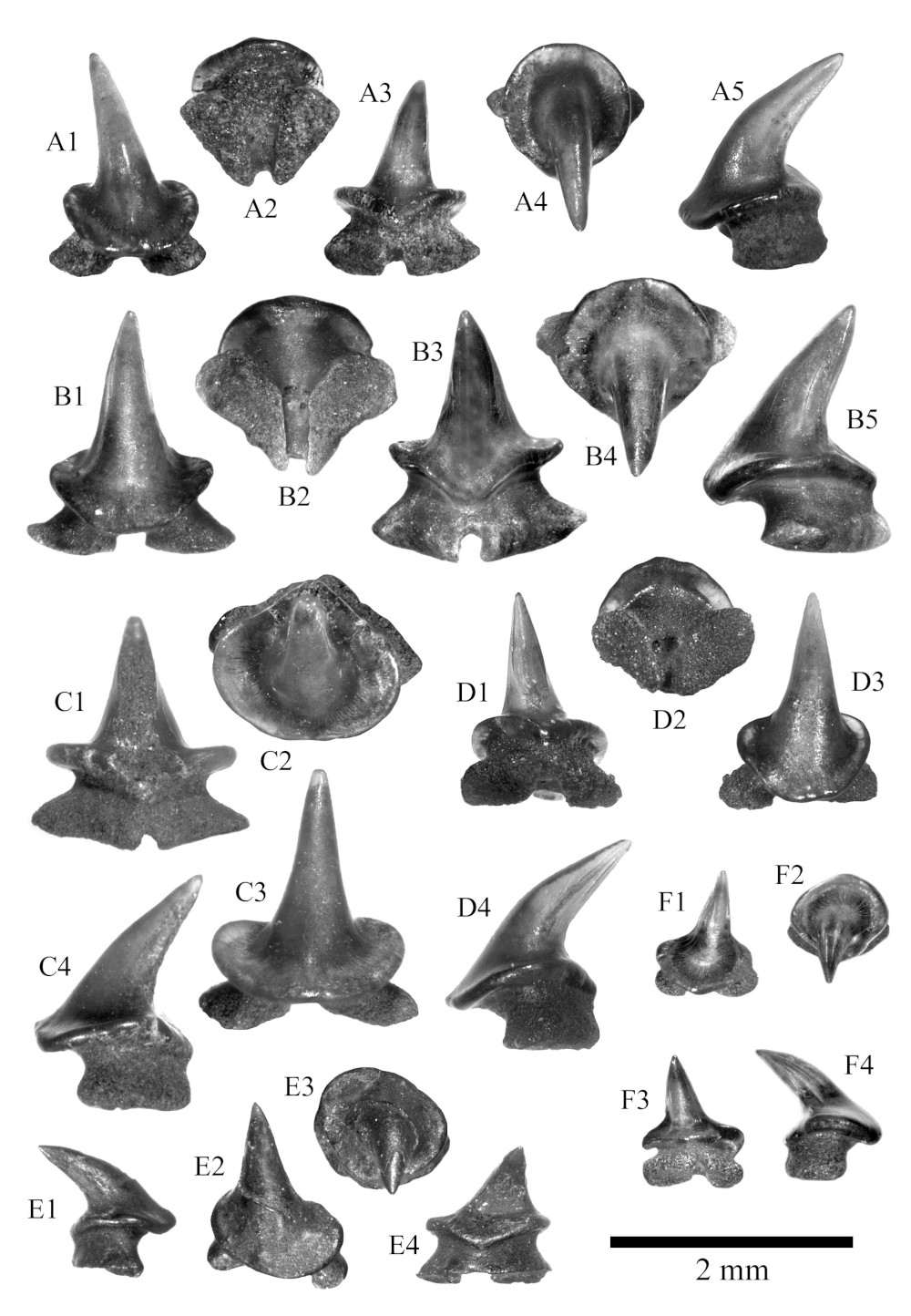 Raja thiedei
sp. nov., Sülstorf Beds, Chattian, Kobrow, Mecklenburg-Vorpommern, Germany. A,anterolateral tooth, H = 1.9 mm, W = 1.3 mm, L = 1.2 mm, A1 labial view, A2 basal view, A3 lingual view, A4 occlusal view, A5 profile view, SMF P 9843, paratype 1. B, anterolateral tooth, H = 2.0 mm, W = 1.3 mm, L = 1.4 mm, B1 labial view, B2 basal view, B3 lingual view, B4 occlusal view, B5 profile view, SMF P 9844, paratype 2. C, anterolateral tooth, H = 2.0 mm, W = 1.5 mm, L = 1.3 mm, C1 lingual view, C2 occlusal view, C3 profile view, C4 labial view, SMF P 9845, holotype. D, anterolateral tooth, H = 1.9 mm, W = 1.3 mm, L = 1.1 mm, D1 lingual view, D2 basal view, D3 labial view, D4 profile view, SMF P 9846, paratype 3. E, lateroposterior tooth, H = 1.5 mm, W = 1.1 mm, L = 0.9 mm, E1 profile view, E2 labial view, E3 occlusal view, E4 lingual view, SMF P 9847, paratype 4. F, lateroposterior tooth, H = 0.9 mm, W = 0.8 mm, L = 0.7 mm, F1 labial view, F2 occlusal view, F3 lingual view, F4 profile view, SMF P 9848, paratype 5. © Reinecke (2015)
Description
Original description after Reinecke (2015) p. 11-12
[22769]
: The description of this species is based on specimens that display the male morph. These are teeth with a variably high, pointed cusp. Anterolateral teeth have a slender cusp resting on a circular or elliptical crown basis (Figs. 8A-8D). The cusp steadily increases in width from the sharp apex to near the crown basis. It is upright or slightly inclined distally and always curved in lingual direction. The crown faces are smooth. Weak cutting edges, that are displaced to the marginolingual region of the cusp, extend from the apex to the half cusp length and never reach the lateral basal crown extensions. A labial keel is absent. In labial and profile view, the crown basis has the shape of a warped disk. It possesses subhorizontal extensions on mesial and distal sides, and a basally declining labial face with a smoothly convex visor (lacking an apron). The lingual crown basis shows a broad, flattened uvula. The lateral and anterior margins of the crown basis are much wider than the root stem and strongly overhang the anterolateral root faces. Lateroposterior teeth (Figs. 8E, 8F) show a significant crown and root asymmetry. The cusp is lower, displaced in distal direction, and more distally and lingually inclined than the cusp in anterolateral teeth. The height of the root is less than one third of the total height. It is lingually displaced with respect to the crown axis (Figs. 8A5, 8B5, 8C4, in profile view). The wide, wedgeshaped nutrient groove divides the root into two short lobes which have flat basal faces and are mesio-distally widened in basal direction. 1-3 small foramina occur in the centre of the nutrient groove. Marginolingual foramina are absent. The holotype (Fig. 8C), an anterolateral male tooth, and the five paratypes (Figs. 8A, 8B, 8D, 8E, 8F) reflect the range of morphological variation.
Remarks
valid after Reinecke (2015) p. 10
[22769]
;