NCBI GenBank
Rajella lintea
(FRIES, 1838)
Sailray
Classification:
Elasmobranchii Rajiformes Rajidae
Reference of the original description
Granskning af de vid Svenska kusterna förekommande arter af Fisk-slägtet Raja.
Kongliga Vetenskaps Akademiens nya Handlingar, Stockholm 1838: 126–164, Pls. 2–3.
Synonyms / new combinations and misspellings
Dasybatis lintea, Dipturus lintea, Dipturus linteus, Raia ingolfiana, Raia lintea, Raja ingolfiana, Raja lintea, Raja (Dipturus) lintea
Description :



Citation:

Rajella lintea

(FRIES, 1838): In: Database of modern sharks, rays and chimaeras, www.shark-references.com, World Wide Web electronic publication, Version 09/2020

Please send your images of
"Rajella lintea"
to
info@shark-references.com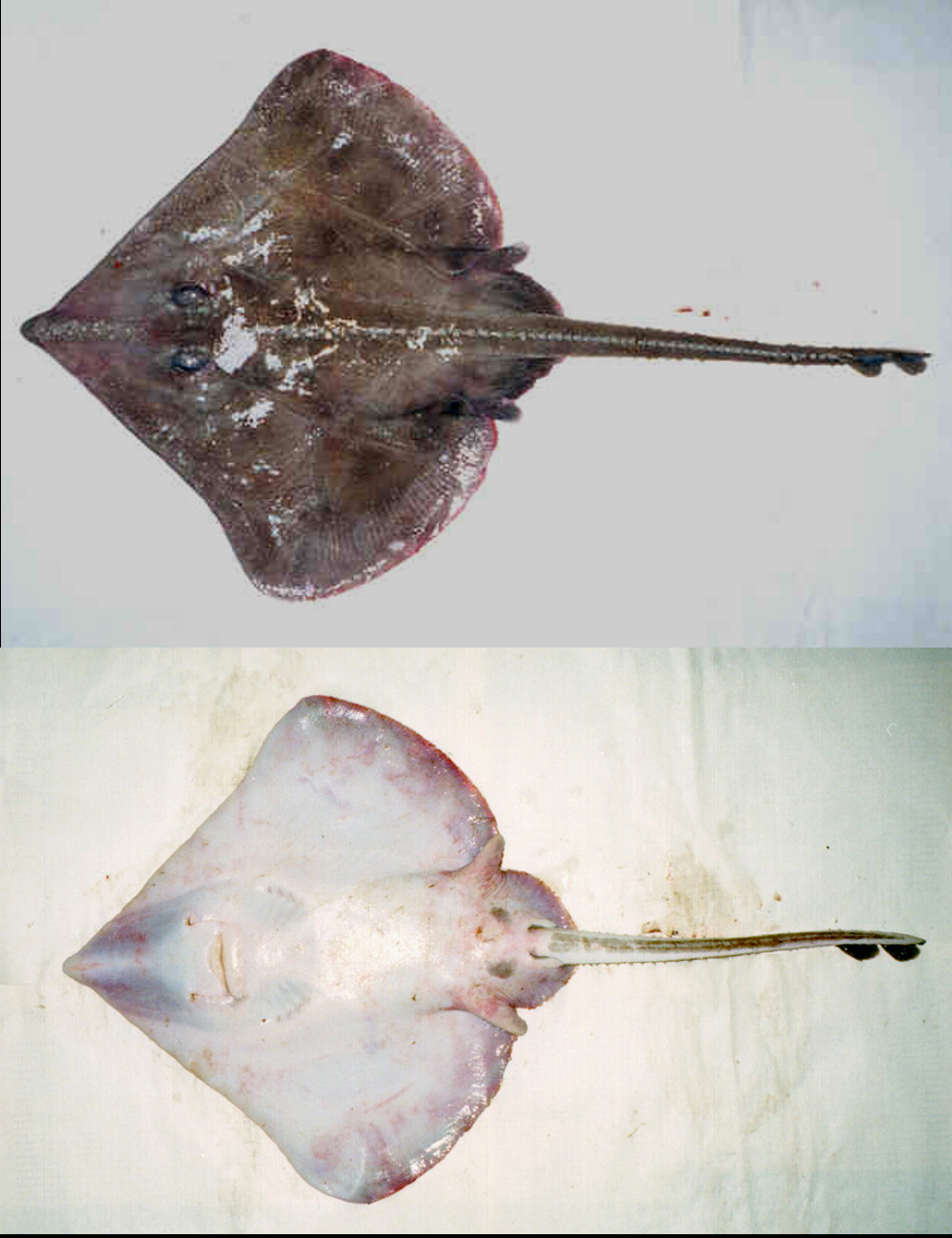 Rajella lintea
(FRIES, 1838), female, TL 94 cm, TW 4855 g, 5.12.1998, Barents Sea, Nordkyn bank, 71° 48' N, 23° 26' E © Andrey Dolgov
Common names

Weißroche,

Weißrochen,

Raya vela,

Raie blanche,

Raie linon,

Raie voile,

Linen skate,

Pale ray,

Sailray,

Sailskate,

Sharp-nosed skate,

Sharpnose skate,

Razza blanca atlantica,

Raia-nevoeira
Short Description
Snout moderately long, its tip pointed and somewhat protruding; upper surface predominantly smooth, only on head and front margins more or less prickly, tail entirely spinulose, underside smooth; up to 4 thorns in front of as well as behind eye, a continuous median row of 42-51 thorns from nape to first dorsal fin
[7182]
. Upper surface plain fawn color, slate grey or clay grey, lower surface white, with a grey longitudinal band along tail and grey blotch on either side of cloaca
[199]
. Diet: Barents Sea (data base: of 5 stomachs examined): In the stomachs of two young individuals of 22–28 cm TL caught on the Fugløy Bank (mean fullness indices of 28.1–62.2°/°°°) only Gammaridea were found. Food composition of larger individuals was more varied. The stomach of a 72 cm TL male (mean fullness index of 140.0°/°°°) caught at the Nordkyn Bank contained 9 northern shrimp of 2.5–11 cm TL, 4 Sabinea septemcarinata of 4–6 cm TL, 1 Munida sp. of 2.5 cm carapace length, and the remnants of Ophiura spp. The stomach of a 94 cm female (fullness index of 661.6 °/°°°) caught in the same area contained mainly fisheries waste. Additionally, it contained one northern shrimp of 10 cm TL, and one Norway pout (Trisopterus esmarkii) of 18 cm TL.
[5910]
;
Distribution
Northeast Atlantic: Iceland and along rise to Faroes, also Norwegian coasts and Skagerrak. Northwest Atlantic: western Greenland.
Biology
Oviparous
[7182]
. Paired eggs are laid. Embryos feed solely on yolk
[733]
. Distinct pairing with embrace. Young may tend to follow large objects, such as their mother
[17086]
. Occurs in moderately deep water but mainly around 250 m in boreal and partly arctic latitudes. Feeds on all kinds of bottom animals.
Size / Weight / Age
123 cm TL (male/unsexed; (Ref.
40637
)); max. published weight: 11.2 kg (Ref.
40637
)
Habitat
bathydemersal; marine; depth range 150 - 1170 m (Ref.
5951
)
Remarks
shark-references Species-ID=12317;
Parasites (arranged by Jürgen Pollerspöck)
Monogenea
Dictyocotyle coeliaca NYBELIN, 1941 [17150]
Cestoda
Grillotia erinaceus (VAN BENEDEN, 1858) [7411]
Trematoda
Otodistomum veliporum (CREPLIN, 1837) STAFFORD, 1904 [22616]