NCBI GenBank
Rhizoprionodon oligolinx
SPRINGER, 1964
Grey sharpnose shark
Classification:
Elasmobranchii Carcharhiniformes Carcharhinidae
Reference of the original description
A revision of the carcharhinid shark genera Scoliodon, Loxodon, and Rhizoprionodon.
Proceedings of the United States National Museum, 115 (3493): 559–632
Image of the original description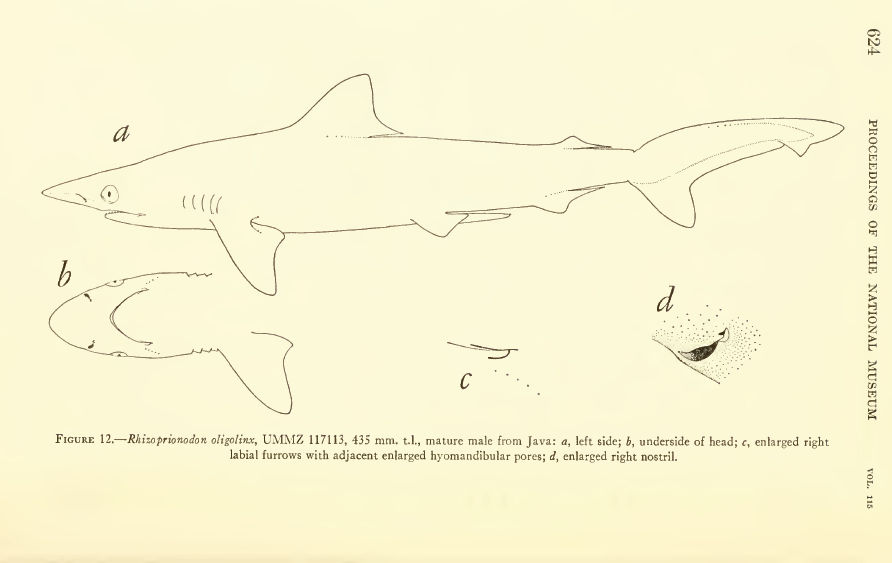 Rhizoprionodon oligolinx SPRINGER, 1964, UMMZ 117113, 435 mm TL, mature male from Java, Indonesia
Synonyms / new combinations and misspellings
Rhizoprionodon (Protozygaena) oligolinx
Description :



Citation:

Rhizoprionodon oligolinx

SPRINGER, 1964: In: Database of modern sharks, rays and chimaeras, www.shark-references.com, World Wide Web electronic publication, Version 05/2019

Please send your images of
"Rhizoprionodon oligolinx"
to
info@shark-references.com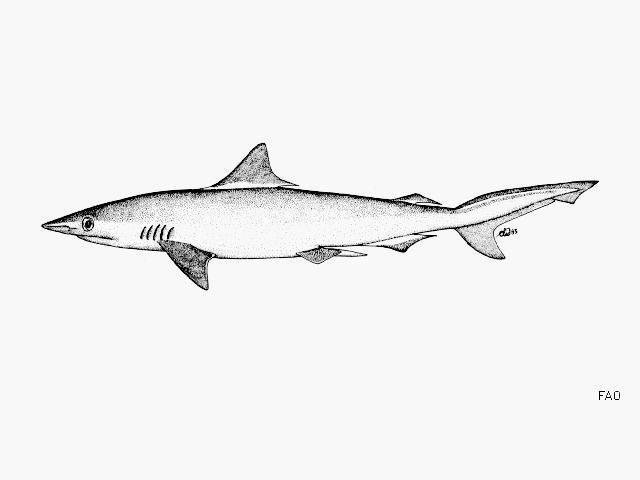 Rhizoprionodon oligolinx
SPRINGER, 1964 © FAO, www.fish-base.org
Common names

Cazón picudo gris,

Requin aiguille gris,

Gray sharpnose shark,

Grey dog shark,

Grey sharpnose shark
Short Description
Original diagnosis of SPRINGER, 1964
[2274]
: Upper labial furrow poorly developed, 0.0-1.3 percent of TL (less than 1.0 percent in 37 out of 45 specimens); precaudal centra not obviously elongate in posterior monospondylous region (plate 2c); precaudal vertebrae greater in number than caudal vertebrae; anterior margin of pectoral fin shorter than total length of first dorsal fin; snout in front of nostrils 3.7-4.7 percent of total length (only 3 specimens over 575 mm. seen and snout length of only 1 of these was measured, 610 mm., 3.9 percent); total teeth in outer row of upper jaw 23-25 (23 in 30 out of 55 specimens); total teeth in outer row of lower jaw 21-24 (22 in 42 out of 55 specimens); total enlarged hyomandibular pores on both sides of head usually less than 16 (55 out of 56 specimens); first dorsal origin over, or just posterior to, level of appressed pectoral inner corner ; origin of second dorsal fin usually over a point just in advance of anal axil, but may occur as far forward as above posterior third of anal base; tip of appressed pectoral fin reaches to below level of anterior third or less of first dorsal base. Males maturing at less than 380 mm.
Distribution
Indo-West Pacific: Persian Gulf east to Thailand, Indonesia, China, and Japan. Recorded from the Gulf of Carpentaria
[1388]
and Palau
[517]
. This species is very close to Rhizoprionodon taylori, but is geographically separated from it
[517]
. Source:
www.gbif.org
Human uses
fisheries: commercial
Biology
Viviparous, placental
[733]
. With 3 to 5 young per litter
[517]
(Ref.
37816
). Size at birth 20-30 cm TL
[544]
(Ref.
37816
). Distinct pairing with embrace
[17086]
. A little known inshore and offshore shark found on continental and insular shelves. Found to depths of at least 36 m. Probably feeds on fishes, cephalopods, and crustaceans.
Size / Weight / Age
70 cm TL (female)
Habitat
reef-associated; marine; depth range 0 - 36 m
[544]
Dentition
Cusps of teeth smooth to faintly irregular; posterior margins sometimes denticulate; anterior teeth of lower jaw of mature males distinct from those of females and young males (fig. 13); in mature males the cusps of the anterior teeth of the lower jaw (and sometimes upper) are slenderer and rounder in cross section than in females and young males
[2274]
Remarks
shark-references Species-ID=6115;