NCBI GenBank
Rhynchobatus australiae
WHITLEY, 1939
Whitespotted wedgefish
Classification:
Elasmobranchii Rhinopristiformes Rhinidae
Reference of the original description
Taxonomic notes on sharks and rays.
Australian Zoologist, 9 (3): 227–262, fig. 18, pl. 20–22.
Image of the original description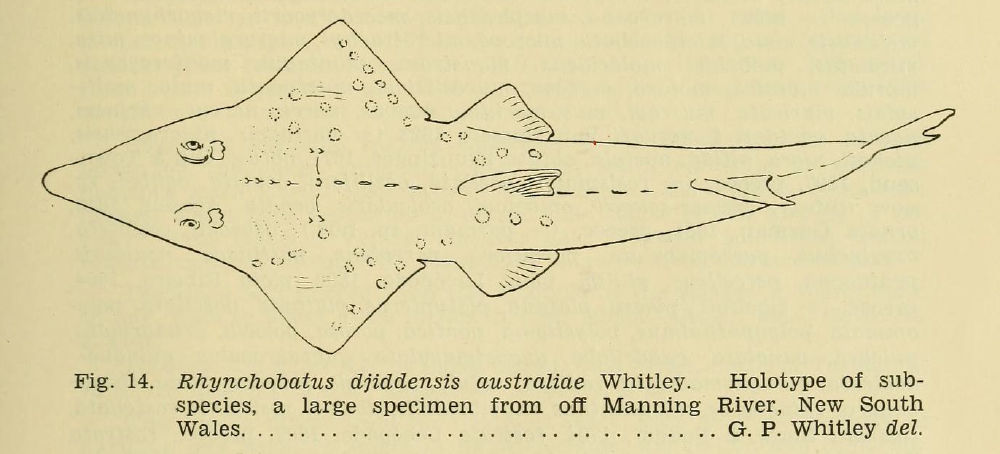 Rhynchobatus australiae WHITLEY, 1939 Holotype of subspecies, a large specimen from off Manning River, New South Wales G. P. Whitley del.
Synonyms / new combinations and misspellings
Rhynchobatus cf. australiae, Rhynchobatus djiddensis australiae
Description :



Citation:

Rhynchobatus australiae

WHITLEY, 1939: In: Database of modern sharks, rays and chimaeras, www.shark-references.com, World Wide Web electronic publication, Version 09/2020

Please send your images of
"Rhynchobatus australiae"
to
info@shark-references.com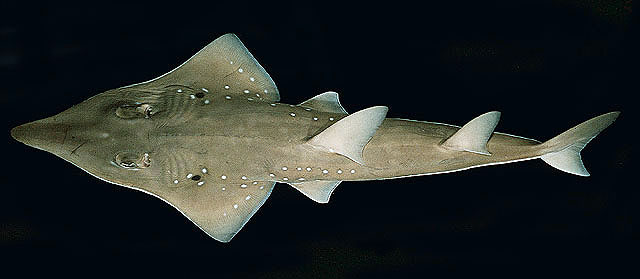 Rhynchobatus australiae
WHITLEY, 1939 misidentify as
Rhynchobatus djiddensis
(FORSSKÅL, 1775) © Randall, J.E, www.fish-base.org
Common names

Geigenrochen,

Fiddler,

Giant guitarfish,

Guitarfish,

Sandshark,

Shovelnose shark,

White-spotted guitarfish,

White-spotted shovelnose ray,

White-spotted shovelnosed guitarfish,

Whitespot ray,

Whitespot shovelnose ray,

Whitespotted guitarfish,

Whitespotted wedgefish
Short Description
Original diagnosis of WHITLEY, 1939
[2549]
: Australian specimens of the White-spotted Ray differ in shape and colour-markings from Indian and Red Sea illustrations, being especially wider towards the root of the tail. The type of the new subspecies is a fine specimen, trawled off the Manning River, New South Wales. A young example was sandy-brown above, the sides and pectorals with scattered white ocelli; a round black spot posteriorly on the scapular region; lower surface white, clouded with rufous; snout with transverse darker area and black spots anteriorly.
Diagnosis after GILES, J.L. & RIGINOS, C. & NAYLOR, G.J.P. & DHARMADI, OVENDEN, J.R., 2016 [24014]: All specimens in the R. australiae lineage for which morphological information were available had a bottleshaped snout (plain to weakly bicolour), with the first dorsal fin originating approximately over the pelvic fin origins (n = 100). The remaining 5 categorical traits describing dorsal patterning were variable, and are summarised as phenotypes A–D (Fig. 5). A well demarcated black pectoral spot was present in all specimens up to 1405 mm TL; above this size the spot was either faded (up to 2080 mm TL), or absent/not visible (1561−2500 mm TL). Between 3 and 5 (usually 4) white pectoral spots (4 spots in 63% of specimens) surrounded the black pectoral spot or its usual position. A line of 3 white pectoral spots adjacent to the black spot was observed in all but 2 specimens >2000 mm (phenotype D). The posterior dorsal surface toward the caudal fin was typically plain, with a row of well-demarcated white spots along the mid-body to just behind the free rear tip of the first dorsal fin. In specimens <1500 mm TL, a single faint line of smaller spots sometimes extended down the posterior dorsal surface to the caudal fin. Pectoral and pelvic margins ranged from plain to with many rows of spots. In specimens >1500 mm TL, many had numerous rows of white spots on the posterior surface from the first dorsal fin to the caudal fin, co-occurring with many rows of spots along the pectoral fin margins, and typically along the pelvic fin posterior margins. Large individuals were also observed with a plain posterior dorsal surface and plain pectoral and pelvic margins, and with a single row of well-demarcated spots extending to the tail. There was substantial variation among individuals in additional small spots on the dorsal surface of the head and forward of the first dorsal fin. Dorsal colouration ranged from yellowbrown and dark brown to grey (examples are shown in Fig. 7).
Human uses
fisheries: commercial
Biology
Exhibit ovoviparity (aplacental viviparity), with embryos feeding initially on yolk, then receiving additional nourishment from the mother by indirect absorption of uterine fluid enriched with mucus, fat or protein through specialised structures
[733]
. Occurs in inshore waters of the continental shelves. Feeds on bottom crustaceans and molluscs.
Size / Weight / Age
300 cm TL (male/unsexed;
[2539]
)
Habitat
demersal; marine; depth range - 60 m
[24868]
Remarks
shark-references Species-ID=6155;
Parasites (arranged by Jürgen Pollerspöck)
Cestoda