NCBI GenBank
Rhynchobatus djiddensis
(Forsskål, 1775)
Giant guitarfish
Classification:
Elasmobranchii Rhinopristiformes Rhinidae
Reference of the original description
Descriptiones animalium, avium, amphibiorum, piscium, insectorum, vermium / quae in itinere orientali observavit Petrus Forskål. Post mortem auctoris edidit Carsten Niebuhr. Adjuncta est materia medica kahirina atque tabula maris Rubri geographica.
Post mortem auctoris edidit Carsten Niebuhr. Hauniae. Descriptiones animalium quae in itinere ad Maris Australis terras per annos 1772 1773 et 1774 suscepto, ...: 1–20 + i–xxxiv + 1–164, map. [Pisces on pp. x–xix and 22–76.
Image of the original description
No image in first description.
Synonyms / new combinations and misspellings
Raia djiddensis, Raja djiddensis, Rhinobatis djeddensis, Rhinobatus djeddensis, Rhinobatus djiddensis, Rhinobatus djidsensis, Rhinobatus dsjiddensis, Rhinobatus maculata, Rhynchobatis djeddensis, Rhynchobatis djiddensis, Rhynchobatus cf. djiddensis, Rhynchobatus djbddensis, Rhynchobatus djeddensis, Rhynchobatus djiddenis, Rhynchobatus djidensis
Types
Rhynchobatus djiddensis
Description :



Citation:

Rhynchobatus djiddensis

(Forsskål, 1775): In: Database of modern sharks, rays and chimaeras, www.shark-references.com, World Wide Web electronic publication, Version 07/2022

Please send your images of
"Rhynchobatus djiddensis"
to
info@shark-references.com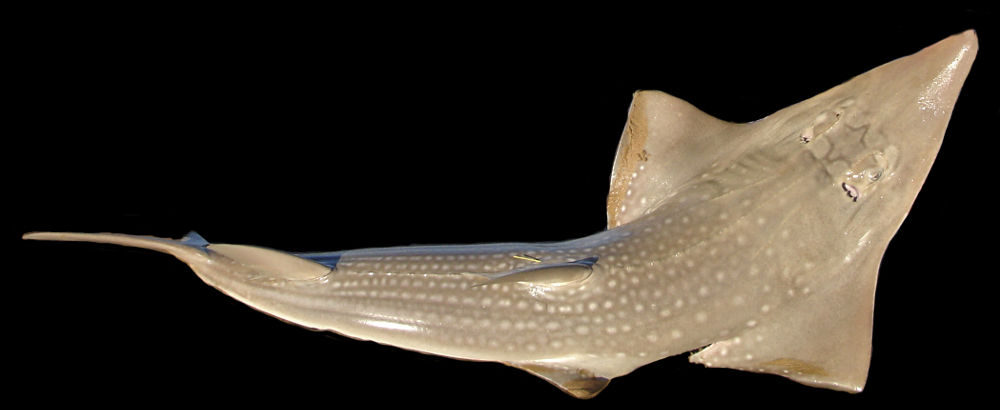 Rhynchobatus djiddensis
(FORSSKÅL, 1775), caught near Cape Vidal © Bruce Mann, Oceanographic Research Institute (ORI), Durban
Common names

Geigenrochen,

Riesengeigenrochen,

Pez cuna manchado,

Poisson paille à pois,

Raie guitare,

Raie à museau en pelle,

Requin raie,

Violon,

Giant guitarfish,

Giant sandshark,

Guitar fish,

Plough fish,

Sand shark,

Sandy,

Shark-ray,

Shovel nose,

Shovelnose,

Spotted guitarfish,

White spotted shovelnose guitarfish,

White spotted shovelnose ray,

White-spotted guitarfish,

White-spotted shovelnose,

White-spotted shovelnose ray,

White-spotted wedgefish,

Whitespot giant guitarfish,

Whitespotted wedgefish
Short Description
A large guitarfish with large black eyespots on the pectoral bases, a distinctive black cross between the eyes, and rows of small white spots on the upper body; snout pointed and lower caudal lobe short
[536]
. Olive-green above, white below
[536]
. Mouths small and contain flattened, pavement-like teeth.
Human uses
fisheries: commercial; gamefish: yes; aquarium: public aquariums
Biology
Exhibit ovoviparity (aplacental viviparity), with embryos feeding initially on yolk, then receiving additional nourishment from the mother by indirect absorption of uterine fluid enriched with mucus, fat or protein through specialised structures
[733]
. With 4 young, about 43-60 cm in length (Ref.
37816
), born in the summer (Ref.
3919
). Inhabits coral reefs (Ref.
58534
). Occurs inshore and in shallow estuaries. Feeds on crabs, lobsters, bivalves and small fishes
[536]
.
Size / Weight / Age
TL (max): 310 cm TL; TL (mature): ~150 cm; TL (born): ~60 cm
[20218]
; max. published weight: 227.0 kg (Ref.
3919
)
Habitat
reef-associated; brackish; marine; depth range 2 - 70 m
[20218]
Remarks
shark-references Species-ID=6159; CITES: (
see: Protected Species for more details
) Convention on International Trade in Endangered Speciesof Wild Fauna and Flora annex: II; Council Regulation 2017/160 annex: B
Parasites (arranged by Jürgen Pollerspöck)
Monogenea
Cestoda
Nematoda
Copepoda
Isopoda
Hirudinea