NCBI GenBank
Rhynchobatus laevis
(Bloch & Schneider, 1801)
Smooth nose wedgefish
Classification:
Elasmobranchii Rhinopristiformes Rhinidae
Reference of the original description
M.E. Blochii Systema Ichthyologiae iconibus ex illustratum. Post obitum auctoris opus inchoatum absolvit, correxit, interpolavit.
J.G. Schneider, Saxo: 584 p., 110 pl.
Image of the original description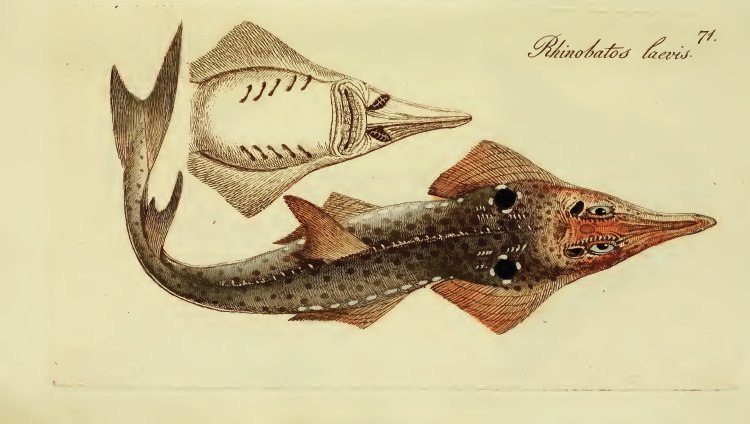 Rhynchobatus laevis (Bloch & Schneider, 1801)
Synonyms / new combinations and misspellings
Rhinobatus laevis, Rhynchobatus cf. laevis, Rhynchobatus yentinensis
Description :



Citation:

Rhynchobatus laevis

(Bloch & Schneider, 1801): In: Database of modern sharks, rays and chimaeras, www.shark-references.com, World Wide Web electronic publication, Version 07/2022

Please send your images of
"Rhynchobatus laevis"
to
info@shark-references.com

Rhynchobatus laevis
(Bloch & Schneider, 1801) Marve, Malad, Mumbai in fisherman's net, 29.11.2017, 50 cm TL © Pradip Patade, India
Common names

Smooth nose wedgefish,

Smoothnose wedgefish
Short Description
Distinctive Characters: Snout narrowly wedgeshaped; preorbital length usually over 17% of TL (young less than 50 cm TL); total free vertebral centra 149–158. Colour: Olive-green above, white below (a black blotch sometimes on ventral side of snout); large black eyespots on pectoral fin bases; eye-brow like markings on the orbital membranes; rows of small white spots on trunk and tail of young (fading out in adults).
[26548]
Distribution
Indo-West Pacific; Oman to Japan,
[20218]
Biology
Exhibit ovoviparity (aplacental viviparity), with embryos feeding initially on yolk, then receiving additional nourishment from the mother by indirect absorption of uterine fluid enriched with mucus, fat or protein through specialised structures
[733]
.
Size / Weight / Age
TL (max): 200 cm (?); TL (mature): ~130 cm
[20218]
Remarks
shark-references Species-ID=6162; CITES: (
see: Protected Species for more details
) Convention on International Trade in Endangered Speciesof Wild Fauna and Flora annex: II; Council Regulation 2017/160 annex: B
Parasites (arranged by Jürgen Pollerspöck)
Cestoda