NCBI GenBank
Rhynchorhina mauritaniensis
SÉRET & NAYLOR, 2016
False shark ray
Classification:
Elasmobranchii Rhinopristiformes Rhinidae
Reference of the original description
Rhynchorhina mauritaniensis, a new genus and species of wedgefish from the eastern central Atlantic (Elasmobranchii: Batoidea: Rhinidae).
Zootaxa, 4138 (2): 291–308
Description :



Citation:

Rhynchorhina mauritaniensis

SÉRET & NAYLOR, 2016: In: Database of modern sharks, rays and chimaeras, www.shark-references.com, World Wide Web electronic publication, Version 03/2019

Please send your images of
"Rhynchorhina mauritaniensis"
to
info@shark-references.com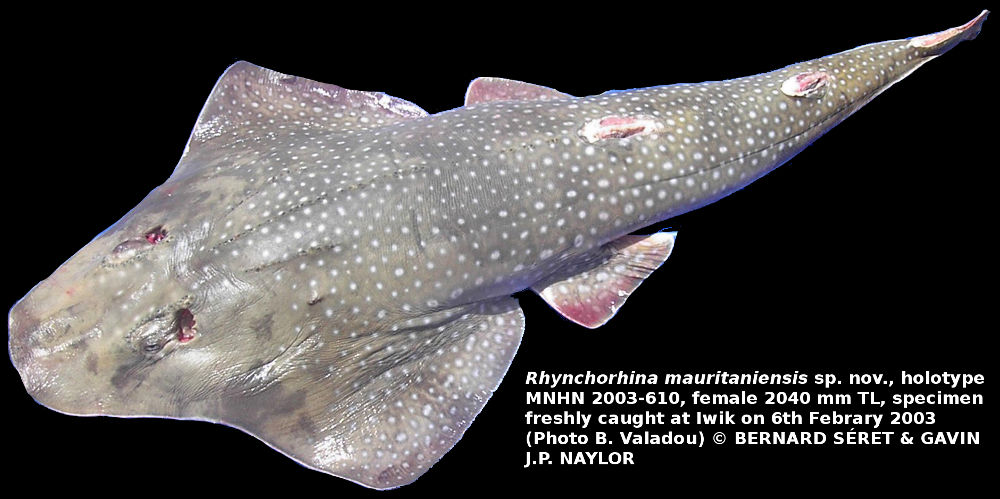 Rhynchorhina mauritaniensis sp. nov., holotype MNHN 2003-610, female 2040 mm TL, Specimen freshly caught at Iwik on 6th Febrary 2003 (Photo B. Valadou) © BERNARD SÉRET & GAVIN J.P. NAYLOR
Common names

Raie-guitare mauritanienne,

False shark ray
Short Description
Original diagnosis after SÉRET & NAYLOR, 2016
[24306]
: A large wedgefish (maximum TL 275 cm) with a heavy shark-like body, head somewhat flattened, snout tip broadly rounded (holotype, and paratype MNHN 2002-611) to somewhat quadrangular (paratype MNHN 2003-612). Tail with a dermal fold along each lower edge. Two large and falcate dorsal fins; caudal fin with distinct upper and lower lobes. Two conspicuous dermal folds on posterior margin of spiracles. Nostrils very large and oblique, separated from each other and from the mouth; anterior nasal flap small (not extending to inner nostril corner). Jaws moderately undulated; about 66/72 rows of oral teeth arranged in pavement. A row of pointed thorns along each rostral ridge, two/three additional thorns may occur on snout tip, single row of thornlets and thorns in front of orbit extending backward to level of spiracles; a median row of about 36 large, pointed thorns from nape to first dorsal fin and six between dorsal fins, median thorns flanked by two other shorter rows on the nape-shoulder area, additional short rows of thorns may be present on outer shoulders. Body covered with small dermal denticles, their crowns with a median posterior cusp, an extension from the median ridge, and short lateral cusp. Dorsal side greyish to greenish with numerous white ocelli-like spots; large black transverse blotch on ventral snout tip.
Distribution
from the shallow waters of shoal "Banc d'Arguin", Mauritania
[24306]
Size / Weight / Age
TL (max): 275 cm (male, total length without the caudal fin)
[24306]
Dentition
Teeth small, with blunt rhomboidal crowns, similar in both jaws, and arranged in pavement in 66/72 rows
[24306]
Remarks
shark-references Species-ID=14612;