NCBI GenBank
Rioraja agassizii
(MÜLLER & HENLE, 1841)
Rio skate
Classification:
Elasmobranchii Rajiformes Arhynchobatidae
Reference of the original description
Systematische Beschreibung der Plagiostomen.
Berlin, Veit, pp. 1–200
Image of the original description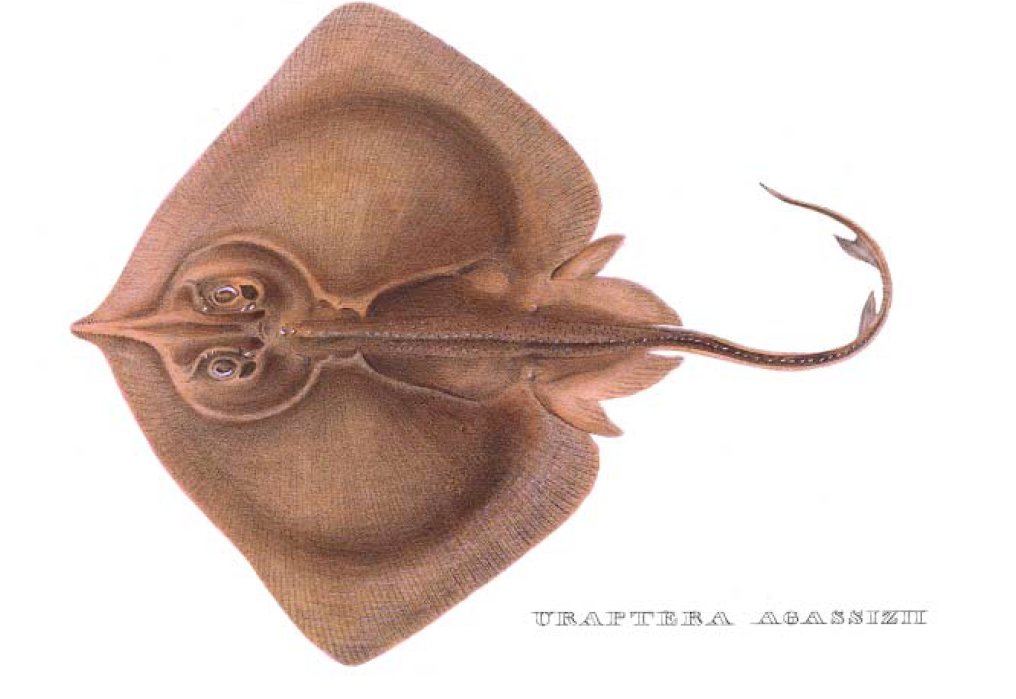 Rioraja agassizi (MÜLLER & HENLE,1841)
Synonyms / new combinations and misspellings
Raja agassizi, Raja agassizii, Raja (Rioraja) agassizi, Raja (Uraptera) agassizi, Rioraja agassizi, Uraptera agassizii
Description :



Citation:

Rioraja agassizii

(MÜLLER & HENLE, 1841): In: Database of modern sharks, rays and chimaeras, www.shark-references.com, World Wide Web electronic publication, Version 09/2020

Please send your images of
"Rioraja agassizii"
to
info@shark-references.com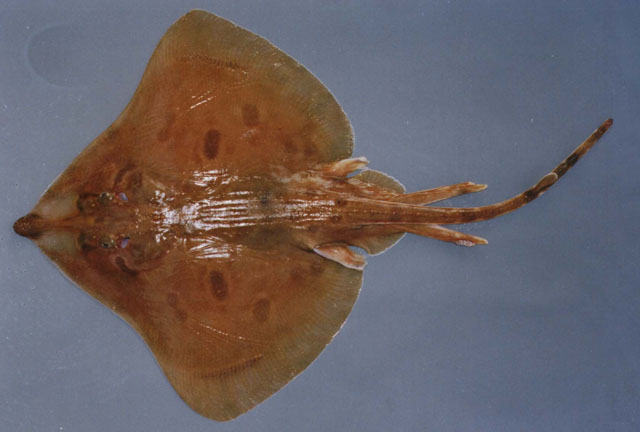 Rioraja agassizii
(MÜLLER & HENLE, 1841), Size (cm): 33.8 WD, male, Brazil, Macaé, Rio de Janeiro © Marcelo Vianna, Laboratório de Biologia e Tecnologia Pesqueira, Universidade Federal do Rio de Janeiro
Common names

Raya lisa,

Ray,

Rio skate,

Arraia-santa,

Raia-santa,

Skate
Short Description
Diet: southeastern Brazil (data base: 258 specimens, TL between 96 and 532 mm, sex: 57.85% females, 42.15% male): Nine prey categories were identified: Polychaeta, Copepoda, Cumacea, Isopoda, Gammaridea, Dendrobranchiata, Brachyura, Teleostei, and one non-animal category (nonidentifiable items). Crustaceans were the most important item, indicating that the species has a carcinophagic preference. The presence of fish was just verified in juveniles and some adult individuals, with predominance in summer. Sex, maturity stage and seasonality did not influence the feeding habits of the species.
[14289]
Distribution
Southwest Atlantic: Espírito Santo, Brazil to Argentina. Source:
www.gbif.org
Biology
Oviparous, paired eggs are laid. Embryos feed solely on yolk
[733]
. A coastal species found on sand, mud or gravel bottoms. Feeds on crustaceans, mollusks and fishes.
Size / Weight / Age
33.0 cm WD (male/unsexed;
[20080]
)
Habitat
demersal; marine; depth range ? - 130 m
[20079]
Remarks
shark-references Species-ID=7852;
Parasites (arranged by Jürgen Pollerspöck)
Myxosporea
Monogenea
Nematoda
Metanisakis sulamericana (SANTOS, LENT & GIBSON, 2004) [21220]
Pseudanisakis sulameri SANTOS, LENT & GIBSON, 2004 [7387]
Copepoda
Brianella corniger WILSON, 1915 [24671]