NCBI GenBank
Rostroraja eglanteria
(LACEPÈDE (ex BOSC), 1800)
Clearnose skate
Classification:
Elasmobranchii Rajiformes Rajidae
Reference of the original description
Histoire Naturelle des Poissons.
Plassan, Paris, 2: i–lxiv, 1–632, pls 1–20
Image of the original description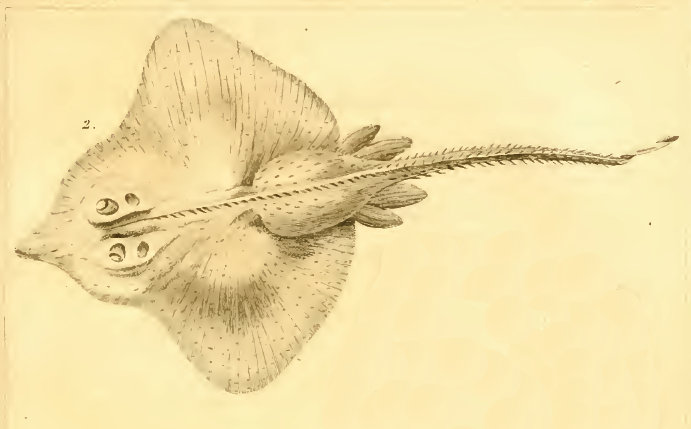 Rostroraja eglanteria LACEPÉDE (ex BOSC), 1800
Synonyms / new combinations and misspellings
Raia chantenay, Raia desmarestia, Raia diaphanes, Raia eglanteria, Raia eglantiera, Raja desmarestia, Raja diaphanes, Raja eglanteria, Raja equitorialis, Raja (Raja) eglanteria
Description :



Citation:

Rostroraja eglanteria

(LACEPÈDE (ex BOSC), 1800): In: Database of modern sharks, rays and chimaeras, www.shark-references.com, World Wide Web electronic publication, Version 09/2020

Please send your images of
"Rostroraja eglanteria"
to
info@shark-references.com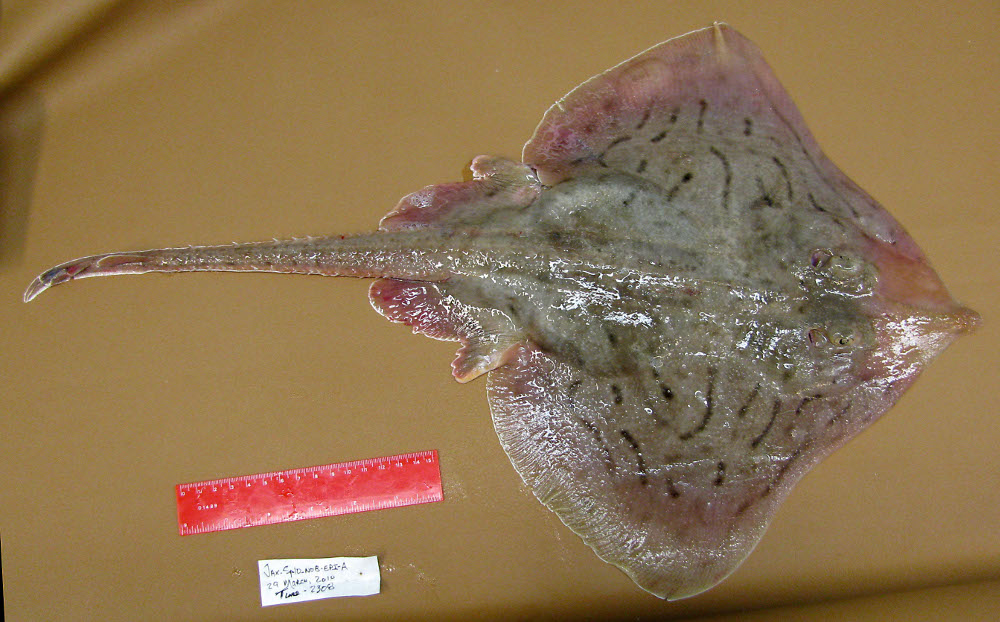 Rostroraja eglanteria LACEPÈDE (ex BOSC), 1800, off Jacksonville, Florida, © Jason C. Seitz, ANAMAR Environmental Consulting, Inc.
Common names

Raya hialina,

Raya naricita,

Raie blanc nez,

Clear-nosed brier skate,

Clear-nosed summer skate,

Clearnose skate,

Raia-focinho-branco
Short Description
Small skate, with irregular darker spots and bars on dorsal surface. Translucent area on each side of mid-dorsal ridge on snout
[17659]
. Single row of thorns along the midridge of the back
[199]
. Disk with dark brown bars and streaks and some spots. Front edges nearly straight or slightly concave
[17658]
.
Distribution
Western Atlantic: Massachusetts to southern Florida (USA) and eastern Gulf of Mexico. Also northern Gulf of Mexico
[17659]
. Source:
www.gbif.org
Human uses
fisheries: minor commercial; bait: occasionally; price category: medium; price reliability: questionable: based on ex-vessel price for species in this genus
Biology
Oviparous, paired eggs are laid. Embryos feed solely on yolk
[733]
. Distinct pairing with embrace. Young may tend to follow large objects, such as their mother
[17086]
. From the work of Libby and Gilbert (1960) (Ref.
51117
) and Luer and Gilbert (1985) (Ref.
38742
) male and female clearnose skates mate side by side in an upright position (Ref.
49562
). Actual copulation occurs when the male bites the caudal margin of the female"quot;s pectoral, bends his tail 75 degrees beneath hers and inserts one clasper, flexed ("quot;splayed"quot;) medially 90 degrees, into her oviduct (Ref.
49562
). A female displays "quot;back arching"quot; and "quot;pectoral fin undulations"quot; as precopulatory behavior to attract males (Ref.
49562
). Inhabits inshore areas. Prefers waters of 10°-21°C. Feeds mainly on decapod crustaceans, bivalves, polychaetes, squids and fishes.
Size / Weight / Age
65.0 cm NG (male/unsexed; (Ref.
37512
))
Habitat
demersal; oceanodromous
[17660]
; brackish; marine; depth range 0 - ? m (Ref.
55280
), usually 0 - 50 m (Ref.
55280
)
Remarks
shark-references Species-ID=14796;
Parasites (arranged by Jürgen Pollerspöck)
Myxosporea
Monogenea
Cestoda
Nematoda
Metanisakis tricupola (GIBSON, 1973) [17029]
Hirudinea