NCBI GenBank
Scyliorhinus torazame
(TANAKA, 1908)
Cloudy catshark
Classification:
Elasmobranchii Carcharhiniformes Scyliorhinidae
Reference of the original description
Notes on Some Japanese Fishes, with Descriptions of Fourteen New Species.
Journal of the College of Science, Imperial University, Tokyo, 23 (7): 1–60
Image of the original description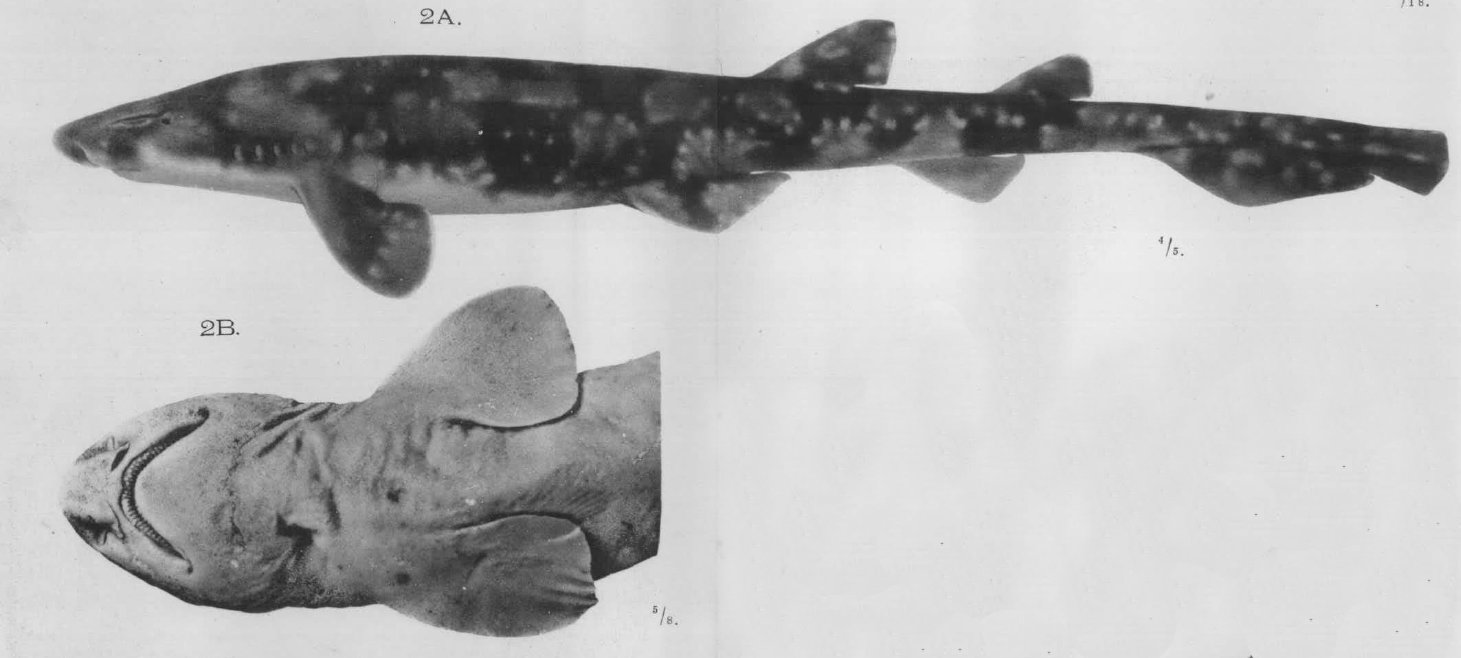 Scyliorhinus torazame (TANAKA,1908)
Synonyms / new combinations and misspellings
Catulus torazame, Halaelurus rudis, Halaelurus torazame, Scyliorhinus rudis
Description :



Citation:

Scyliorhinus torazame

(TANAKA, 1908): In: Database of modern sharks, rays and chimaeras, www.shark-references.com, World Wide Web electronic publication, Version 02/2019

Please send your images of
"Scyliorhinus torazame"
to
info@shark-references.com

Scyliorhinus torazame, © Chris Avila, Toronto
Bentic Sharks, Canadian Marine Aquaculture, Toronto
Common names

Alitán nubarrado,

Roussette nuageuse,

Cloudy cat shark,

Cloudy catshark
Short Description
6 to 9 distinct dusky saddle marks, interspersed with dark and light spots; fins plain
[16823]
.
Distribution
Northwest Pacific: Japan and Korea to Taiwan. Source:
www.gbif.org
Biology
Oviparous, with only one egg laid per oviduct at a time
[517]
. Embryos feed solely on yolk
[733]
. Size at hatching at least 8 cm
[517]
. During courtship and prior to copulation, the male bites and wraps the female"quot;s pectoral fin, body, tail, and gills (Ref.
49562
, 51119). Copulation is initiated when the male inserts one of its claspers into the female"quot;s cloaca. The whole mating episode lasts from 15 seconds to 4 minutes (Ref.
49562
). A small species, lives in rocky regions. A carnivor
[17641]
.
Size / Weight / Age
50.0 cm TL (male/unsexed; (Ref.
559
))
Habitat
demersal; marine; depth range ? - 100 m
[16823]
Remarks
shark-references Species-ID=6369;