IUCN Red List

NCBI GenBank
Scymnodalatias albicauda
Taniuchi & Garrick, 1986
Whitetail dogfish
Classification:
Elasmobranchii Squaliformes Somniosidae
Reference of the original description
A new species of Scymnodalatias from the southern oceans, and comments on other squaliform sharks.
Japanese Journal of Ichthyology, 33(2), 119–134
Image of the original description
Image in copyright.
Description :



Citation:

Scymnodalatias albicauda

Taniuchi & Garrick, 1986: In: Database of modern sharks, rays and chimaeras, www.shark-references.com, World Wide Web electronic publication, Version 07/2022

Please send your images of
"Scymnodalatias albicauda"
to
info@shark-references.com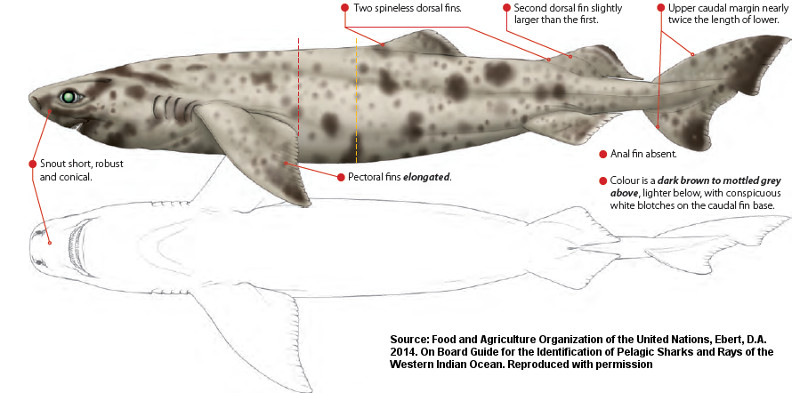 Scymnodalatias albicauda TANIUCHI & GARRICK, 1986, © FAO, Food and Agriculture Organization of the United Nations, Ebert, D.A. 2014. On Board Guide for the Identification of Pelagic Sharks and Rays of the Western Indian Ocean. Reproduced with permission, illustration by
Marc Dando
, Wildlife Illustrator
Common names

Whitetail dogfish
Short Description
Grey and white, mottled with large brown or black spots; tail mostly white with black tips
[578]
. Dorsal fins small, pectoral fins angular, and an asymmetric caudal fin with a dark-tipped upper lobe
[1388]
.
Distribution
Eastern Indian Ocean: southern Australia. Southwest Pacific: New Zealand.
Biology
Probably ovoviviparous
[1388]
, with at least 59 young
[578]
. Distinct pairing with embrace
[17086]
. Found on the continental shelf (Ref.
75154
).
Size / Weight / Age
111 cm TL (male/unsexed;
[578]
)
Remarks
shark-references Species-ID=6429;