NCBI GenBank
Sinobatis kotlyari
STEHMANN & WEIGMANN, 2016
Classification:
Elasmobranchii Rajiformes Anacanthobatidae
Reference of the original description
A new deepwater legskate, Sinobatis kotlyari n. sp. (Rajiformes, Anacanthobatidae) from the southeastern Indian Ocean on Broken Ridge.
Zootaxa, 4189 (2): 327–347
Description :



Citation:

Sinobatis kotlyari

STEHMANN & WEIGMANN, 2016: In: Database of modern sharks, rays and chimaeras, www.shark-references.com, World Wide Web electronic publication, Version 03/2021

Please send your images of
"Sinobatis kotlyari"
to
info@shark-references.com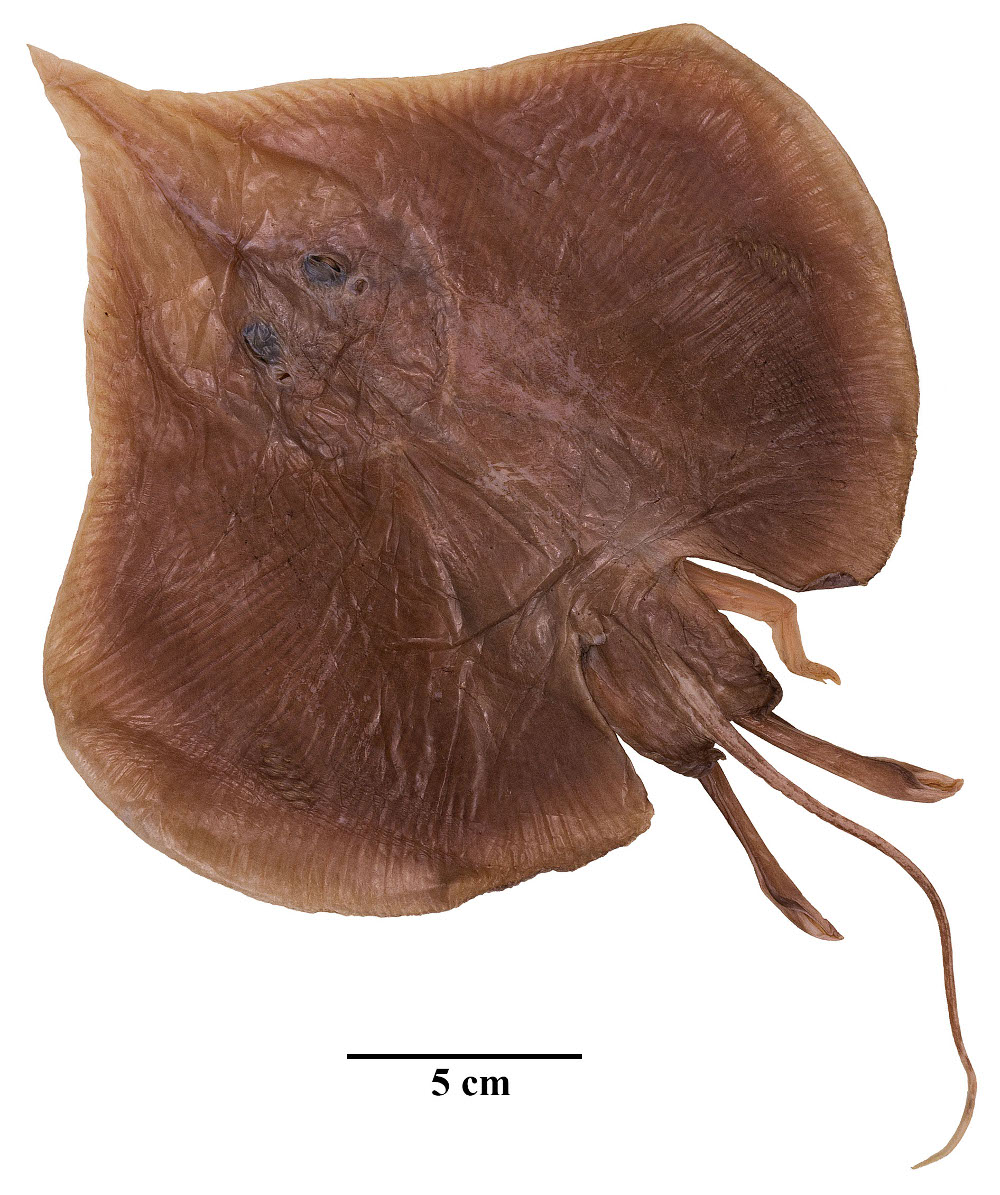 Sinobatis kotlyari
n. sp, holotype male 331 mm TL, ZMMU P-17178 © Dr. Simon Weigmann, Elasmobranch Research Laboratory, Hamburg, Germany
Common names

Kotlyar's legskate
Short Description
Original diagnosis of STEHMANN & WEIGMANN, 2016
[24629]
: A small species of the genus Sinobatis distinguished by the cranial feature of having very elongated and extremely narrow fontanelle at its anterior two thirds, but mainly by characters of its clasper. Disc broadly inverse heart-shaped with slightly convex anterior margins and broadly rounded outer and inner pectoral corners; width 64% of TL, length 63% of TL. Head (dorsal length 27% of TL, ventral length 34% of TL) and snout (preorbital length 22% of TL, preoral length 23% of TL, prenasal length 21% of TL) moderately long; snout without rostral filament and angled at 75°. Tail cord-like, hardly tapering towards its tip, and slightly shorter than body. No dorsal fins, caudal fin rather well developed, base lengths of its upper and lower lobes 8% of TL and 6% of TL, respectively. Upper side largely plain medium greyish-brown, underside generally lighter than upper surface, beige with darker outer and posterior areas. Clasper glans with narrow shield, long and distinct pent, slender and smooth-edged distal sentinel and spike but no other cartilage-supported components on outer or inner terminal lobes; clasper skeleton lacking dorsal terminal 1 but with elongated dorsal terminals 2 and 3, narrow twisted ventral terminal with long and curved proximal process, and long, slender, pointed accessory terminals 1 and 2 inserting side by side at inner distal edge of ventral marginal. The combination of colouration, several morphometrics and meristics, as well as few external clasper components and terminal skeletal cartilages distinguishes the species from congeners.
Distribution
Broken Ridge in the southeastern Indian Ocean
[24629]
Size / Weight / Age
at least 331 mm TL (holotype):
[24629]
Habitat
marine; depth range -1400 m depth
[24629]
Dentition
24 tooth rows in upper and 22 in lower jaws, set in quincunx pattern; individual tooth with low, subcircular to rhombic base, tooth crown flat and with moderately long, stout, conical cusp
[24629]
Remarks
shark-references Species-ID=14726;