NCBI GenBank
Squaliolus laticaudus
SMITH & RADCLIFFE, 1912
Spined pygmy shark
Classification:
Elasmobranchii Squaliformes Dalatiidae
Reference of the original description
The squaloid sharks of the Philippine Archipelago, with descriptions of new genera and species.
Proceedings of the United States National Museum, 41: 677–685, pl. 50–54
Image of the original description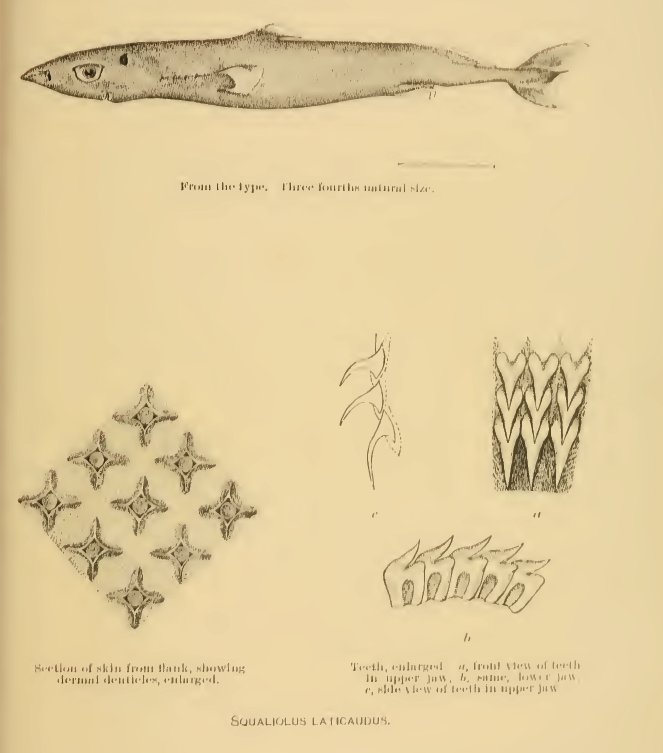 Squaliolus laticaudus SMITH & RADCLIFFE, 1912
Synonyms / new combinations and misspellings
Euprotomicrus laticaudus, Euprotomicrus sarmenti, Squaliolus sarmenti
Description :



Citation:

Squaliolus laticaudus

SMITH & RADCLIFFE, 1912: In: Database of modern sharks, rays and chimaeras, www.shark-references.com, World Wide Web electronic publication, Version 10/2020

Common names

Zwerghai,

Tollo pigmeo espinudo,

Squale nain,

Dwarf shark,

Spined pigmy shark,

Spined pygmy shark,

Cação-espinho,

Tubarão-anão
Short Description
The spined pygmy shark Squaliolus laticaudus is a very small dogfish (about 25cm) with a large eye (diameter 73-86% of interorbital width), upper margin nearly straight; upper lip without papillae
[544]
[1388]
. Color: dark with conspicuously light-margined fins
[518]
. Edge of fins with bright border (Ref.
43998
). S. laticaudus is the type species of the genus which has the following distinctive features: fin spine on its first dorsal fin but not on its second dorsal fin; second dorsal fin long-based and low, about twice the length of first dorsal fin base; first dorsal-fin base closer to pectoral fins than to pelvic fins; and caudal fin nearly symmetrical, paddle-shaped, with subterminal notch present; low lateral keels on caudal peduncle . Body cigar-shaped; snout very long, bulbously conical but slightly pointed; mouth ventral; lips thin; teeth strongly different in both jaws, uppers small, narrow and erect cusps, lowers larger, blade-like and semi erect. Tooth rows 22-23/16-21.
[518]
[1388]
.
Distribution
Nearly circumtropical. Western Atlantic: off Bermuda, southern Brazil, and northern Argentina. Eastern Atlantic: off France and Madeira. Western Indian Ocean: off Somalia. Western Pacific: Japan, Taiwan and Philippines
[3749]
, as well as Australia (Ref.
7300
). Source:
www.gbif.org
Human uses
fisheries: of no interest
Biology
Probably ovoviviparous. Twelve mature eggs have been found in a single ovary of a mature female but this does not imply that large litters are produced
[518]
. Distinct pairing with embrace
[17086]
. An oceanic, wide-ranging, tropical pelagic species occurring near continental and insular land masses, sometimes over the shelves, but usually over the slopes . Displays vertical migrations on a diel cycle, seen at the bottom during the day and travels to 200 m at night. Feeds on deepwater squid, lanternfish, gonostomatids and idiacanthids, and probably follows its prey on their diel migrations.
Size / Weight / Age
22.0 cm TL (male/unsexed;
[518]
); 25 cm TL (female)
Remarks
shark-references Species-ID=6677;