NCBI GenBank
Squatina caillieti
WALSH, EBERT & COMPAGNO, 2011
Classification:
Elasmobranchii Squatiniformes Squatinidae
Reference of the original description
Squatina caillieti sp. nov., a new species of angel shark (Chondrichthyes: Squatiniformes: Squatinidae) from the Philippine Islands.
Zootaxa, 2759: 49–59
Image of the original description
Image in copyright.
Description :



Citation:

Squatina caillieti

WALSH, EBERT & COMPAGNO, 2011: In: Database of modern sharks, rays and chimaeras, www.shark-references.com, World Wide Web electronic publication, Version 02/2021

Please send your images of
"Squatina caillieti"
to
info@shark-references.com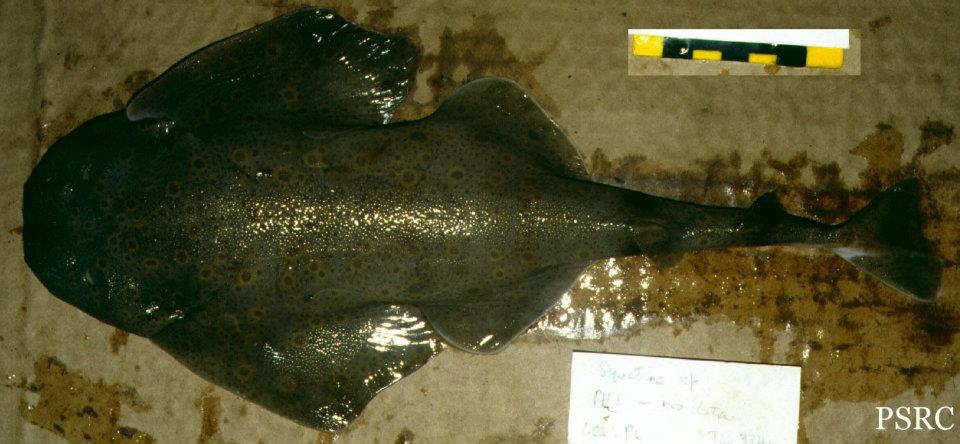 Angelshark, Squatina caillieti, Walsh, Ebert & Compagno, 2011 © Pacific Shark Research Center at Moss Landing Marine Laboratories (MLML)
Short Description
This squatinid is distinguished from other western North Pacific squatinids based on the following characters: unfringed barbels with rod-like tips; upper lip arch semi-oval in shape, upper lip arch height (1.2), its width (4.3); with large papillae on the inside posterior margin of the spiracles; a greater interspiracle space (8.9) than interorbital space (8.6); no midback row of thorny tubercles; no large prominent ocelli on pectoral fins; pelvic fin tips reaching first dorsal origin, pelvic fin base short (12.9), pelvic inner margin very short (8.6) and short pelvic posterior margin (16.3); pelvic girdle width (27.9) more than 1.4 times greater than head length (18.7); dorsal fins angular, greater interdorsal space (7.4) than dorsal caudal space (6.4), with subdorsal saddles; caudal fin lobed, very short upper postventral caudal margin (2.5) (Ref.
86399
).
Distribution
Western Pacific: Philippines.
Size / Weight / Age
Max length : 32.8 cm TL (female)
Habitat
Pelagic-neritic; marine; depth range 363 - 385 m (Ref.
86399
)
Remarks
shark-references Species-ID=10813;