NCBI GenBank
Squatina david
ACERO, TAVERA, ANGUILA & HERNÁNDEZ, 2016
David's Angel Shark
Classification:
Elasmobranchii Squatiniformes Squatinidae
Reference of the original description
A New Southern Caribbean Species of Angel Shark (Chondrichthyes, Squaliformes, Squatinidae), including Phylogeny and Tempo of Diversification of American Species.
Copeia, 104 (2): 577–585
Description :



Citation:

Squatina david

ACERO, TAVERA, ANGUILA & HERNÁNDEZ, 2016: In: Database of modern sharks, rays and chimaeras, www.shark-references.com, World Wide Web electronic publication, Version 03/2021

Please send your images of
"Squatina david"
to
info@shark-references.com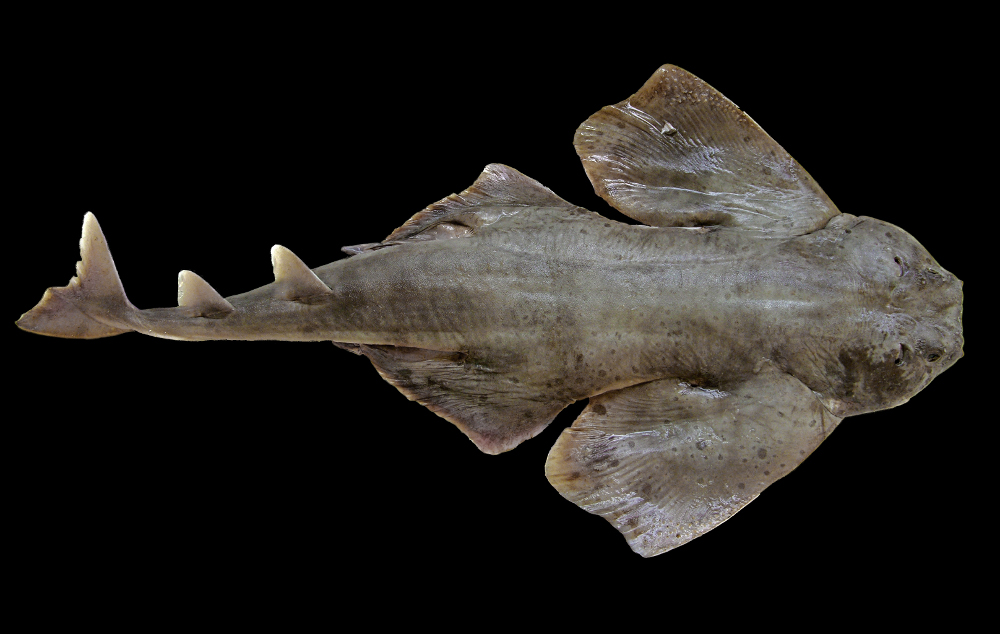 Squatina david, new species, Male, holotype, 787 mm TL, INVEMAR PEC8250; © ACERO, TAVERA, ANGUILA & HERNÁNDEZ, 2016
Common names

angelote de David,

David's Angel Shark
Short Description
Original diagnosis after ACERO, TAVERA, ANGUILA & HERNÁNDEZ, 2016
[24301]
: A Squatina distinct from other western North Atlantic squatinids based on the following combination of characters: mid-dorsal line lacking thorns or enlarged, sharp, pointed dermal denticles; eye-spiracle distance larger than 1.5 times eye diameter in specimens larger than 60 cm TL; each nasal flap with two rod-like barbels, outer barbel divided; coloration grayish to brownish yellow, male dark-spotted, females with abundant whitish spots.
Distribution
Colombian Caribbean, between Bocas de Ceniza and Punta Gallinas
[24301]
Size / Weight / Age
599mm – 787 mm TL
[24301]
Dentition
Dentition consisting of small, dagger-like teeth, conical without cusplets on a broad base, in two orderly longitudinal rows on upper jaw, three rows on bottom jaw, no teeth at symphysis, 10 teeth by row in each jaw.
[24301]
Remarks
shark-references Species-ID=14611;