NCBI GenBank
Squatina heteroptera
CASTRO-AGUIRRE, ESPINOSA PÉREZ & HUIDOBRO CAMPOS, 2007
Classification:
Elasmobranchii Squatiniformes Squatinidae
Reference of the original description
Dos nuevas especies del género Squatina (Chondrichthyes: Squatinidae) del Golfo de México.
Revista de Biología Tropical, 54 (3): 1031–1040
Image of the original description
Image in copyright.
Description :



Citation:

Squatina heteroptera

CASTRO-AGUIRRE, ESPINOSA PÉREZ & HUIDOBRO CAMPOS, 2007: In: Database of modern sharks, rays and chimaeras, www.shark-references.com, World Wide Web electronic publication, Version 02/2021

Please send your images of
"Squatina heteroptera"
to
info@shark-references.com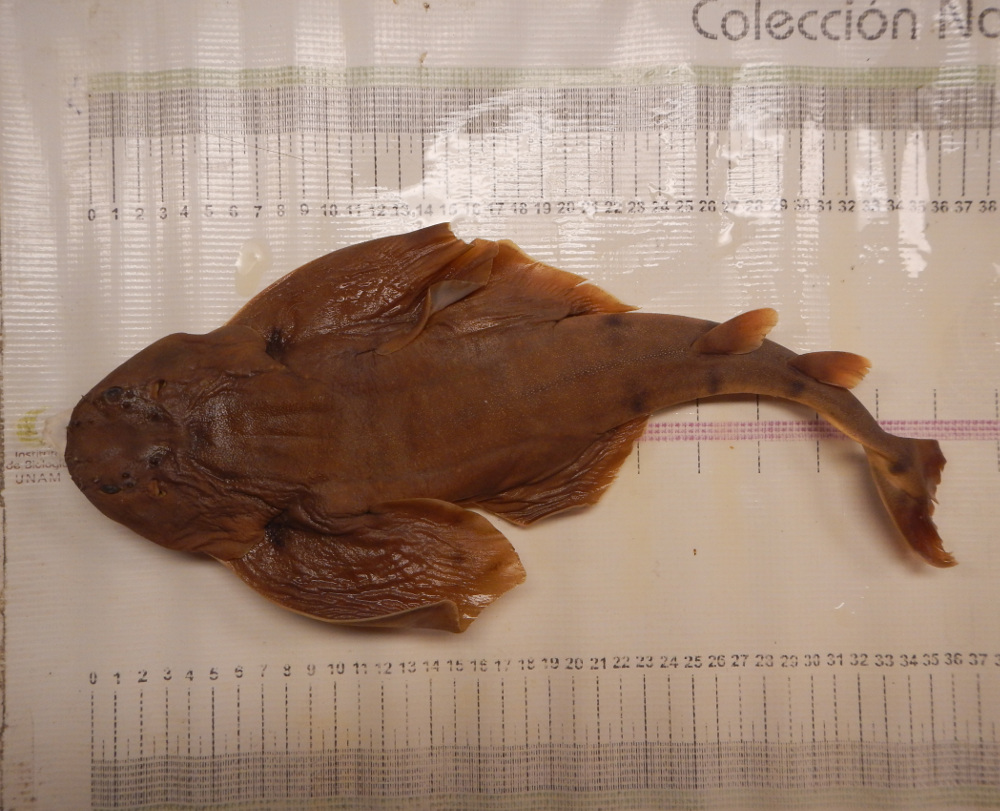 Squatina heteroptera CASTRO-AGUIRRE, ESPINOSA PÉREZ & HUIDOBRO CAMPOS, 2007; female, holotype, (collection nr.: CNPEIBUNAM-12722) © Hector S. Espinosa Pérez, Colección Nacional de Peces Instituto de Biología, Unam Ciudad Universitaria, México
Short Description
This species has no thorns nor enlarged denticles on the mean dorsal line. The dermal denticles has 4 keels extending posteriorly, its widest base, approximately twice its length. Dorsal fins are very different in size, shape and area, with their base about half their height. Nasal lobes are simple and similar in length; the first and last are spatula-like in shape; the central part irregularly quadrangular. its edge with several lobes. General body color is dark brown at the dorsal surface, ocelli absent, but with 2 distinct round black spots on the upper edge of the pectoral fins and with irregular, scattered whitish spots. Each side of jaws with 8 triangular, non-serrated, and straight teeth, the upper with 2 functional series, the lower with only one
[3873]
..
Distribution
Western Atlantic: Gulf of Mexico.
Size / Weight / Age
49.0 cm TL (male/unsexed;
[3873]
.)
Habitat
demersal; marine; depth range 157 - 164 m
[3873]
.
Remarks
shark-references Species-ID=6926;