Squatina prima
(Winkler, 1874)
Classification:
Elasmobranchii Squatiniformes Squatinidae
Reference of the original description
Mémoire sur quelques restes de poissons du système heersien.
Archives du Musée Teyler, 4(1): 1–15, pl. 1.
Image of the original description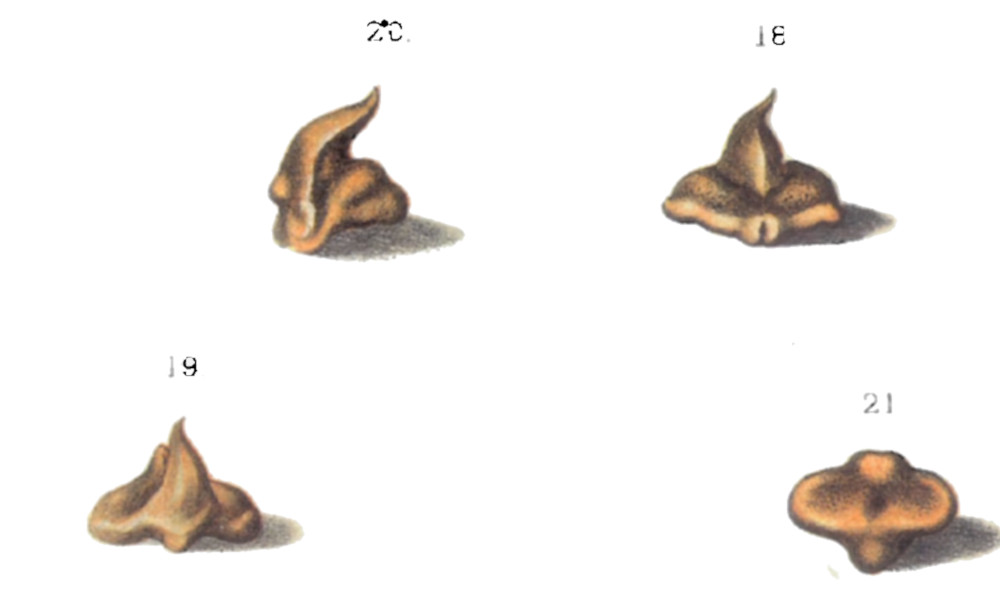 Original image of Trigonodus primus WINKLER, 1874 (fig. 18-21)
Synonyms / new combinations and misspellings
Rhina winkleri, Rhina (Squatina) prima, Squatina cf. prima, Squatina gaudryi, Squatina winkleri, Trigonodus primus
Description:



Citation:

Squatina prima (Winkler, 1874): In: Database of fossil elasmobranch teeth www.shark-references.com, World Wide Web electronic publication, Version 12/2021

Please send your images of
"Squatina prima"
to
info@shark-references.com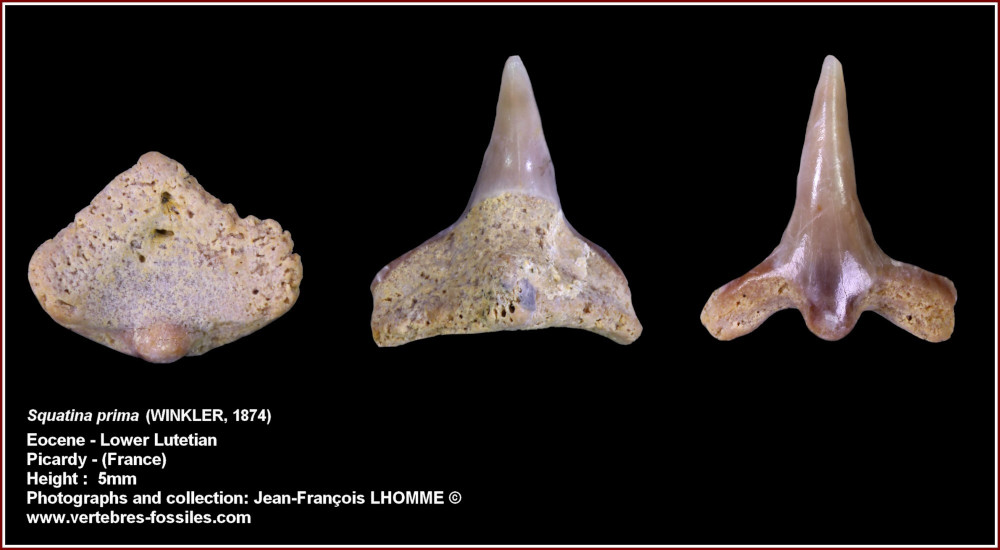 Squatina prima
(WINKLER, 1874), Eocene, Lutetian, Picardy, France © Jean-Francois LHOMME,
www.vertebres-fossiles.com
Description
Original diagnose after Winkler (1874) p. 13-14
[2575]
: Les dents les plus curieuses de toute la collection remarquable que j'ai eue à ma disposition, sont certainement celles que l'on voit figurées agrandies environ trois fois dans les figures 18, 19, 20 et 21. J'ai cherché inutilement dans les auteurs qui traitent d'odontologie ; j'ai parcouru en vain tous les dessins de dents disséminés clans les ouvrages palichtliyologiques, nulle description, nulle figure ne m'a appris à quelle espèce, à quel genre, à quelle famille ont pu appartenir ces dents remarquables. Pour donner une idée de leur forme extraordinaire, disons que la couronne est un cône très élancé, pointu, un peu courbé. Cette couronne repose sur une racine large d'une apparence tout, à fait insolite; c'est une espèce de monticule; une pyramide à trois faces, dont la base forme un triangle à angles arrondis. Au milieu de la face inférieure de la racine (fig. 21) s'observe une dépression circulaire, et l'émail de la dent forme une espèce de lambeau terminé par un petit tubercule à la face interne de la racine. La fig. 18 nous montre une de ces dents vue par la face interne, la fig. 19 par la face externe, et la fig. 20 une dent vue de côté.
Il me semble qu'on pourrait nommer le poisson qui a possédé ces dents remarquables
Trigonodus primus Winkler
vu la forme trigonale de la racine.
Ces dents font partie de la collection de M. Rutot, et ont été recueillies dans le sable heersien d'Orp-le-Grand. Provisoirement je range le poisson auquel ont appartenu ces dents, parmi les squalides. Mais il est possible ([lie des restes plus complets, permettant une détermination plus rigoureuse, viennent plus tard lui assigner une autre place clans le système zoologique.
Remarks
valid after Leriche (1922) p. 178
[1437]
; White (1931) p. 68
[2532]
; Case (1981) p. 67
[391]
; Reinecke & Engelhard (1997) p. 9
[2031]
; Migom et al. (2021) p. 21
[29914]
;