Striatolamia macrota
(Agassiz, 1838)
Classification:
Elasmobranchii Lamniformes Mitsukurinidae
Reference of the original description
Recherches sur les poissons fossiles, 11th livraison (November 1838).
Petitpierre et Prince(text) and H. Nicolet(plates), Neuchâtel, vol. 3: [73]-140, pl. 1a, 8a, 8b, 15, 17, 19, 20, 24, 25b, 30, 31, 32, 33, 34, 35, 39, 40.
Image of the original description
Striatolamia macrota (Agassiz, 1838) as Otodus macrotus Tafel 32 fig.29-31
Synonyms / new combinations and misspellings
Carcharias cf. macrota, Carcharias macrota, Carcharias macrotus, Eugomphodus macrota, Lamna compressa, Lamna depressa, Lamna elegans, Lamna huttoni, Lamna striata, Odontaspis elegans, Odontaspis macrota, Odontaspis macrota rossica, Odontaspis macrota striata semistriata, Odontaspis (Otodus) macrota, Odontaspis (Synodontaspis) macrota, Otodus macrotus, Otodus striatus, Striatolamia aff. macrota, Striatolamia cf. macrota , Striatolamia cf. striata, Striatolamia compressa, Striatolamia depressa, Striatolamia elegans elegans, Striatolamia macrota rossica, Striatolamia macrotus
Types
Striatolamia macrota
Description:



Citation:

Striatolamia macrota (Agassiz, 1838): In: Database of fossil elasmobranch teeth www.shark-references.com, World Wide Web electronic publication, Version 12/2021

Please send your images of
"Striatolamia macrota"
to
info@shark-references.com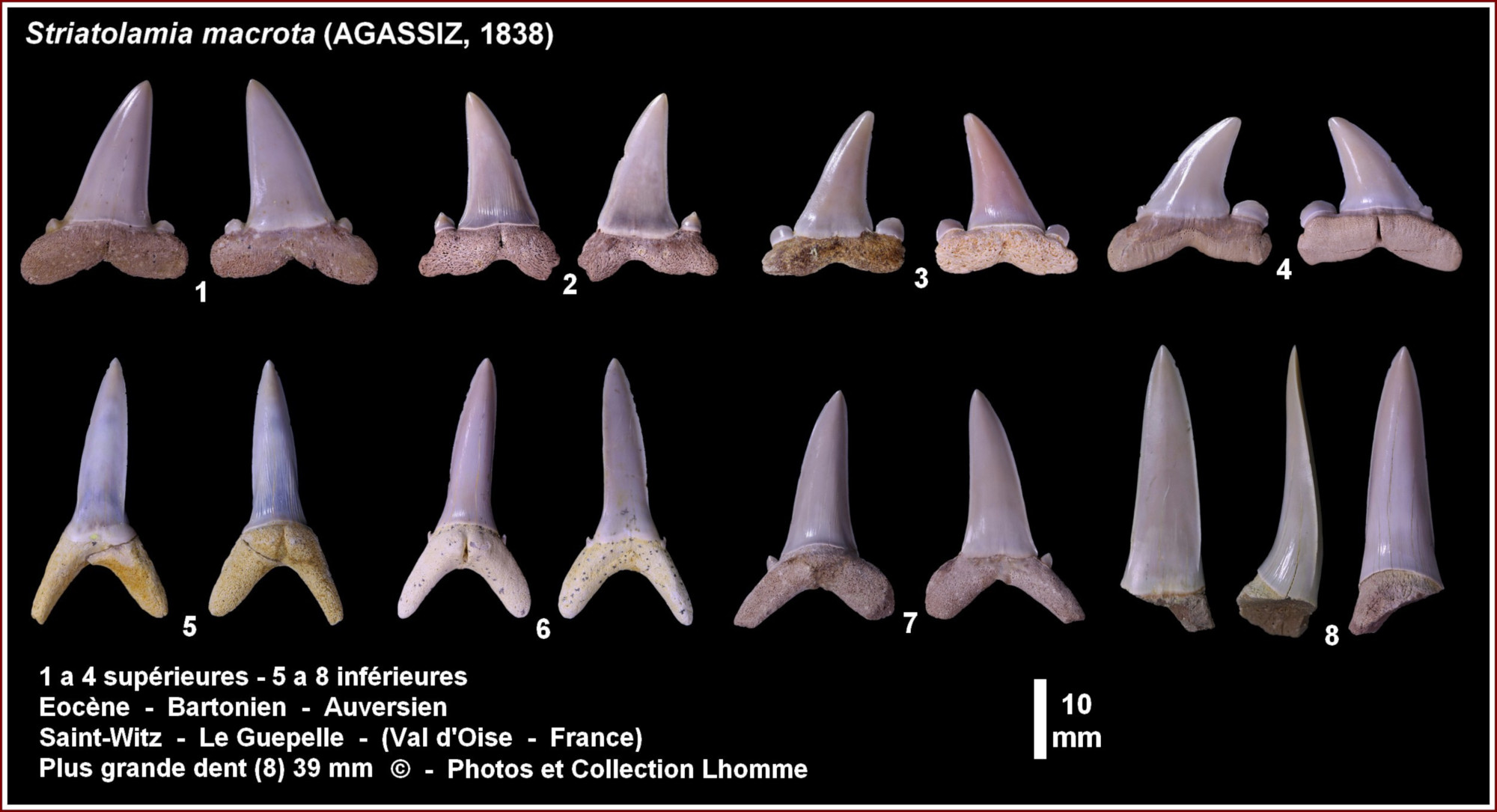 Striatolamia macrota
(Agassiz, 1838), Eocene, Ypresian, France © Jean-Francois LHOMME,
www.vertebres-fossiles.com
Distribution Geographic
after Cappetta 2012
[16818]
: S. macrota (AGASSIZ 1838 [1843B]). Sheppey, England; Veteuit Paris basin, France. These two species (S. striata, S. macrota), the first probably the ancestor of the second one, are widespread in the Paleocene and Eocene of the English-French-Belgian basin (GURR 1962, LERICHE 1906C, CASIER 1946, 1966A CAPPETTA & NOLF 1981), of Morocco (ARAMBOURG 1952D), of Russia (GLIKMAN 1964B), of Angola (PRIEM 1907C), of Enclave of Cabinda, western Africa (DARTEVELLE & CASIER 1943, 1949, 1959), and of the U.S.A. (EASTMAN 1901B, LERICHE 1942B).
Distribution Strategraphy
Lower Eocene, Ypresian; middle Eocene, Lutetian; (after Cappetta 2012
[16818]
)