IUCN Red List

NCBI GenBank
Taeniura lessoni
LAST, WHITE & NAYLOR, 2016
Taeniura lessoni
Classification:
Elasmobranchii Myliobatiformes Dasyatidae
Reference of the original description
Three new stingrays (Myliobatiformes: Dasyatidae) from the Indo–West Pacific.
Zootaxa, 4147 (4): 377–402
Description :



Citation:

Taeniura lessoni

LAST, WHITE & NAYLOR, 2016: In: Database of modern sharks, rays and chimaeras, www.shark-references.com, World Wide Web electronic publication, Version 02/2021

Please send your images of
"Taeniura lessoni"
to
info@shark-references.com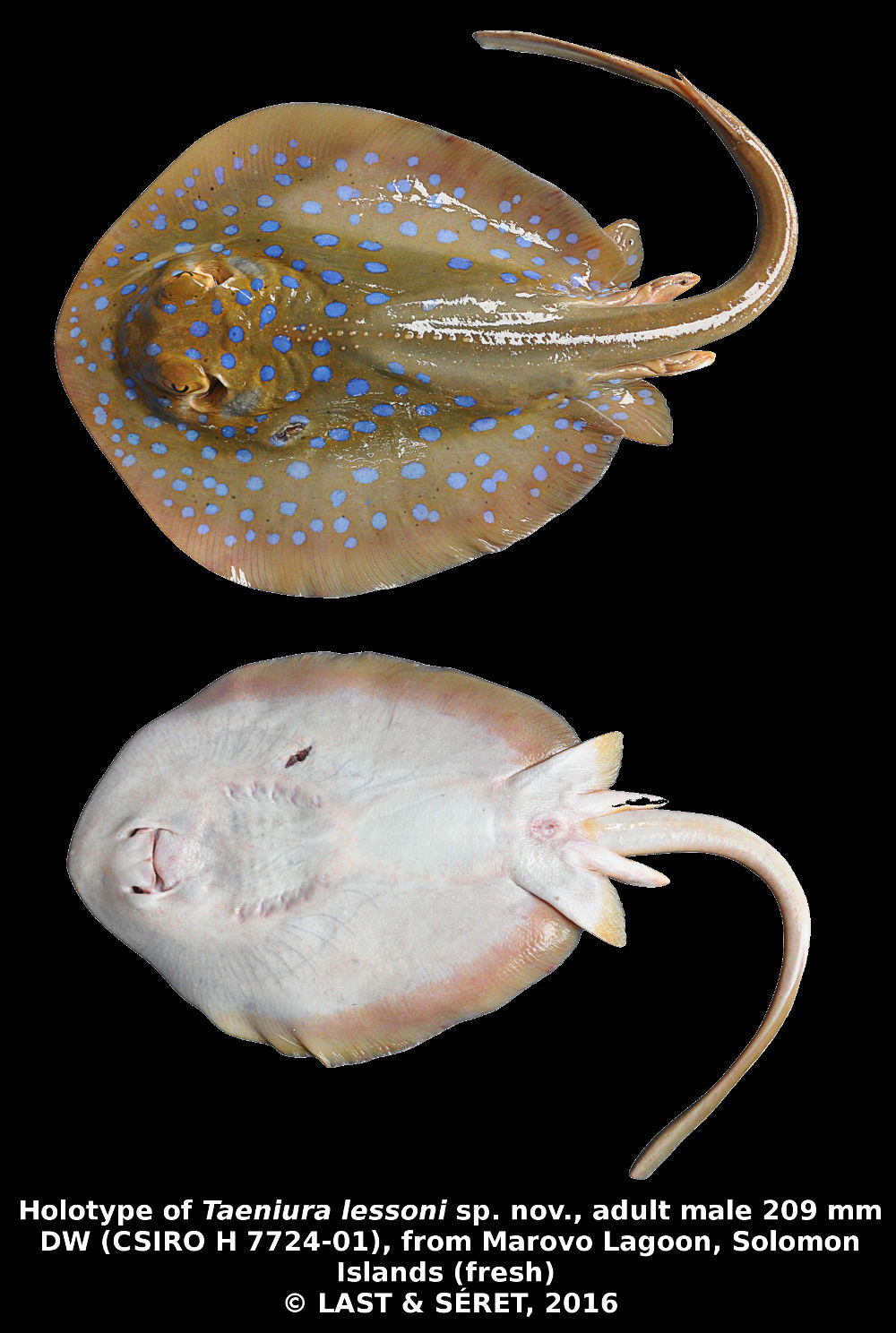 Holotype of Taeniura lessoni sp. nov, adult male 209 mm DW (CSIRO H 7724-01), from Marovo Lagoon, Solomon Islands (fresh) © LAST & SÉRET, 2016
Common names

Oceania Fantail Ray
Short Description
Original diagnosis after LAST, WHITE & NAYLOR, 2016
[24346]
: Small, blue-spotted stingray of the genus Taeniura lacking of a pair of blue longitudinal stripes along the sides of the tail; a uniformly pale ventral fold; no dorsal fold but upper margin of tail with a firm, blunt ridge; and within the genus possibly a relatively short post-orbital disc (length from rear of orbit to pectoral-fin insertion 63–65% DW), relatively long horizontal snout length (20–21% DW) and prenasal length 14–16% DW, and prenasal length 1.5–1.9 times internasal width.
Distribution
Solomon Islands and Vanuatu, Melanesia; Underwater images from off Kavieng (New Ireland), and off Kokopo, East New Britain (Papua New Guinea), Fiji
[24346]
Size / Weight / Age
DW max: 220 mm DW
[24346]
Habitat
demersal; marine; depth range - 18 m
[24346]
Dentition
Teeth uniformly close-set in both jaws, in few oblique rows, not arranged in obvious quincunx; in paratype (CSIRO H 7724-02) rows in upper jaw ~23, lower jaw ~23.
[24346]
Remarks
shark-references Species-ID=14670;