NCBI GenBank
Taeniura lymma
(Fabricius in Niebuhr, 1775)
Bluespotted ribbontail ray
Classification:
Elasmobranchii Myliobatiformes Dasyatidae
Reference of the original description
Descriptiones animalium, avium, amphibiorum, piscium, insectorum, vermium / quae in itinere orientali observavit Petrus Forskål. Post mortem auctoris edidit Carsten Niebuhr. Adjuncta est materia medica kahirina atque tabula maris Rubri geographica.
Post mortem auctoris edidit Carsten Niebuhr. Hauniae. Descriptiones animalium quae in itinere ad Maris Australis terras per annos 1772 1773 et 1774 suscepto, ...: 1–20 + i–xxxiv + 1–164, map. [Pisces on pp. x–xix and 22–76.
Image of the original description
No image in first description.
Synonyms / new combinations and misspellings
Raia lymma, Raia lymnia, Raja lymma, Raja lymna, Taeniura lymna, Taeniura lymnia halgani, Trigon lymma, Trygon lymma, Trygon lymna, Trygon ornatum, Trygon ornatus
Description :



Citation:

Taeniura lymma

(Fabricius in Niebuhr, 1775): In: Database of modern sharks, rays and chimaeras, www.shark-references.com, World Wide Web electronic publication, Version 06/2023

Please send your images of
"Taeniura lymma"
to
info@shark-references.com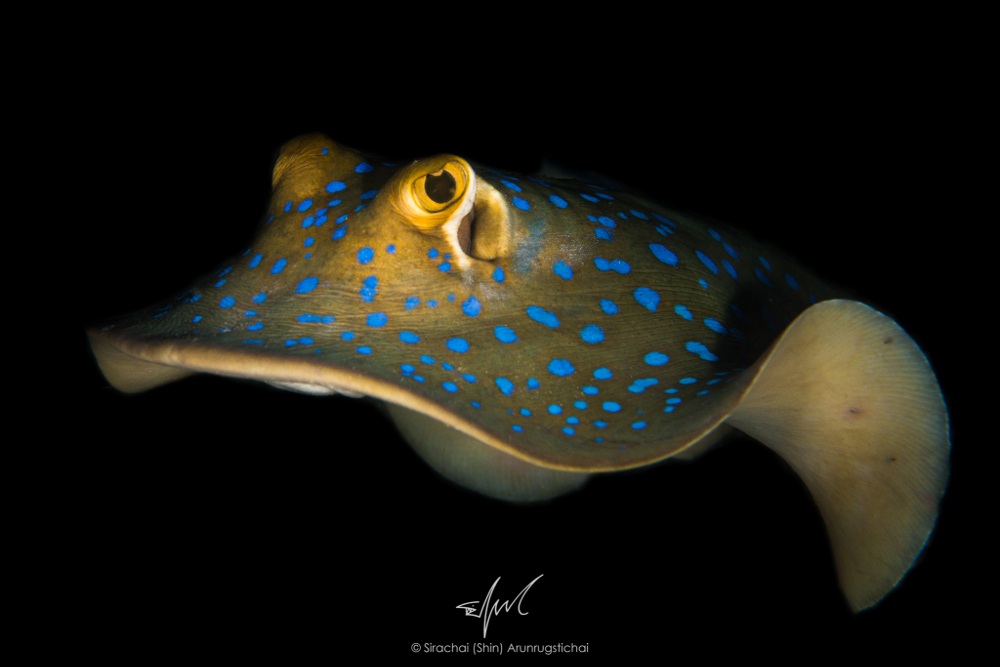 Taeniura lymma
(Forsskål, 1775); © Sirachai (Shin) Arunrugstichai, Center for Biodiversity in Peninsular Thailand, Yai Songkla, Thailand
Common names

Rajalátigo rabo cinta,

Pastenague queue à ruban,

Blue spotted lagoon ray,

Blue spotted stingray,

Blue-spotted fantail ray,

Blue-spotted lagoon ray,

Blue-spotted ray,

Blue-spotted ribbontail ray,

Blue-spotted stingray,

Bluespotted fantail ray,

Bluespotted ribbontail ray,

Bluespotted ribbontailray,

Bluespotted stingray,

Fantail ray,

Lagoon ray,

Lesser fan-tailed ray,

Lesser fantail ray,

Reef ray,

Ribbon-tailed stingray,

Ribbontail stingray,

Ratão pintalgado
Short Description
A colorful stingray with large bright blue spots on an oval, elongated disc and with blue side-stripes along the tail; snout rounded and angular, disc with broadly rounded outer corners, and tail stout, tapering and less than twice body length when intact, with a broad lower caudal finfold reaching the tail tip; disc with no large thorns but with small, flat denticles along midback (in adults); usually 1 medium-sized sting on tail further behind base than in most stingrays
[536]
. Grey-brown to yellow, olive-green or reddish brown dorsally, white ventrally
[536]
.
Distribution
Indo-West Pacific: Red Sea and East Africa to the Solomon Islands, north to southern Japan (Ref.
9710
), south to northern Australia. Source:
www.gbif.org
Human uses
fisheries: commercial; gamefish: yes; aquarium: commercial
Biology
Exhibit ovoviparity (aplacental viviparity), with embryos feeding initially on yolk, then receiving additional nourishment from the mother by indirect absorption of uterine fluid enriched with mucus, fat or protein through specialised structures
[733]
. Distinct pairing with embrace
[17086]
. Distinct pairing with embrace
[17086]
. Bears up to 7 young
[536]
[1658]
. Found on the continental shelf (Ref.
75154
). Feeds on fish and invertebrates
[536]
.
Size / Weight / Age
35.0 cm WD (male/unsexed;
[2539]
)
Habitat
reef-associated; marine; depth range ? - 20 m (Ref.
9840
)
Remarks
shark-references Species-ID=7103;
Parasites (arranged by Jürgen Pollerspöck)
Myxosporea
Kudoa hemiscylli Gleeson, Bennett & Adlard, 2010 [21484]
Monogenea
Cestoda
Nematoda
Image gallery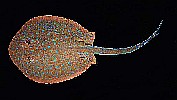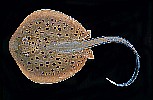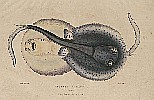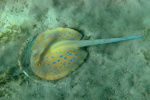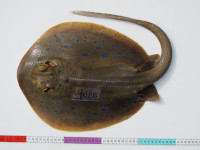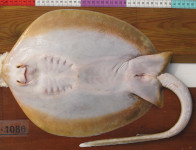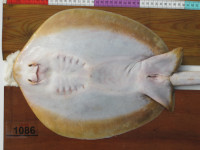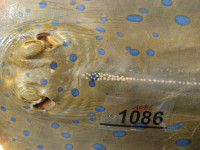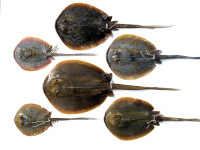 <i>Taeniura lymma</i> (Forsskål, 1775), (ERB 1086), female, 29, 4 cm DW, 74, 1 cm TL, Kenya © Frederik H. Mollen (Elasmobranch Research Belgium)