NCBI GenBank
Telatrygon zugei
(Müller & Henle, 1841)
Pale-edged stingray
Classification:
Elasmobranchii Myliobatiformes Dasyatidae
Reference of the original description
Systematische Beschreibung der Plagiostomen.
Berlin, Veit, pp. 1–200
Image of the original description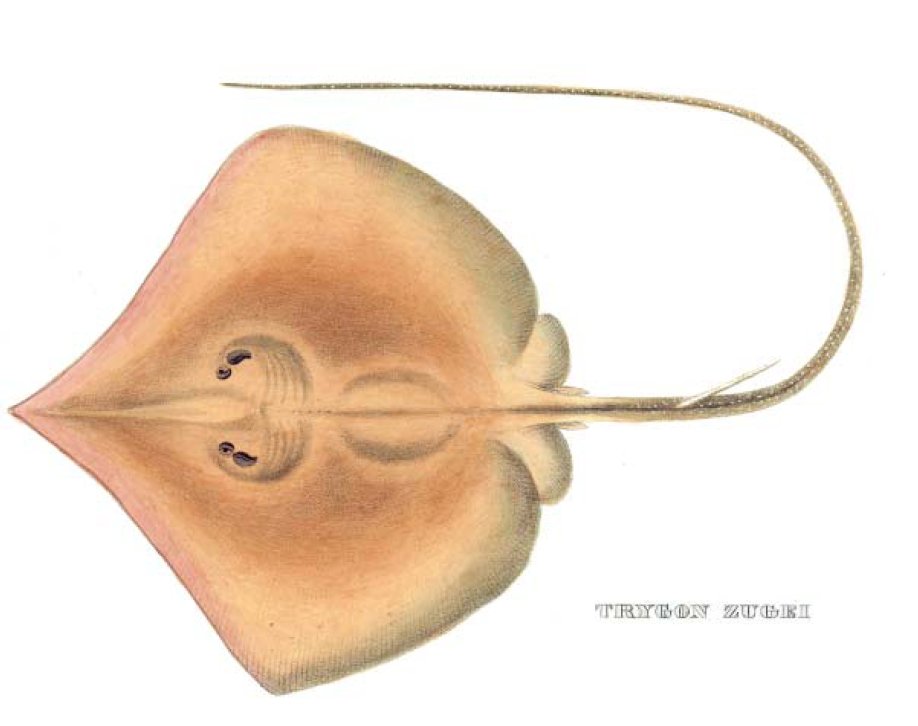 Telatrygon zugei (Müller & Henle, 1841)
Synonyms / new combinations and misspellings
Amphotistius zugei, Dasyatis cf. zugei, Dasyatis cheni, Dasyatis zugei, Dasyatis (Amphotistius) zugei, Dasybatus zugei, Telatrygon cf. crozieri, Trygon crozieri, Trygon zugei, Trygon (Hemitrygon) croizieri, Trygon (Trygon) zugei
Description :



Citation:

Telatrygon zugei

(Müller & Henle, 1841): In: Database of modern sharks, rays and chimaeras, www.shark-references.com, World Wide Web electronic publication, Version 11/2022

Please send your images of
"Telatrygon zugei"
to
info@shark-references.com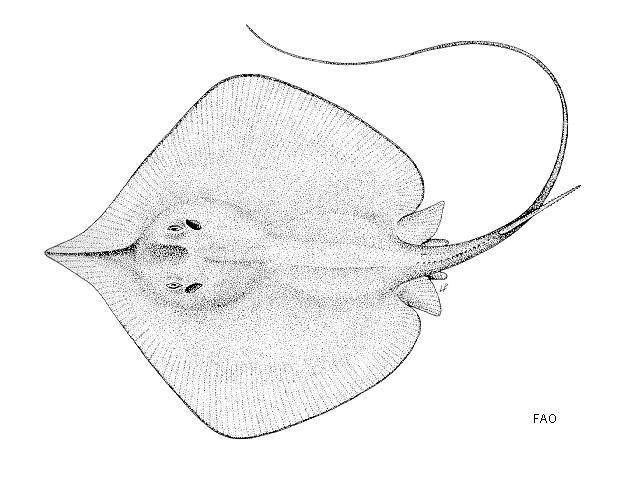 Telatrygon zugei
(Müller & Henle, 1841), © FAO, www.fish-base.org
Common names

Pale-edged stingray,

Sharpnose stingray
Distribution
Indo-West Pacific: India to southern Japan, Myanmar, Malaya, Indonesia, China and Indo-China. Source:
www.gbif.org
Human uses
fisheries: minor commercial; price category: low; price reliability: very questionable: based on ex-vessel price for species in this family
Biology
Exhibit ovoviparity (aplacental viviparity), with embryos feeding initially on yolk, then receiving additional nourishment from the mother by indirect absorption of uterine fluid enriched with mucus, fat or protein through specialized structures
[733]
. Distinct pairing with embrace
[17086]
. Gives birth to litters of 1-4 pups; born at 7-10 cm WD. No reproductive synchronicity
[2539]
. Inhabits coral reefs (Ref.
58534
). Common in estuaries. Feeds on bottom-dwelling organisms (Ref.
4832
).
Size / Weight / Age
29.0 cm WD (male/unsexed; (Ref.
9840
))
Habitat
demersal; amphidromous
[17660]
; brackish; marine
Remarks
shark-references Species-ID=14635;
Parasites (arranged by Jürgen Pollerspöck)
Monogenea
Trimusculotrema schwartzi Dyer & Poly, 2002 [7381]
Cestoda
Nematoda
Anisakis simplex (Rudolphi, 1809) [21235]