NCBI GenBank
Tetronarce nobiliana
(BONAPARTE, 1835)
Atlantic torpedo
Classification:
Elasmobranchii Torpediniformes Torpedinidae
Reference of the original description
Iconografia della fauna italica per le quattro classi degli animali vertebrati. Tomo III. Pesci.
Roma: Fasc. 12–14, puntata 59–79, 12 pls.
Synonyms / new combinations and misspellings
Gymnotorpedo hebetans, Gymnotorpedo nobiliana, Gymnotorpedo occidentalis, Narcacion fairchildi, Narcacion nobilianus, Narcacion nobilianus, Narcobatus fairchildi, Narcobatus nobiliana, Narcobatus nobilianus, Notastrape fairchildi, Notastrape macneilli, Tetronarce fairchildi, Tetronarce macneilli, Torpedo cf. nobiliana, Torpedo emarginata, Torpedo fairchildi, Torpedo fusca, Torpedo hebetans, Torpedo macneilli, Torpedo nigra, Torpedo nobiliana, Torpedo nobilianus, Torpedo nobililana, Torpedo walshii, Torpedo (Tetronarce) fairchildi, Torpedo (Tetronarce) macneilli, Torpedo (Tetronarce) nobiliana, Torpedo (Tetronarke) nobiliana
Description :



Citation:

Tetronarce nobiliana

(BONAPARTE, 1835): In: Database of modern sharks, rays and chimaeras, www.shark-references.com, World Wide Web electronic publication, Version 02/2019

Please send your images of
"Tetronarce nobiliana"
to
info@shark-references.com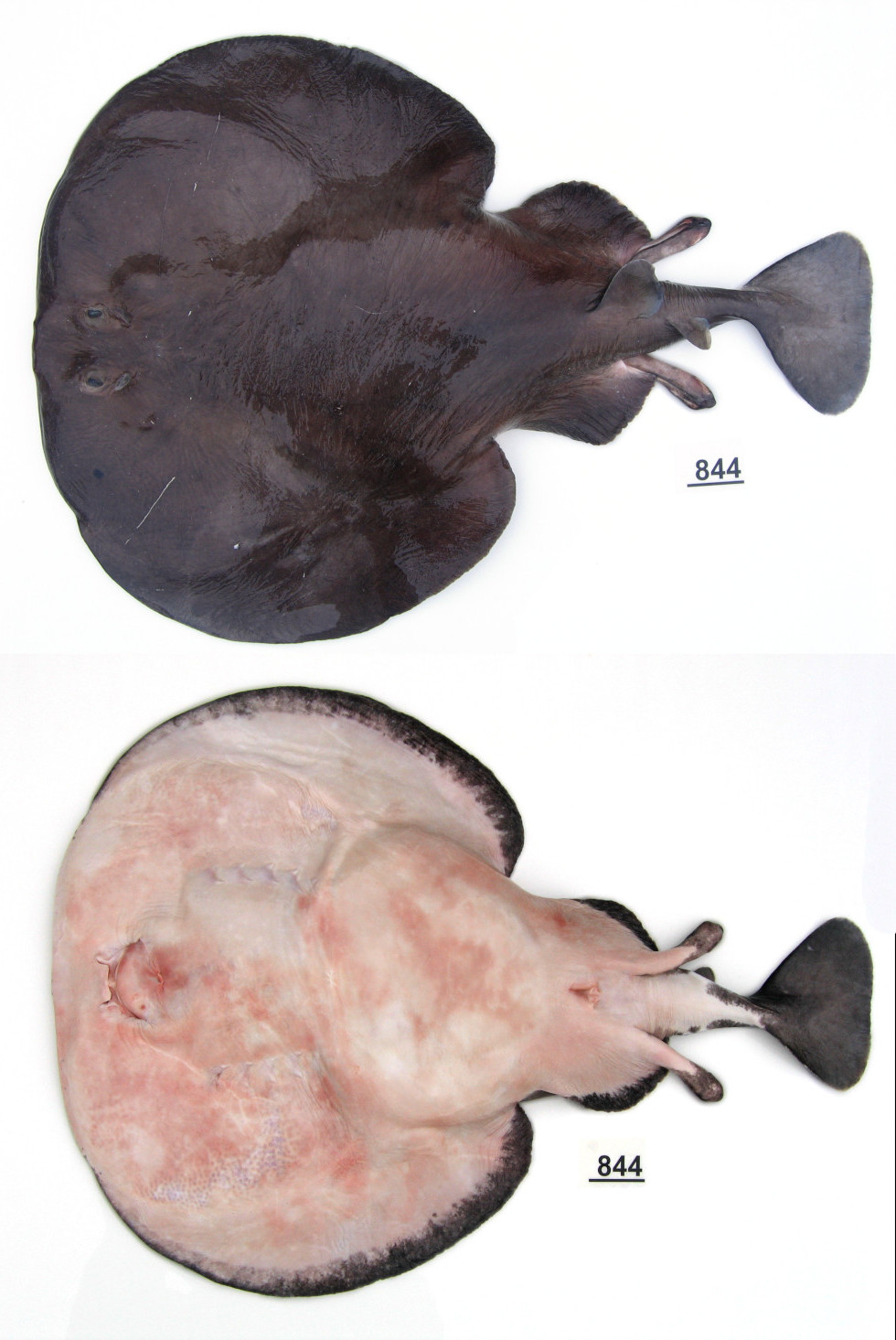 Tetronarce nobiliana
(BONAPARTE, 1835) (ERB 0844), male, 48,5 cm DW, 67,0 cm TL, North Sea (The Netherlands) © Frederik H. Mollen (Elasmobranch Research Belgium)
Common names

Dunkler Zitterrochen,

Esturpillo,

Atlantic New British torpedo,

Atlantic electric ray,

Atlantic torpedo,

Black torpedo,

Crampfish,

Dark electric ray,

Electric ray,

Electricfish,

Arrraia
Short Description
Large ray with a huge, paddle-shaped caudal fin and with no papillae around spiracles. Shiny black or dark grey above, underside white
[536]
. Broad subcircular disc, short snout anterior to the eyes. Smooth skin, short thick tail
[199]
. Dark chocolate t
Distribution
Eastern Atlantic: Scotland (rare in North Sea) to Morocco, whole of Mediterranean, but not Black Sea; Cap Blanc in Mauritania to Gulf of Guinea, São Tomé Island; Walvis Bay, Namibia to Mossel Bay, South Africa
[536]
. Western Atlantic: Nova Scotia, Canada Source:
www.gbif.org
Human uses
fisheries: of no interest
Biology
Exhibit ovoviparity (aplacental viviparity), with embryos feeding initially on yolk, then receiving additional nourishment from the mother by indirect absorption of uterine fluid enriched with mucus, fat or protein through specialised structures
[733]
. W Juveniles benthic over soft bottoms or near coral reefs
[1658]
from 10-150 m; adults are semi-pelagic to pelagic, swimming in the water column and have been reported to migrate over long distances
[7182]
. Feeds mainly on pelagic and benthic bony fishes,
Habitat
benthopelagic; oceanodromous; marine; depth range 2 - 800 m (Ref.
35509
), usually 10 - 150 m
[20241]
Remarks
shark-references Species-ID=10087;
Parasites (arranged by Jürgen Pollerspöck)
Monogenea
Amphibdella cuticulovagina DILLON & HARGIS, 1965 [16602]
Cestoda
Trematoda
Otodistomum veliporum (CREPLIN, 1837) STAFFORD, 1904 [16602]
Nematoda
Copepoda