IUCN Red List

NCBI GenBank
Torpedo bauchotae
CADENAT, CAPAPÉ & DESOUTTER, 1978
Rosette torpedo
Classification:
Elasmobranchii Torpediniformes Torpedinidae
Reference of the original description
Description d'un Torpedinidae nouveau des côtes occidentales d'Afrique: Torpedo (Torpedo) bauchotae (Torpediniformes, Pisces).
Bulletin de la Société Française d'Ichtyologie, 4: 29–42
Synonyms / new combinations and misspellings
Torpedo (Torpedo) bauchotae
Description :



Citation:

Torpedo bauchotae

CADENAT, CAPAPÉ & DESOUTTER, 1978: In: Database of modern sharks, rays and chimaeras, www.shark-references.com, World Wide Web electronic publication, Version 02/2021

Please send your images of
"Torpedo bauchotae"
to
info@shark-references.com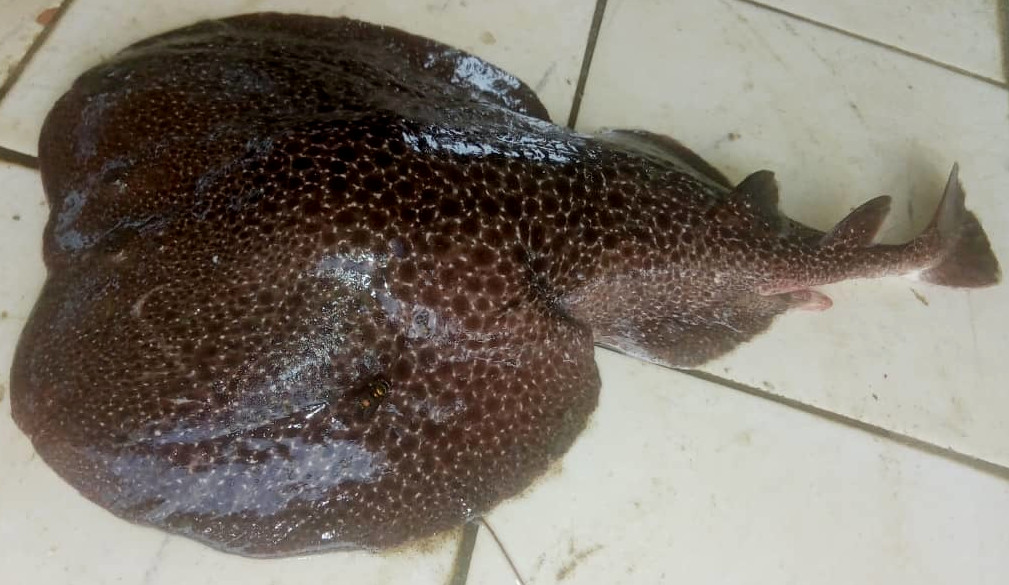 Torpedo bauchotae
CADENAT, CAPAPÉ & DESOUTTER, 1978, off Camerun © Aristide Takoukam and AMMCO
Common names

Rosette torpedo
Short Description
Diagnostic characters: A medium-size electric ray with a fleshy and thick body, a subcircular disc, snout short anterior to eyes; tail thick and short; wide at base, tapering rearward, with 2 well-developed dorsal fins; the first one only slightly larger than the second; caudal fin large and triangular with 2 well-developed vertical lobes; pelvic fins with broadly convex outer margin. Skin totally naked (without dermal denticles) above and below. Eyes small, just in front of spiracles. Spiracles with small tentacles on margins of varying length, sometimes reduced to knob-like papillae. A pair of conspicuous pores (pores of endolymphatic canals) side-by-side on nuchal region. Colour: a very distinctive vivid colour pattern consisting of numerous rosette ocelli included in reticulated patterns.
[24714]
Distribution
Eastern Atlantic: known only from Senegal and Pointe Noire, Congo. Reported from Ivory Coast
[20238]
. New record from Cameroon (pers. com. Aristide Takoukam, see attached image)
Biology
Exhibit ovoviparity (aplacental viviparity), with embryos feeding initially on yolk, then receiving additional nourishment from the mother by indirect absorption of uterine fluid enriched with mucus, fat or protein through specialised structures
[733]
.
Size / Weight / Age
TL (max): 60 cm
[24714]
Remarks
shark-references Species-ID=7163;