IUCN Red List

NCBI GenBank
Trygonorrhina dumerilii
(CASTELNAU, 1873)
Southern fiddler
Classification:
Elasmobranchii Rhinopristiformes Trygonorrhinidae
Reference of the original description
Contribution to the ichthyology of Australia. Nos. III thru IX [with subtitles, indexed as one work].
Proceedings of the Zoological and Acclimmatisation Society of Victoria, 2: 37–158
Synonyms / new combinations and misspellings
Rhinobatos dumerilii, Rhinobatus dumerilii, Taeniura dumerilii, Trygonorhina fasciata guanerius, Trygonorhina guaneria, Trygonorhina guanerius, Trygonorrhina fasciata guanerius, Trygonorrhina guaneria, Trygonorrhina guanerius, Trygonorrhina melaleuca
Types
Trygonorrhina dumerilii
Trygonorrhina fasciata guanerius
Holotype:
NMV
: A60178
Trygonorrhina melaleuca
Holotype:
SAMA
:
F 2769
;
Description :



Citation:

Trygonorrhina dumerilii

(CASTELNAU, 1873): In: Database of modern sharks, rays and chimaeras, www.shark-references.com, World Wide Web electronic publication, Version 04/2021

Please send your images of
"Trygonorrhina dumerilii"
to
info@shark-references.com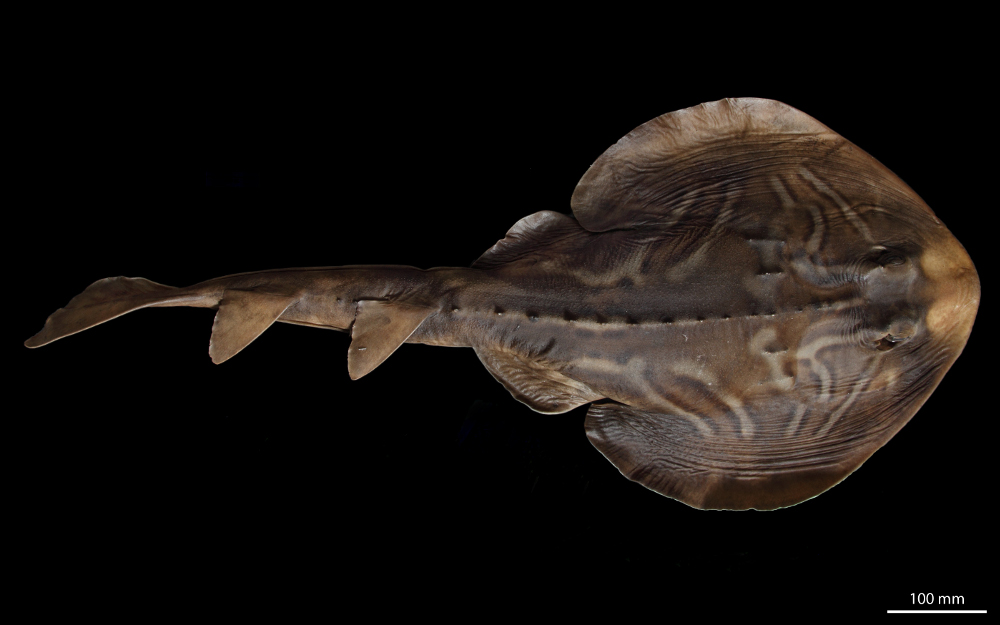 Trygonorrhina dumerilii (CASTELNAU, 1873), SAMA F13963 Edithburgh, GSV; © Stephen Donnellan, South Australian Museum
Common names

Geigenrochen,

Banjo shark,

Dumeril"s shovelnose ray,

Fiddler,

Fiddler ray,

Green skate,

Parrit,

Southern fiddler,

Southern fiddler ray
Short Description
A medium size sholvenose ray with an oval disc, nostrils partly covered by a fleshy internasal flap, an ornate pattern of dark-edged bands but without a distinct triangular or diamond-sharped marking behind the interorbital space, and a poorly defined lower caudal-fin lobe. Colour: upper surface yellowish to brown with distinct dark-edged bluish grey transverse bands
[3365]
Distribution
Southern Australia, from East Bass Strait to Lancelin
[3365]
; Borneo (see image)
Biology
Viviparous (aplacental), giving birth to 2-5 pubs in April -May after about a 12 month gestation period
[3365]
Size / Weight / Age
Born at 21 - 25 cm and attains 146 cm; most males mature at about 70 cm and females at 89 cm
[3365]
Habitat
demersal; marine;
Remarks
shark-references Species-ID=10838;
Parasites (arranged by Jürgen Pollerspöck)
Cestoda
Dollfusiella martini (BEVERIDGE, 1990) [16252]