NCBI GenBank
Urogymnus granulatus
(Macleay, 1883)
Mangrove whipray
Classification:
Elasmobranchii Myliobatiformes Dasyatidae
Reference of the original description
Contribution to a knowledge of the fishes of New Guinea. No. III.
Proceedings of the Linnean Society of New South Wales, ser. 1, 7, 585–598
Image of the original description
No image in first description.
Synonyms / new combinations and misspellings
Dasyatis granulata, Dasyatis granulatus, Dasyatis ponapensis, Himantura granulata, Himantura ponapensis, Raia granulata, Raja granulata, Trygon granulata, Trygon ponapensis
Types
Urogymnus granulatus
Himantura granulata
Holotype:
AMS
:
I.9763
;
Trygon granulata
Holotype:
AMS
:
I.9763
;
Trygon ponapensis
Holotype:
BMNH
: 1879.5.22.105
Description :



Citation:

Urogymnus granulatus

(Macleay, 1883): In: Database of modern sharks, rays and chimaeras, www.shark-references.com, World Wide Web electronic publication, Version 10/2022

Please send your images of
"Urogymnus granulatus"
to
info@shark-references.com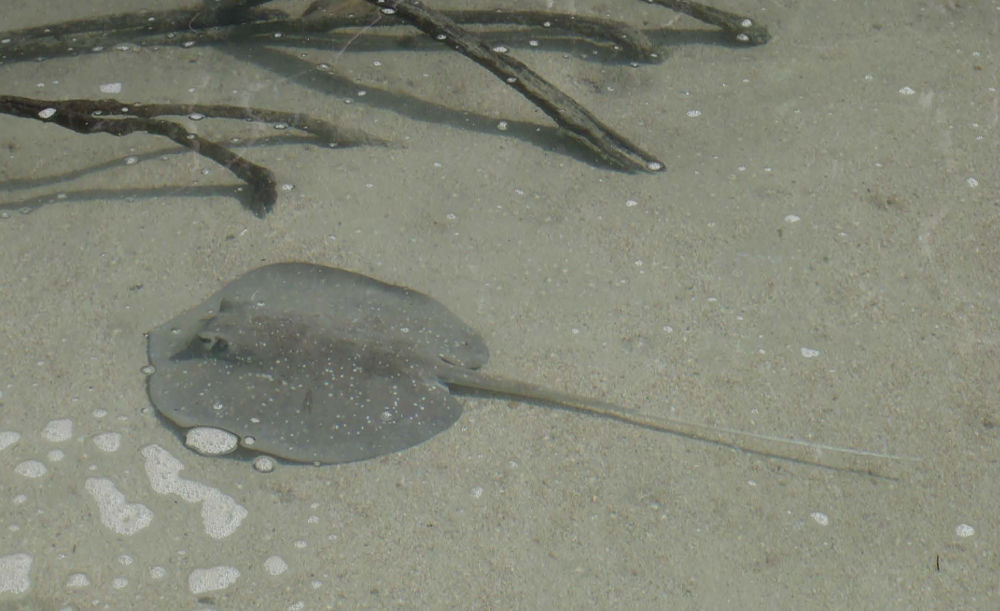 Urogymnus granulatus
(Macleay, 1883) © Lauren Davy
Common names

Coachwhip ray,

Macleay"s coachwhip ray,

Macleays coachwhip ray,

Mangrove ray,

Mangrove stingray,

Mangrove whip ray,

Mangrove whipray,

Whitetail stingray,

Whitetail whipray
Short Description
Has white spots and a white tail.
Distribution
Indo-West Pacific: probably widespread, but known from Maldives (Ref.
9181
), Seychelles
[20049]
, New Guinea, Micronesia, and the Santa Cruz and Solomon islands. First records: 2012: fish market in Bir Ali (14°01′ N, 48°20′ E), Gulf of Aden, Yemen, on 17 July 2009 and Gulf of Aqaba (Red Sea) near Aqaba (29°31′ N, 35°00′ E), Jordan, on 27 April 2010
[16482]
; Source:
www.gbif.org
Human uses
fisheries: commercial
Biology
Exhibit ovoviparity (aplacental viviparity), with embryos feeding initially on yolk, then receiving additional nourishment from the mother by indirect absorption of uterine fluid enriched with mucus, fat or protein through specialised structures
[733]
. Distinct pairing with embrace
[17086]
. Fully developed young, size at birth 28 cm (Ref.
37816
)
[2539]
. Found on the continental shelf (Ref.
75154
).
Size / Weight / Age
141 cm WD (male/unsexed;
[2539]
)
Habitat
reef-associated; brackish; marine; depth range 1 - 85 m (Ref.
9840
)
Remarks
shark-references Species-ID=14661;
Parasites (arranged by Jürgen Pollerspöck)
Monogenea
Cestoda
Acanthocephala