NCBI GenBank
Urotrygon munda
GILL, 1863
Munda round ray
Classification:
Elasmobranchii Myliobatiformes Urotrygonidae
Reference of the original description
Descriptive enumeration of a collection of fishes from the western coast of Central America, presented to the Smithsonian Institution by Capt. John M. Dow.
Proceedings of the Academy of Natural Sciences of Philadelphia, 15: 162–174
Image of the original description
No image in first description.
Synonyms / new combinations and misspellings
Urolophus asterias, Urolophus munda, Urolophus mundus, Urotrygon asterias, Urotrygon caudispinosus, Urotrygon mundus, Urotrygon peruanus, Urotrygon serrula
Types
Urotrygon munda
Syntype:
USNM
: 7297
Urolophus asterias
Syntype:
USNM
: 28204
USNM
: 29542
USNM
: 29580
USNM
: 29318 (lost)
USNM
: 29524 (lost)
Urotrygon caudispinosus
Holotype:
USNM
: 127790 Paratype:
USNM
: 127791
Urotrygon peruanus
Holotype:
USNM
: 127793 Paratype:
USNM
: 127792
USNM
: 127794
Urotrygon serrula
Holotype:
USNM
: 127795
Description :



Citation:

Urotrygon munda

GILL, 1863: In: Database of modern sharks, rays and chimaeras, www.shark-references.com, World Wide Web electronic publication, Version 07/2019

Please send your images of
"Urotrygon munda"
to
info@shark-references.com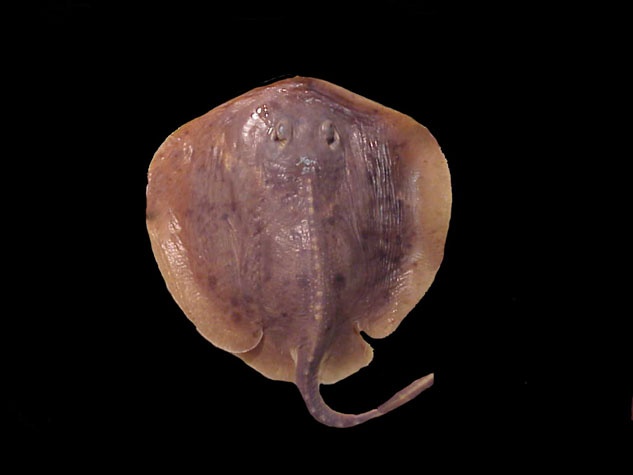 Urotrygon munda GILL, 1863, © Centro Interdisciplinario de Ciencias Marinas (CICIMAR-IPN) http://coleccion.cicimar.ipn.mx
Common names

Raya,

Raya con aguijón,

Raya con espina,

Raya redonda munda,

Raya redonda áspera,

Tapadera,

Raie ronde de munda,

Munda round ray,

Shortfin round stingray,

Spiny stingray,

Stingray
Short Description
Diet: central Mexican Pacific (data base: 268 stomachs were analyzed): Crustaceans were the main food item of this species. During period T1 (the warm period, extends from july to december), two main categories were identified: Processidae (77.68% IRI) and Ogyriididae (18.85% IRI). These same two categories were also identified during period T2 (the cold period extends from January to June) but with different proportions: Processidae with 52.38% and Ogyriididae with 44.52% IRI.
[13684]
Distribution
Eastern Central Pacific: central America. Source:
www.gbif.org
Size / Weight / Age
28.8 cm TL (male/unsexed; (Ref.
9265
))
Remarks
shark-references Species-ID=7476;