NCBI GenBank
Urotrygon rogersi
(JORDAN & STARKS, 1895)
Roger's round ray
Classification:
Elasmobranchii Myliobatiformes Urotrygonidae
Reference of the original description
The fishes of Sinaloa.
Proceedings of the California Academy of Sciences, (Series 2), 5: 377–514, 30 pls.
Image of the original description
No image in first description.
Synonyms / new combinations and misspellings
Urolophus rogersi, Urotrygon binghami, Urotrygon cf. rogersi
Types
Urotrygon rogersi
Holotype:
SU
: 11700 (mistakenly printed as 1700) Paratype:
BMNH
: 1895.5.27.339
ZMB
: 14038 (old: SU 11700)
Urotrygon binghami
Holotype:
YPM
:
ICH 001019
;
Description :



Citation:

Urotrygon rogersi

(JORDAN & STARKS, 1895): In: Database of modern sharks, rays and chimaeras, www.shark-references.com, World Wide Web electronic publication, Version 09/2019

Please send your images of
"Urotrygon rogersi"
to
info@shark-references.com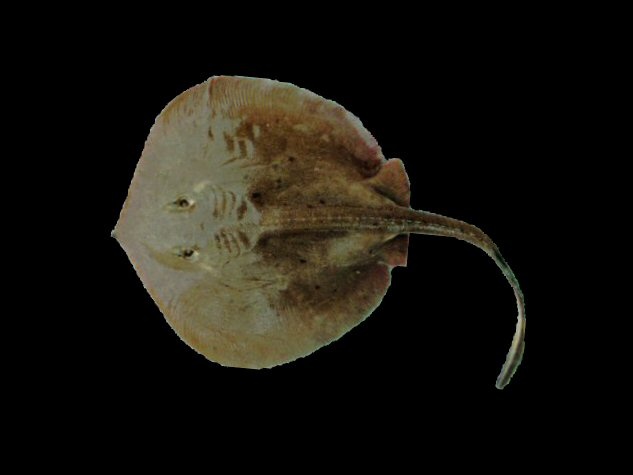 Urotrygon rogersi (JORDAN & STARKS, 1895), © Centro Interdisciplinario de Ciencias Marinas (CICIMAR-IPN) http://coleccion.cicimar.ipn.mx
Common names

Raya de Rogers,

Raya redonda de Rogers,

Raya redonda de púas,

Raie ronde de Rogers,

Lined round stingray,

Roger"s round ray,

Rogers" round ray,

Thorny stingray
Short Description
Diet: central Mexican Pacific (data base: 136 stomachs were analyzed): The diet of this species consisted mainly of microcustaceans: Processidae (89.6% IRI) and Ogyriididae (4.62% IRI). During period T2 (the cold period extends from January to June), both these categories were identified (54.4% and 34.7%, respectively), as well as Penaeidae (6.9% IRI).
[13684]
Distribution
Eastern Central Pacific: southern Gulf of California to Ecuador. Source:
www.gbif.org
Biology
Found on soft bottoms of coastal waters (Ref.
9265
). Feeds on crustaceans and small fishes (Ref.
37955
).
Size / Weight / Age
46.2 cm TL (male/unsexed; (Ref.
9265
))
Remarks
shark-references Species-ID=7481;