NCBI GenBank
Zanobatus maculatus
Séret, 2016
Classification:
Elasmobranchii Rhinopristiformes Zanobatidae
Reference of the original description
Zanobatus maculatus, a new species of panray from the Gulf of Guinea, eastern central Atlantic (Elasmobranchii: Batoidea: Zanobatidae).
Zootaxa, 4161(4), 509–522
Description :



Citation:

Zanobatus maculatus

Séret, 2016: In: Database of modern sharks, rays and chimaeras, www.shark-references.com, World Wide Web electronic publication, Version 07/2022

Please send your images of
"Zanobatus maculatus"
to
info@shark-references.com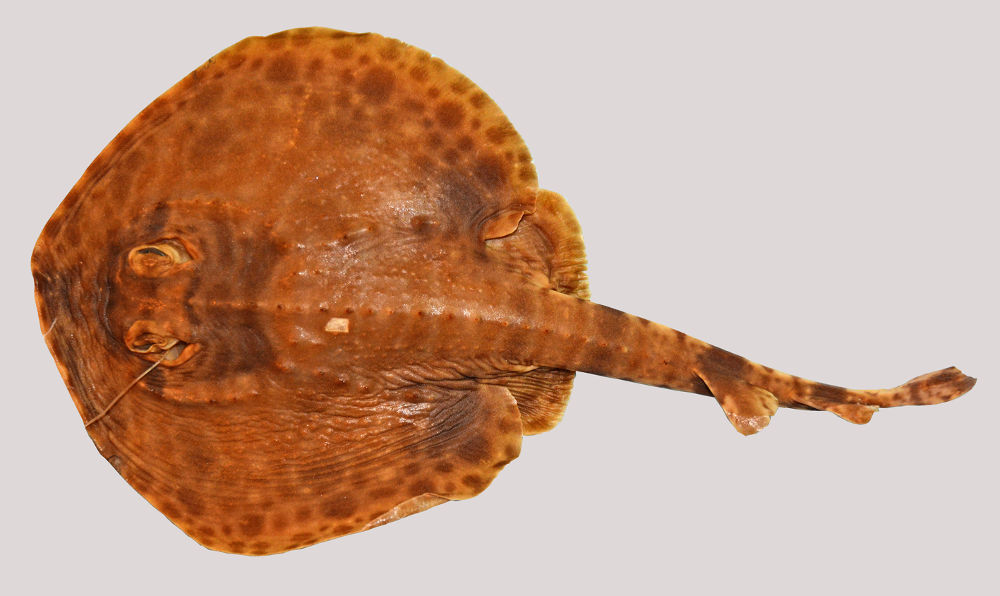 Zanobatus maculatus
Séret, 2016, holotype, MNHN 1990-467, male 302 mm TL, dorsal view © Bernhard Serét, France
Common names

Raie maculée,

Maculate Panray
Short Description
Original diagnosis after SERÉT, 2016
[24416]
: The new species is distinguished from its unique congener Zanobatus schoenleinii by the following set of characters: dorsal surface of disc brownish to reddish brown, with numerous dark brown blotches, sometimes surrounded by a network of whitish dots; ventral surface of disc pale creamy white or orange-brown, with conspicuous dark brown posterolateral margins; crown of dermal denticles of dorsal surface spearhead-shaped; enlarged thorny denticles of the dorsal surface more numerous and stronger, in parallel rows on trunk and in concentric semi-circular rows on pectoral fins; 54–64 tooth rows in upper jaw; 36–44 (mode 39) predorsal vertebrae; maximum size 359 mm TL.
Distribution
Gulf of Guinea, from Ivory Coast to Gabon, with two records from Angola
[24416]
Size / Weight / Age
TL (max): female, 358 mm TL; the holotype is an adult male of 302 mm TL
[24416]
Habitat
demersal; marine; depth range –30 m
[24416]
Dentition
Teeth small, in quincunx, forming a pavement of 54–64 rows (mean 59, n=11) in the upper jaw; teeth similar on both jaws; crown diamond-shaped with rounded margins and blunt cusps; cusps slightly more acute in mature males.
[24416]
Remarks
shark-references Species-ID=14694;