NCBI GenBank
Zapteryx exasperata
(Jordan & Gilbert, 1880)
Banded guitarfish
Classification:
Elasmobranchii Rhinopristiformes Trygonorrhinidae
Reference of the original description
Notes on a collection of fishes from San Diego, California.
Proceedings of the United States National Museum, 3(106), 23–34
Image of the original description
No image in first description.
Synonyms / new combinations and misspellings
Platyrhina exasperata, Rhinobatus exasperatus, Syrrhina exasperata, Trigonorhina alveata, Trigonorhina exasperata, Zapteryx exasperatus
Types
Zapteryx exasperata
Lectotype:
USNM
: 25050 (lost) Paralectotype:
MCZ
: 25032
MCZ
: 36022 (ex USNM)
USNM
: 24878
Trigonorhina alveata
Holotype:
MCZ
: 381-S
Description :



Citation:

Zapteryx exasperata

(Jordan & Gilbert, 1880): In: Database of modern sharks, rays and chimaeras, www.shark-references.com, World Wide Web electronic publication, Version 05/2022

Please send your images of
"Zapteryx exasperata"
to
info@shark-references.com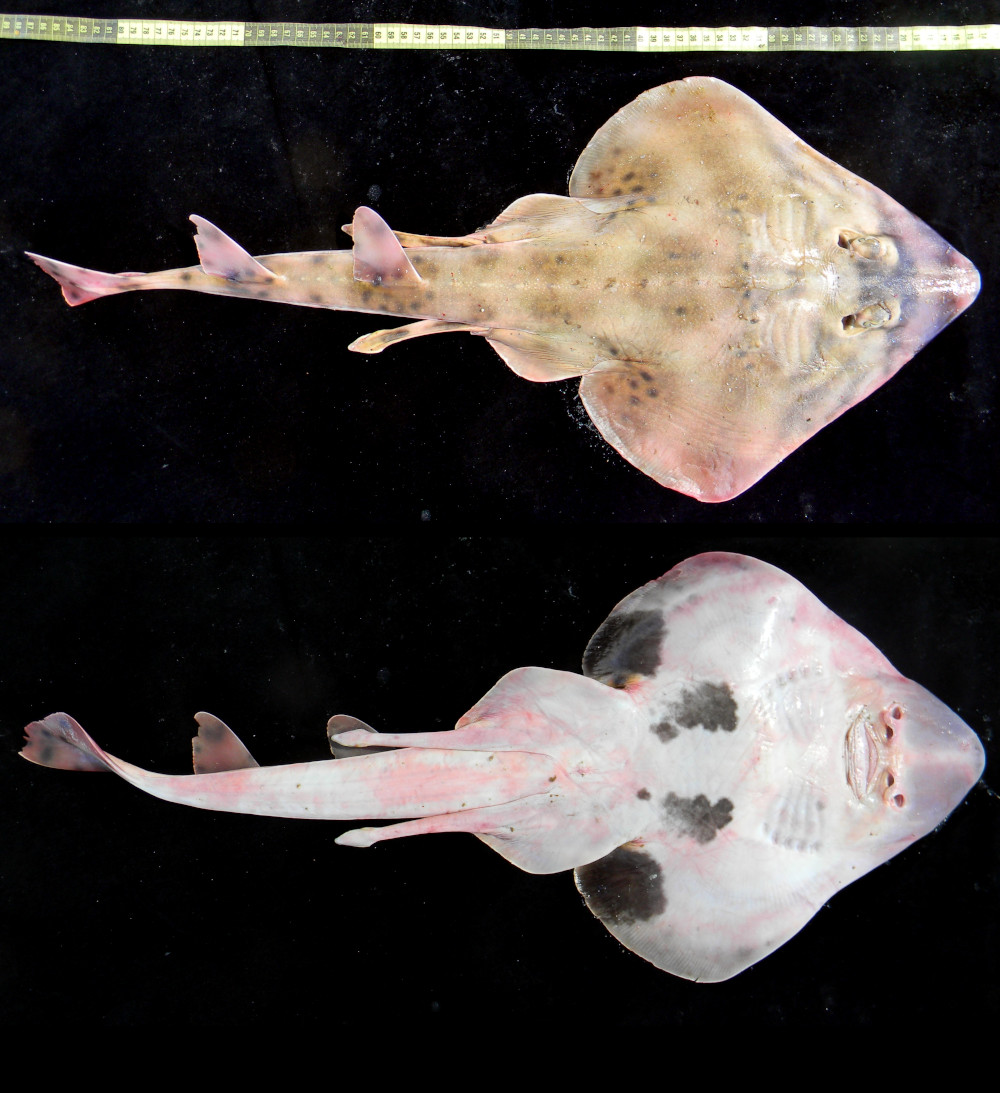 Zapteryx exasperata
(JORDAN & Gilbert, 1880), mature male, from La Paz Bay, BCS, Mexico © Itzigueri Burgos
Common names

Guitarra bandeada,

Guitarra con bandas,

Guitarra rayada,

Poisson-guitare rayé,

Banded guitarfish,

Guitarfish,

Mottled guitarfish,

Prickly skate,

Striped guitarfish
Short Description
Spiral valve count: 8-10. Broad disc is about as wide as it is long; dorsal surface covered with numerous, small to large, scattered, stellate prickles; a single median row of enlarged thorns running along the mid-back; a broad, short snout; small, blunt, pebble like teeth; a dorsal fin that originates closer to the pelvic fin bases than to the caudal fin origin; a thick tail and a moderately large, rounded caudal fin without a distinct lower lobe. Tooth count: 60-75/60-75. Coloration: The dorsal surface is sandy brown to dark gray, with several prominent black bars, and lighter below with dark spots on the posterior edge of the pectoral fins.
Distribution
Eastern Pacific: southern California, USA to Peru. Source:
www.gbif.org
Human uses
fisheries: minor commercial; price category: medium; price reliability: very questionable: based on ex-vessel price for species in this family
Biology
Exhibit ovoviparity (aplacental viviparity), with embryos feeding initially on yolk, then receiving additional nourishment from the mother by indirect absorption of uterine fluid enriched with mucus, fat or protein through specialised structures
[733]
. During breeding season, male and female adult schools congregate in shallow areas of bays and lagoons (Ref.
51576
). Parturition takes place three to four months after mating, with litters of 4 to 11 pups (Ref.
48844
). Generally in rocky areas but may also be found on sandy bottoms (Ref.
37955
). Reported from tide pools
[1658]
. Relatively docile, harmless rays that are easily approached by divers (Ref.
48844
). Feeds mainly on mollusks and crustaceans (Ref.
37955
). Mobile invertebrate feeder (Ref.
57615
).
Size / Weight / Age
83.0 cm (male/unsexed; (Ref.
48844
)); 97 cm (female)
Remarks
shark-references Species-ID=7549;
Parasites (arranged by Jürgen Pollerspöck)
Monogenea
Cestoda
Pterobothrioides carvajali Campbell & Beveridge, 1997 [16112]
Trematoda
Anaporrhutum euzeti Curran, Blend & Overstreet, 2003 [23771]
Hirudinea
Austrobdella cairae Curran, Phillips, Overstreet, Benz & Henningsen, 2016 [24176]