NCBI GenBank
Callorhinchus callorynchus
(Linnaeus, 1758)
Elephantfish
Classification:
Holocephali Chimaeriformes Callorhinchidae
Reference of the original description
Systema Naturae per regna tria naturae, regnum animale, secundum classes, ordines, genera, species, cum characteribus differentiis synonymis, locis.
Ed. X., 1: 824 p. Stockholm(L. SALVIUS).
Image of the original description
No image in first description.
Synonyms / new combinations and misspellings
Callorhinchus callorhynchus, Callorhinchus smythii, Callorhynchus antarctica, Callorhynchus antarcticus, Callorhynchus argenteus, Callorhynchus callorhynchus, Callorhynchus callorynchus, Callorhynchus cf. callorhynchus, Callorhynchus elephantinus, Callorhynchus peronii, Callorhynchus smythi, Callorhynchus smythii, Callorhynchus tritoris, Callorynchus antarcticus, Callorynchus callorynchus, Callorynchus elephantinus, Callorynchus smythii, Callorynchus tritoris, Chimaera callorhinchus, Chimaera callorhynchus, Chimaera callorynchus, Chimaera collorhynchus, Chimaera collorinchus
Description :



Citation:

Callorhinchus callorynchus

(Linnaeus, 1758): In: Database of modern sharks, rays and chimaeras, www.shark-references.com, World Wide Web electronic publication, Version 08/2022

Please send your images of
"Callorhinchus callorynchus"
to
info@shark-references.com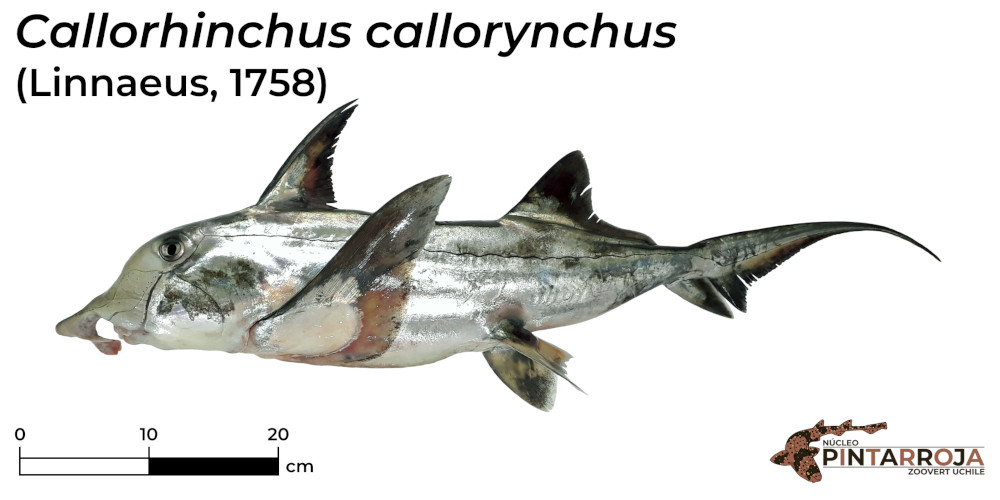 Callorhinchus callorynchus
(Linnaeus, 1758); Chile © Ignacio Contreras, Laboratorio de Zoología de Vertebrados Facultad de Ciencias, U. de Chile
Common names

Achagual,

Chalgua,

Gallo,

Hijo del país,

Músico,

Peje gallo,

Peje-gallo,

Pejegallo,

Pexe gallo,

Pez elefante,

Pez gallo,

Pez músico,

Ñato,

Masca,

Masca laboureur,

Cockfish,

Elephant fish,

Elephantfish,

Plownose chimaera,

Rooster fish,

Acagual,

Cascudo,

Peixe-coelho,

Peixe-elefante,

Peixe-rato,

Quimera,

Quimera-antártica
Short Description
Pectorals very large
[20201]
.
Diet consists primarily of shelled invertebrate prey, particularly bivalve molluscs, gastropods and polychaetes. Differences in the diet of males and females and between juveniles and adults are attributed to prey availability and morphology and behavior of predators (e.g., tooth plates of juveniles are not as large or strong as those of adults)
[22803]
.
Patagonian Waters (Argentina): Three species of bivalve molluscs (Pitar rostratus, Aequipecten tehuelchus and Ennucula puelcha) and flabelligerid polychaetes were predominant in the diet of males. The scallop Zygochlamys patagonica dominated the diet of females. The diet of juveniles consisted of small gastropods (Olivella sp.), bivalves with fragile shells (e.g. Pandora cistula), amphipods and polychaetes.
[11373]
.
Distribution
Ranges from Southern Brazil to Southern Patagonia in the southwest Atlantic and from Peru and Chile in the southeast Pacific. It has also been reported from the Argentine section of the Beagle Channel, Tierra del Fuego
[3769]
. Source:
www.gbif.org
Human uses
fisheries: commercial
Biology
Oviparous
[733]
; Females mature at 49 cm SL and males at 40 cm SL. The maximum recorded size for C. callorhynchus is 102 cm total length (TL) (Di Giácomo and Perier 1994). Size at birth is 13 cm TL and gestation time is probably in the region of 6 to 12 months
[18493]
Size / Weight / Age
Maximum recorded size for females is 102 cm total length (TL) and 85 cm TL for males
[18493]
Habitat
demersal; marine; depth: about 170 m, however there are reported captures of this species from 481 m off Chile
[18493]
Remarks
shark-references Species-ID=670;
Parasites (arranged by Jürgen Pollerspöck)
Monogenea
Cestoda
Trematoda
Rugogaster callorhinchi Amato & Pereira, 1995 [21494]
Copepoda
Prokroyeria meridionalis (Ramirez, 1975) [15948]