NCBI GenBank
Carcharhinus albimarginatus
(Rüppell, 1837)
Silvertip shark
Classification:
Elasmobranchii Carcharhiniformes Carcharhinidae
Reference of the original description
Neue Wirbelthiere zu der Fauna von Abyssinien gehörig: Fische des rothen Meeres.
Frankfurt am Main, 1837: pp. 53–80, pls. 15–21
Image of the original description

Carcharhinus albimarginatus (Rüppell, 1837), image of the first description in Rüppell, plate 18, fig. 1
Synonyms / new combinations and misspellings
Carcharhinus cf. albimarginatus, Carcharhinus platyrhynchus, Carcharias albimarginatus, Carcharias albomarginatus, Carcharias platyrhynchus, Carcharias (Prionodon) albimarginatus, Carcharinus albimarginatus, Eulamia albimarginata, Eulamia albimarginatus, Eulamia platyrhynchus, Eulamia (Platypodon) platyrhynchus, Squalus (Carcharinus) albimarginatus
Description :



Citation:

Carcharhinus albimarginatus

(Rüppell, 1837): In: Database of modern sharks, rays and chimaeras, www.shark-references.com, World Wide Web electronic publication, Version 08/2022

Please send your images of
"Carcharhinus albimarginatus"
to
info@shark-references.com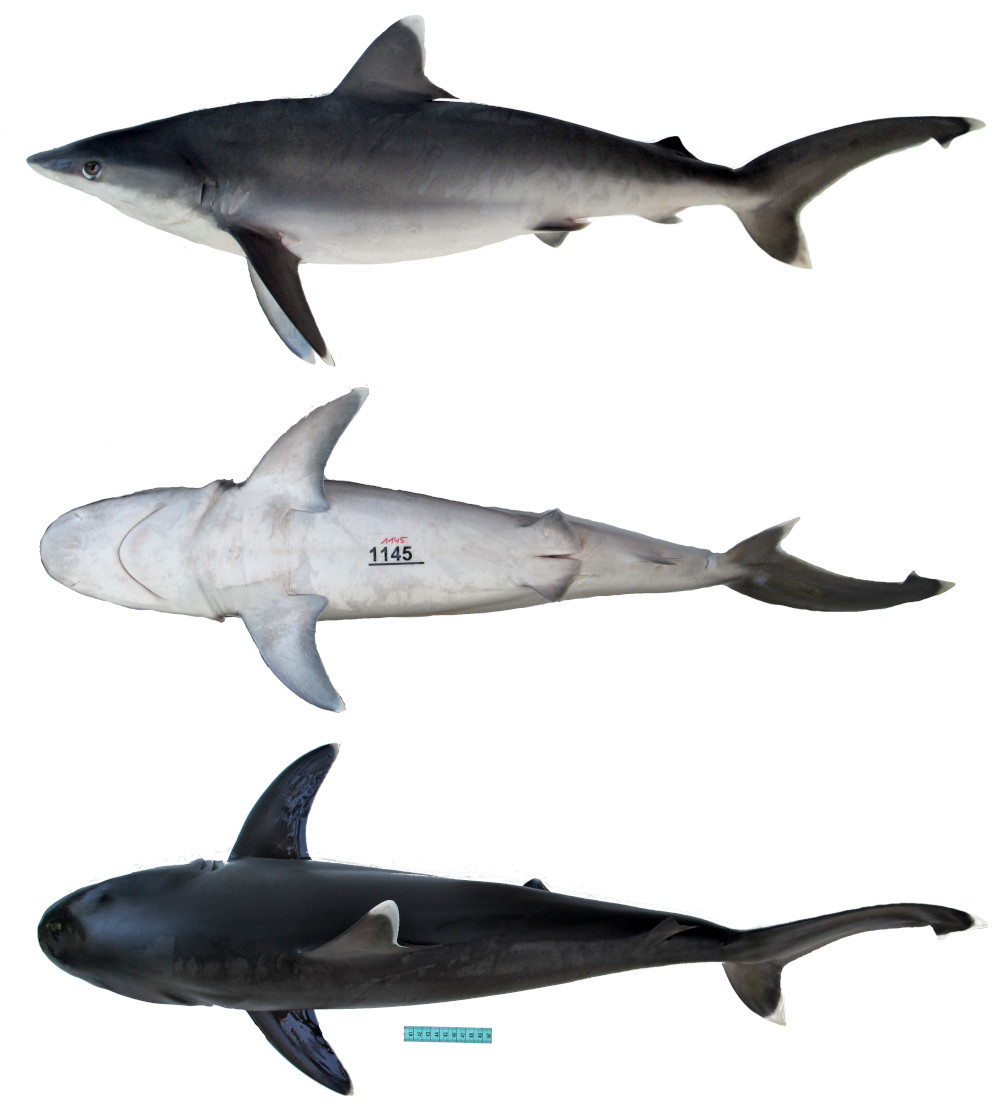 Carcharhinus albimarginatus
(Rüppell, 1837), ERB 1145, female, 109, 7 TL, Cairns, Australia © Frederik Mollen, Elasmobranch Research, Belgium
Common names

Riff-Weißspitzenhai,

Cazón,

Tiburón de punta plateado,

Tiburón de puntas blancas,

Tiburón puntas blancas,

Aileron blanc du récif,

Requin houareau,

Requin pointe blanche,

Requin à ailerons blancs de récif,

Shark,

Silver-tip shark,

Silvertip shark,

White fin,

Marracho de pontas,

Tubarão-de-pontas-prateadas
Short Description
First dorsal fin and pectoral fins angular, and not expanded; upper teeth triangular; interdorsal ridge present
[17643]
[536]
. Dark grey or grey-brown above, white below; all fins with conspicuous white tips and posterior margins
[544]
.
Distribution
Western Indian Ocean: Red Sea and East Africa, including Madagascar, Seychelles, Aldabra Group, Mauritius and the Chagos Archipelago. Western Pacific: off southern Japan to northern Australia and French Polynesia
[544]
. Eastern Central Pacific: southern Baja California, Mexico to Colombia, including the Cocos, Galapagos and Revillagigedo islands. Source:
www.gbif.org
Human uses
fisheries: commercial; gamefish: yes
Biology
Viviparous, placental
[733]
. With 1 to 11 pups per litter (usually 5 or 6)
[517]
. Gestation period is about one year, young are born in summer
[517]
. Size at birth 55 to 80 cm
[17644]
; 713-81 cm TL
[2539]
. In southern hemisphere, both breeding and pupping occur in summer (Ref.
37816
). Distinct pairing with embrace
[17086]
. It is common in clear water, particularly on steep slopes
[17645]
. An inshore and offshore shark found over or adjacent to continental and insular shelves and offshore banks
[517]
. Prefers offshore islands, coral reefs and banks
[517]
. Benthopelagic
[17640]
. Feeds mainly on benthic and midwater fishes, also rays, cephalopods
[17643]
[517]
(Ref.
37816
), and small sharks (Ref.
37816
).
Remarks
shark-references Species-ID=709;
Parasites (arranged by Jürgen Pollerspöck)
Copepoda
Alebion carchariae Krøyer, 1863 [15303]
Alebion gracilis Wilson, 1905 [16583]
Pandarus katoi Cressey, 1967 [16599]
Isopoda
Gnathia albipalpebrata Ota, 2014 [22155]