NCBI GenBank
Carcharhinus plumbeus
(Nardo, 1827)
Sandbar shark
Classification:
Elasmobranchii Carcharhiniformes Carcharhinidae
Reference of the original description
Prodromus observationum et disquisitionum Adriaticae ichthyologiae.
Giornale di fisica, chimica e storia naturele, medicina, ed arti, 10: 22–40
Synonyms / new combinations and misspellings
Carcharhinus aff. plumbeus, Carcharhinus cf. plumbeus, Carcharhinus dorsalis, Carcharhinus japonica, Carcharhinus japonicus, Carcharhinus milberti, Carcharhinus obtusirostis, Carcharhinus stevensi, Carcharias ceruleus, Carcharias japonicus, Carcharias latistomus, Carcharias milberti, Carcharias obtusirostris, Carcharias plumbeus, Carcharias stevensi, Carcharias (Prionodon) japonicus, Carcharias (Prionodon) milberti, Carcharinus latistomus, Carcharinus milberti, Carcharinus milberti japonicus , Carcharinus plumbeus, Eulamia milberti, Eulamia milbertii, Eulamia plumbeus, Eulamia stevensi, Galeolamna dorsalis, Galeolamna stevensi, Galeolamna (Ogilamia) stevensi, Galeolamnoides stevensi, Lamna caudata, Prionace milberti, Prionodon milberti, Prionodon milbertii, Squalus caecchia, Squalus ceruleus, Squalus milberti, Squalus plumbeus, Squalus (Carcharinus) caudata, Squalus (Carcharinus) ceruleus, Squalus (Carcharinus) milberti
Types
Carcharhinus plumbeus
Carcharias obtusirostris
Syntype:
MNHN
: 1898-1227
Carcharias stevensi
Syntype:
QM
: (apparently lost, 164 and 187 cm not mm in length)
Carcharias (Prionodon) milberti
Syntype:
MNHN
:
1142
;
RMNH
:
uncat, (whereabouts unknown)
;
ZMB
:
4467
;
Carcharinus latistomus
Holotype:
NRIBAS
: 11156
Description :



Citation:

Carcharhinus plumbeus

(Nardo, 1827): In: Database of modern sharks, rays and chimaeras, www.shark-references.com, World Wide Web electronic publication, Version 08/2022

Please send your images of
"Carcharhinus plumbeus"
to
info@shark-references.com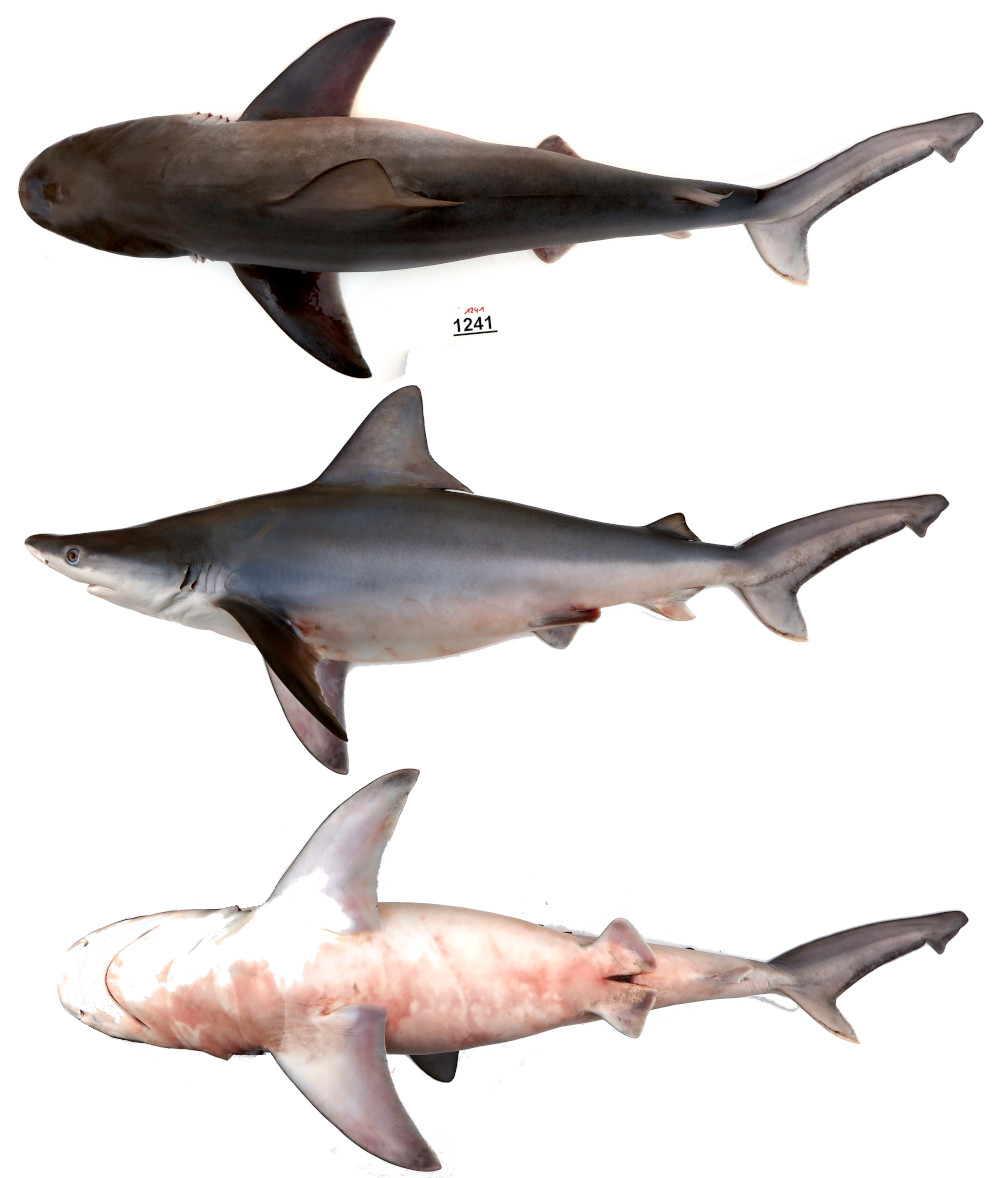 Carcharhinus plumbeus
(Nardo, 1827), ERB 1241, female, 116, 4 TL © Frederik H. Mollen (Elasmobranch Research Belgium)
Common names

Braunhai,

Großflossenhai,

Sandbankhai,

Arenero,

Cazón,

Jaquetón,

Tiburón Brasilero,

Tiburón aleta de cartón,

Tiburón aletón,

Tiburón de Milberto,

Tiburón pardo,

Tiburón tollo,

Tiburón trozo,

Tollo,

Requin gris,

Brown shark,

Northern whaler shark,

Queriman shark,

Sand shark,

Sandbar shark,

Shark,

Thickskin shark,

Squalo grigio,

Barriga-de-água,

Barriga-dágua,

Cação,

Cação barriga d"água,

Cação galhudo,

Cação-baleeiro,

Cação-balheiro,

Cação-galhudo,

Cação-pardo,

Galhudo,

Marracho de Milberto,

Tubarão-cinzento,

Tubarão-corre-costa, Kelb griz (malta)
Short Description
A stout shark with a moderately long, rounded snout, high, triangular, saw-edged upper teeth, and an interdorsal ridge; 1st dorsal fin very large and erect
[536]
. Grey-brown or bronzy with no prominent markings, white below
[536]
. Fins plain or with slightly dusky tips
[20040]
.
Distribution
Western Atlantic: southern Massachusetts, USA to Argentina
[5839]
; also Gulf of Mexico, Bahamas, Cuba and south and west Caribbean
[17659]
. Eastern Atlantic: Portugal to Democratic Republic of the Congo, including the Mediterranean. Indo-Pacific: scattered records ranging from the Red Sea, Persian Gulf and East Africa to the Hawaiian Islands. Eastern Pacific: Revillagigedo and Galapagos islands
[16090]
. Source:
www.gbif.org
Human uses
fisheries: commercial; gamefish: yes; aquarium: public aquariums
Biology
Viviparous
[20077]
, placental
[733]
, 1-14 pups in a litter; 56-75 cm at birth
[17644]
; gestation period of 12 months
[2539]
. Distinct pairing with embrace
[17086]
. Sexual dimorphism is evident in the thicker skin layer of maturing and adult females (Ref.
49562
). This thickened skin may serve as protection from the "quot;bites"quot; the female species receive from the males during precopulation and in the rugged conditions of the rock and coral environment where they live (Ref.
49562
). Pups are born from Feb. to April in Northeastern Taiwan (Ref.37027). Occurs on the continental shelf (Ref.
75154
).
Size / Weight / Age
250 cm TL (male/unsexed;
[20052]
); max. published weight: 117.9 kg (Ref.
4699
); max. reported age: 32 years (Ref.
4857
)
Habitat
benthopelagic; oceanodromous
[17660]
; brackish; marine; depth range 1 - 1800 m
[5695]
, usually 20 - 65 m (Ref.
55188
)
Remarks
shark-references Species-ID=815;
Parasites (arranged by Jürgen Pollerspöck)
Petromyzon marinus Linnaeus, 1758 [21428]
Monogenea
Cestoda
Nematoda
Copepoda
Hirudinea
Pontobdella macrothela (Schimarda, 1861) [28595]