NCBI GenBank
Carcharhinus sorrah
(MÜLLER & HENLE, 1839)
Spottail shark
Classification:
Elasmobranchii Carcharhiniformes Carcharhinidae
Reference of the original description
Systematische Beschreibung der Plagiostomen.
Berlin, Veit, pp. 1–200
Image of the original description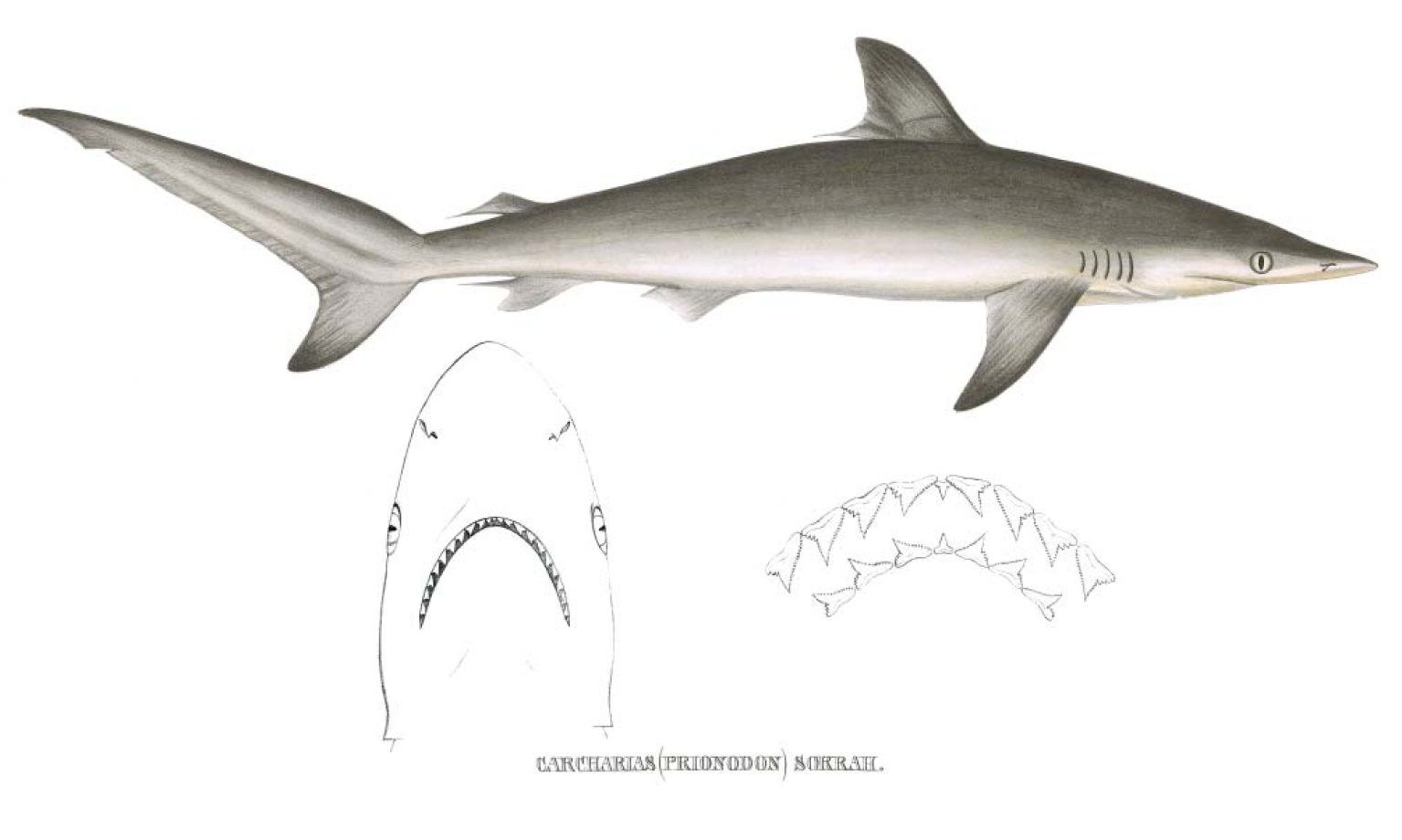 Carcharhinus sorrah (MÜLLER & HENLE,1838)
Synonyms / new combinations and misspellings
Carcharhinus aff. sorrah, Carcharhinus bleekeri, Carcharhinus cf. sorrah, Carcharhinus isobel, Carcharhinus spallanzani, Carcharias bleekeri, Carcharias sorrah, Carcharias spallanzani, Carcharias taeniatus, Carcharias (Prionodon) bleekeri, Carcharias (Prionodon) sorrah, Carcharinus bleekeri, Carcharinus sorrah, Carcharinus spallanzani, Eulamia bleekeri, Eulamia sorrah, Eulamia spallanzani, Galeolamna (Galeolamnoides) isobel, Mapolamia spallanzani, Oxyrhina spallanzani, Squalus spallanzani, Squalus (Carcharinus) sorrah
Description :



Citation:

Carcharhinus sorrah

(MÜLLER & HENLE, 1839): In: Database of modern sharks, rays and chimaeras, www.shark-references.com, World Wide Web electronic publication, Version 07/2019

Please send your images of
"Carcharhinus sorrah"
to
info@shark-references.com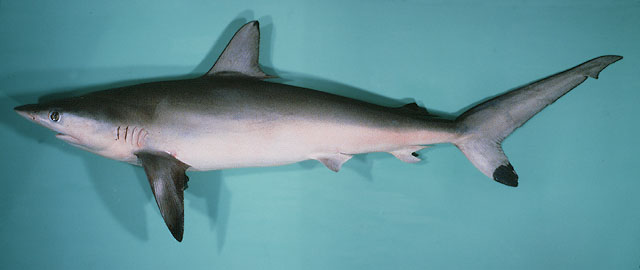 Carcharhinus sorrah (MÜLLER & HENLE, 1839), © Randall, J.E., www.fish-base.org
Common names

Tiburón rabo manchado,

Requin blanc,

Requin tacheté,

Requin à queue tachetée,

Black-tip shark,

Blacktip shark,

Grey shark,

School shark,

Sorrah,

Sorrah shark,

Spot-tail shark,

Spot-tail whaler,

Spottail shark,

West Australian whaler shark,

Marracho rabo manchado
Short Description
A small, spindle-shaped shark with a long, rounded snout, large circular eyes, and oblique-cusped serrated teeth; 2nd dorsal fin very low; interdorsal ridge present
[536]
. 2nd dorsal, pectorals and lower caudal lobe with dark tips; 1st dorsal with thin but conspicuous dark tip; pelvic fins and upper caudal lobe plain
[20040]
. Grey or grey-brown above, white below with a golden-brown sheen on the area between eyes and gill slits (in fresh specimens); pectorals, second dorsal, and lower caudal fin lobe with conspicuous black tips, first dorsal and upper caudal fin lobe with black edging
[544]
. A dark band on flank extending rearwards to pelvic fins
[544]
.
Distribution
Indo-West Pacific: Red Sea and East Africa (including Madagascar, Mauritius and Seychelles) to the Philippines, north to China, south to Australia. Also from Vanikolo Island (Santa Cruz Islands) and the Solomon Islands. Possibly occurring in the Gulf of Aden, Gulf of Oman and Sri Lanka
[544]
. Source:
www.gbif.org
Human uses
fisheries: minor commercial; price category: high; price reliability: reliable: based on ex-vessel price for this species
Biology
Viviparous, with a yolk-sac placenta
[517]
. Pups, average 3, range 1-8, are produced in January after a 10-month gestation period. Average length at birth is 50 cm TL. Length increases by about 25 cm during the first year. These sharks breed once each year
[4209]
. Distinct pairing with embrace
[17086]
. Feeding depth changes with shark size
[4209]
. Occurs throughout the water column, but mainly in midwater or near the surface
[1388]
.
Size / Weight / Age
160 cm TL (male/unsexed;
[17644]
); max. published weight: 28.0 kg (Ref.
6390
); max. reported age: 8 years (Ref.
6390
)
Habitat
reef-associated; brackish; marine; depth range 0 - 140 m
[20218]
Remarks
shark-references Species-ID=833;
Parasites (arranged by Jürgen Pollerspöck)
Cestoda
Trematoda
Staphylorchis cymatodes (JOHNSTON, 1913) [11242]
Copepoda