NCBI GenBank
Carcharodon carcharias
(Linnaeus, 1758)
Great white shark
Classification:
Elasmobranchii Lamniformes Lamnidae
Reference of the original description
Systema Naturae per regna tria naturae, regnum animale, secundum classes, ordines, genera, species, cum characteribus differentiis synonymis, locis.
Ed. X., 1: 824 p. Stockholm(L. SALVIUS).
Image of the original description
No image in first description.
Synonyms / new combinations and misspellings
Carcharhinus lamia, Carcharias atwoodi, Carcharias lamia, Carcharias maso, Carcharias sulcidens, Carcharias verus, Carcharias vorax OWEN 1853, Carcharias vulgaris, Carcharias (Prionodon) cf. lamia, Carcharias (Prionodon) lamia, Carcharodon albimors, Carcharodon arnoldi, Carcharodon atwoodi, Carcharodon capensis, Carcharodon carcharius, Carcharodon cf. carcharias, Carcharodon cf. sulcidens, Carcharodon etruscus, Carcharodon lamia, Carcharodon purplei, Carcharodon riversi, Carcharodon rondeleti, Carcharodon rondeletii, Carcharodon smithi, Carcharodon smithii, Carcharodon sulcidens, Carcharodon tornabene, Eulamia lamia, Prionace lamia, Prionodon lamia, Procarcharodon aff. rondeletti, Squalus caninus, Squalus carcharias, Squalus lamia, Squalus vulgaris, Squalus (Carcharias) vulgaris, Squalus (Carcharinus) lamia
Description :



Citation:

Carcharodon carcharias

(Linnaeus, 1758): In: Database of modern sharks, rays and chimaeras, www.shark-references.com, World Wide Web electronic publication, Version 03/2023

Please send your images of
"Carcharodon carcharias"
to
info@shark-references.com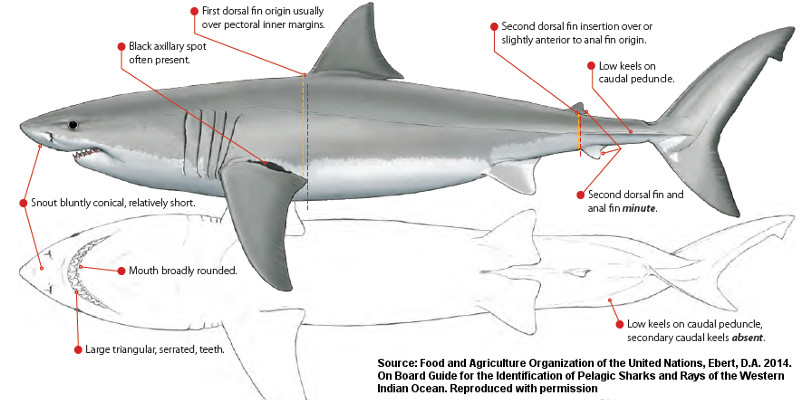 Carcharodon carcharias
(Linnaeus, 1758), © FAO, Food and Agriculture Organization of the United Nations, Ebert, D.A. 2014. On Board Guide for the Identification of Pelagic Sharks and Rays of the Western Indian Ocean. Reproduced with permission, illustration by
Marc Dando
, Wildlife Illustrator
Common names

Menschenhai,

Weißer Hai,

Weißhai,

Africano,

Devorador de hombres,

Jaquentón blanco,

Jaqueton blanco,

Jaquetón,

Jaquetón de ley,

Marrajo,

Tiburón antropófago,

Tiburón blanco,

Grand requin blanc,

Mangeur d"hommes,

Requin blanc,

Great white shark,

Man eater,

Man-eater,

Man-eater shark,

Maneater,

Mango-taniwha,

Mango-ururoa,

Shark,

White death,

White pointer,

White shark,

Canesca,

Canusu,

Damiano,

Mangia alici,

Manzo de mar,

Pesce hane,

Pescecane,

Pesci can,

Pesse can,

Pisci bistinu,

Pisci cani,

Squalo bianco,

Tunnu palamitu di funnu,

Alequim,

Anequim,

Anequin,

Cação-anequim,

Cação-anequin,

Iperu,

Tubarao de Sao Tomé,

Tubarão branco,

Tubarão-anequim,

Tubarão-branco,

Tubarão-de-São-Tomé, Kelb il - Bahar Abjad (malta)
Short Description
A huge, spindle-shaped shark with conspicuous black eyes, a blunt, conical snout and large, triangular, saw-edged teeth
[536]
. First dorsal-fin origin usually over the pectoral-fin inner margins
[531]
[1388]
. Caudal fin crescentic
[518]
. Lead-grey to brown or black above, lighter on sides, and abruptly white below (Ref.
6851
). Black spot at rear pectoral fin base (Ref.
6851
).
Distribution
Cosmopolitan, mostly amphitemperate. Western Atlantic: Newfoundland, Canada to Argentina; also north Gulf of Mexico, Bahamas, Cuba and Lesser Antilles
[17659]
. Eastern Atlantic: France to South Africa, including the Mediterranean. Indian Ocean: Red Sea, Seychelles, South Africa; also Reunion and Mauritius
[20041]
. Western Pacific: Siberia to New Zealand and the Marshall Islands; also south Australia
[17659]
. Central Pacific: Hawaii. Eastern Pacific: Alaska to Chile. International trade cooperation, Australia (CITES Appendix III, since 28.5.2003; CMS Appendix I and II). Source:
www.gbif.org
Human uses
fisheries: minor commercial; gamefish: yes; price category: low; price reliability: reliable: based on ex-vessel price for this species
Biology
Exhibit ovoviparity (aplacental viviparity), with embryos feeding on other ova produced by the mother (oophagy) after the yolk sac is absorbed
[733]
. Up to 10, possibly 14 young born at 120-150 cm
[578]
. Distinct pairing with embrace
[17086]
. Male and female may swim in parallel while copulating
[870]
(Ref.
49562
). Known to feed on mammals
[518]
. Anthosoma crassum, Dinemoura latifolia and Pandarus sinuatua (copepods) are known to be parasites of the species (Ref.
5951
)
[17641]
Size / Weight / Age
792 cm TL (male/unsexed; (Ref.
5951
)); 430 cm TL (female); max. published weight: 3,400.0 kg
[20078]
; max. reported age: up to 40 years old for the largest female (fork length [FL]: 526 cm) and 73 years old for the largest male (FL: 493 cm)
[20096]
Habitat
pelagic-oceanic; oceanodromous
[17660]
; brackish; marine; depth range 0 - 1280 m
[1388]
, usually 0 - 250 m (Ref.
55270
)
Parasites (arranged by Jürgen Pollerspöck)
Cestoda
Copepoda