NCBI GenBank
Dalatias licha
(BONNATERRE, 1788)
Kitefin shark
Classification:
Elasmobranchii Squaliformes Dalatiidae
Reference of the original description
Ichthyologie. Tableau encyclopédique et méthodique des trois règnes de la nature.
Paris, 215 p., pl. A–B + 1–100.
Image of the original description
No image in first description.
Synonyms / new combinations and misspellings
Dalatias bassanii, Dalatias brevipinnis, Dalatias cf. licha, Dalatias lica, Dalatias lichia, Dalatias phillippsi, Dalatias sparophagus, Dalatias tachiensis, Isistius acutus, Pseudoscymnus boshuensis, Scimnus phillippsi, Scymnorhinus brevipinnis, Scymnorhinus licha, Scymnorhinus lichia, Scymnorhinus phillippsi, Scymnus acutus, Scymnus licha, Scymnus lichia, Scymnus majori, Scymnus nicaeensis, Scymnus vulgaris, Scymnus (Scymnus) lichia, Squalus americanus, Squalus licha, Squalus nicaeensis, Squalus nicensis, Squalus scymnus
Description :



Citation:

Dalatias licha

(BONNATERRE, 1788): In: Database of modern sharks, rays and chimaeras, www.shark-references.com, World Wide Web electronic publication, Version 05/2019

Please send your images of
"Dalatias licha"
to
info@shark-references.com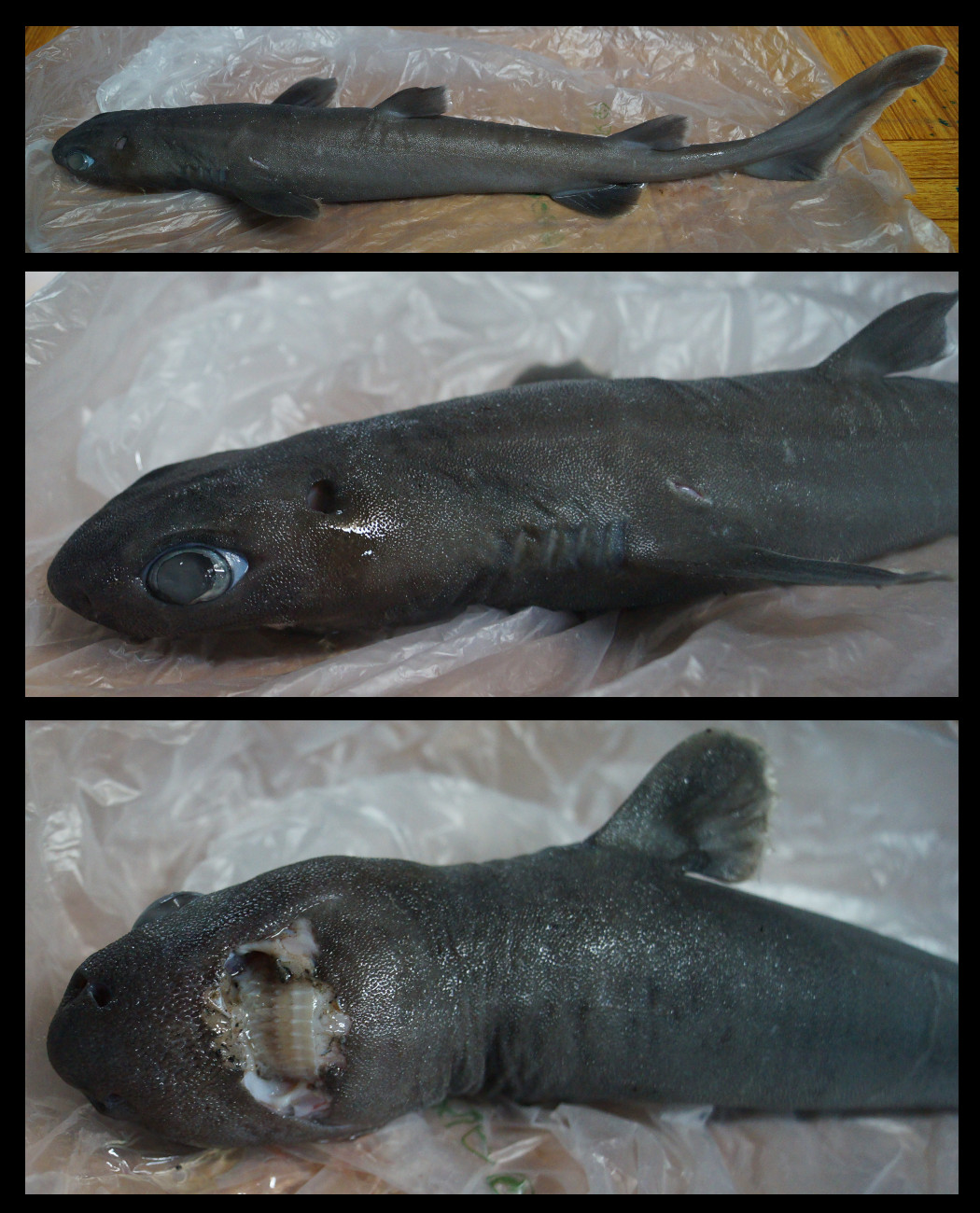 Dalatias licha
(BONNATERRE, 1788), Pico, Azores, Portugal, found at 20.08.14 and conserved, the voucher is at ZSM (1703-PRT-2013-0016) © Jeremy Hübner
Common names

Darkie Charlie,

Dunkler Hai,

Schokoladenhai,

Carocho,

Gata,

Gata tramolla,

Lija,

Lija negra,

Squale liche,

Black shark,

Darkie charlie,

Kitefin shark,

Kitefm Shark,

Seal shark,

Cani monicu,

Diavolo,

Diavulu di funnu,

Naire,

Neigra,

Paddottula,

Stire verde,

Zegrine,

Zigrino,

Zigrino negro,

Carocho,

Gata,

Gata-lixa,

Gato,

Lixa-de-pau,

Negra,

Pailona,

Peixelim,

Trabolha
Short Description
Moderately sized, short- and blunt-snouted shark with two almost equal-sized dorsal fins; papillose thick lips; small slender-cusped upper teeth and very large lower teeth with erect triangular serrated cusps and distal blades; first dorsal fin on back with its origin behind the pectoral rear tips and its base closer to the pectoral base than the pelvic fins; and caudal fin with the ventral lobe not expanded
[518]
. Dark grey-brown to black; trailing edges of fins translucent
[578]
.
Distribution
Western Atlantic: Georges Bank and northern Gulf of Mexico. Eastern Atlantic: Iceland
[20065]
, Scotland, and Irish Atlantic slope to Morocco, western Mediterranean, Madeira to Cameroon. Western Indian Ocean: Mozambique and South Africa. Western Pacific: Japan, Australia, and New Zealand. Central Pacific: Hawaii. Source:
www.gbif.org
Human uses
fisheries: minor commercial; price category: medium; price reliability: reliable: based on ex-vessel price for this species
Biology
Ovoviviparous
[518]
. 10-20 young born at 30-42 cm
[578]
; 10-16 young born at 30 cm TL
[2539]
. Distinct pairing with embrace
[17086]
. Found on the continental shelf and slope (Ref.
75154
). Feeds on fish and benthic organisms (Ref.
568
).
Size / Weight / Age
182 cm TL (male/unsexed;
[20048]
)
Dentition
tooth formula (upper/lower): 16-21/17-20
[17836]
;
copyright by: Imaging and Analysis Centre, Natural History Museum
Links:
SEM-images of teeth
Parasites (arranged by Jürgen Pollerspöck)
Monogenea
Squalonchocotyle euzeti KHEDDAM, JUSTINE & TAZEROUTI, 2016 [24914]
Cestoda
Trematoda
Nematoda