NCBI GenBank
Etmopterus spinax
(LINNAEUS, 1758)
Velvet belly lantern shark
Classification:
Elasmobranchii Squaliformes Etmopteridae
Reference of the original description
Systema Naturae per regna tria naturae, regnum animale, secundum classes, ordines, genera, species, cum characteribus differentiis synonymis, locis.
Ed. X., 1: 824 p. Stockholm (L. SALVIUS).
Image of the original description
No image in first description.
Synonyms / new combinations and misspellings
Etmopterus aculeatus, Etmopterus cf. spinax, Spinax gunneri, Spinax linnei, Spinax niger, Spinax spinax, Spinax vitulinus, Squalus infernus, Squalus niger, Squalus spinax
Description :



Citation:

Etmopterus spinax

(LINNAEUS, 1758): In: Database of modern sharks, rays and chimaeras, www.shark-references.com, World Wide Web electronic publication, Version 03/2019

Please send your images of
"Etmopterus spinax"
to
info@shark-references.com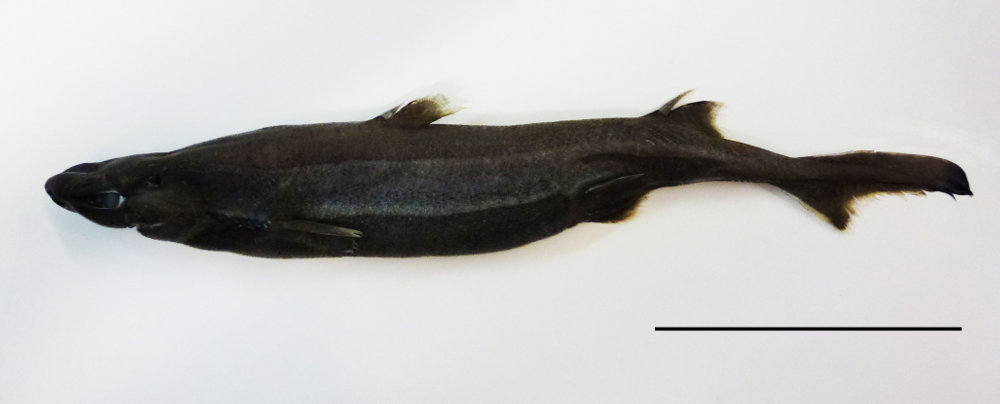 Etmopterus spinax (LINNAEUS, 1758), © Claudio Barria, Department of Natural Resources, Institute of Marine Sciences of Barcelona (ICM), Spain
Common names

Kleiner schwarzer Dornhai,

Samtbauchhai,

Schwarzer Dornhai,

Schwarzer Laternenhai,

Negrito,

Sagre commun,

Épineux de fond,

Velvet belly,

Velvet belly lantern shark,

Velvet belly shark,

Agugghiú neigru,

Babbireddu,

Diavulicchiu di mari,

Moretto,

Moru,

Mugghiarulo,

Occhio-verde,

Pesce diavolo,

Pesce diavulicchio,

Pesce diavulu,

Pesce riavulo,

Sagri nero,

Sagri" nero,

Trabantu,

Ugghiaru,

Zigrino,

Gata-negra,

Gata-preta,

Lixinha,

Lixinha da fundura,

Lixinha-da-fundura,

Quelmazinha,

Raimudo-pequeno,

Xarinha-preta
Distribution
Eastern Atlantic: Iceland, Norway, and the western Mediterranean to Morocco, Senegal, Sierra Leone, Côte d"quot;Ivoire to Nigeria, Cameroon to Gabon, Azores, Cape Verde, and Cape Province, South Africa. Source:
www.gbif.org
Human uses
fisheries: minor commercial; price category: not marketed/unknown; price reliability:
Habitat
bathydemersal; marine; depth range ? - 2490 m (Ref.
55744
), usually 200 - 500 m
Remarks
shark-references Species-ID=2191;
Parasites (arranged by Jürgen Pollerspöck)
Monogenea
Cestoda
Nematoda
Copepoda
Thecostraca
Actinopterygii