NCBI GenBank
Galeus melastomus
RAFINESQUE, 1810
Blackmouth catshark
Classification:
Elasmobranchii Carcharhiniformes Pentanchidae
Reference of the original description
Caratteri di alcuni nuovi generi e nuove specie di animali e pinate della Sicilia, con varie osservazioni sopra i medisimi, lère partie.
(Part 1 involves fishes, pp. [i–iv] 3–69 [70 blank], Part 2 with slightly different title, pp. ia–iva + 71–105 [106 blank])
Synonyms / new combinations and misspellings
Galeus cf. melastomus, Galeus melanostomus, Galeus melastomus melastomus, Pristiurus melanostomum, Pristiurus melanostomus, Pristiurus melastomus, Pristiurus souverbiei, Scyllium artedi, Scyllium artedii, Scyllium melanostomum, Squalus annulatus, Squalus prionurus
Description :



Citation:

Galeus melastomus

RAFINESQUE, 1810: In: Database of modern sharks, rays and chimaeras, www.shark-references.com, World Wide Web electronic publication, Version 04/2019

Please send your images of
"Galeus melastomus"
to
info@shark-references.com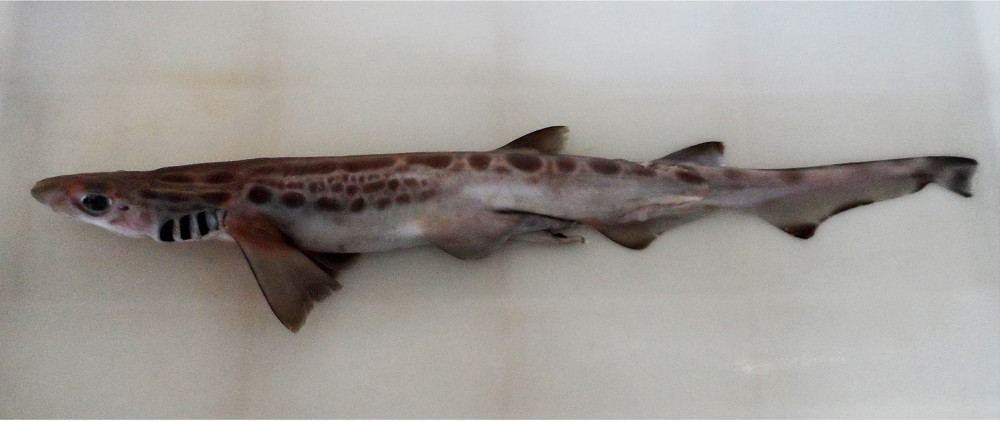 Galeus melastomus
(LINNAEUS, 1758) mature female, 51 cm TL; collected in Palma Bay (Mallorca Island) in 2013; depth: 550 m © Sergio Ramirez
Common names

Fleckhai,

Katzenhai,

Schwarzmaul-Katzenhai,

Schwarzmundiger Hundshai,

Sägeschwanz,

Bardoulina,

Bastina,

Bocanegra,

Colaina,

Colayo,

Gata,

Gata moixa,

Gazapa,

Golayo,

Kolayo,

Mocina,

Muxina,

Olayo,

Pimpiñúa,

Pinta-rotja,

Pintarroja bocanegra,

Tintarroja,

Tintorera,

Bardoulin,

Bicot,

C"hi bastard,

Chien espagnol,

Lambardà,

Pimpirína,

Pristiure à bouche noire,

Rousse,

Vache,

Black-mouthed dogfish,

Blackmouth cat shark,

Blackmouth catshark,

Blackmouthed dogfish,

Bardulin,

Bocca negra,

Boccanegra,

Boccanera,

Cazzuni,

Centrune,

Cintrune,

Gatto,

Gattuccio nero,

Gattuccio boccanera,

Gattuso,

Lambarda,

Moellin,

Moiella,

Pesce "mbiso,

Pesce "mpiso,

Pisci gattu de scoglio,

Pisci vacca,

Pisci vucca d"infernu,

Stiure,

Vaccaredda,

Vokke de "nfierne,

Leitao,

Pata roxa
Distribution
Northeast Atlantic: Faeroe Islands and Trondheim, Norway southward to Senegal. Mediterranean Sea. Source:
www.gbif.org
Human uses
fisheries: minor commercial; price category: high; price reliability: reliable: based on ex-vessel price for this species
Biology
Oviparous, embryos feed solely on yolk
[733]
. Most abundant demersal shark on the upper and middle slope in the western Mediterranean from 1000 m to as deep as 1400 m (Ref.
40720
).
Size / Weight / Age
75.0 cm TL (male/unsexed; (Ref.
40637
)); 90 cm TL (female); max. published weight: 1,370 g (Ref.
40637
)
Remarks
shark-references Species-ID=2439;
Parasites (arranged by Jürgen Pollerspöck)
Monogenea
Cestoda
Trematoda
Nematoda
Copepoda