NCBI GenBank
Gymnura crebripunctata
(Peters, 1869)
Longsnout butterfly ray
Classification:
Elasmobranchii Myliobatiformes Gymnuridae
Reference of the original description
Über neue oder weniger bekannte Fische des Berliner Zoologischen Museums.
Monatsberichte der Königlichen Preussische Akademie der Wissenschaft zu Berlin, 1869, 703–711
Image of the original description
No image in first description.
Synonyms / new combinations and misspellings
Gymnura afuerae, Pteroplatea afuerae, Pteroplatea crebripunctata, Pteroplatea rava
Types
Gymnura crebripunctata
Holotype:
ZMB
: 7068
Gymnura afuerae
Holotype:
USNM
:
77709
;
Pteroplatea rava
Holotype:
SU
: 11587 (not 1587)
Description :



Citation:

Gymnura crebripunctata

(Peters, 1869): In: Database of modern sharks, rays and chimaeras, www.shark-references.com, World Wide Web electronic publication, Version 07/2022

Please send your images of
"Gymnura crebripunctata"
to
info@shark-references.com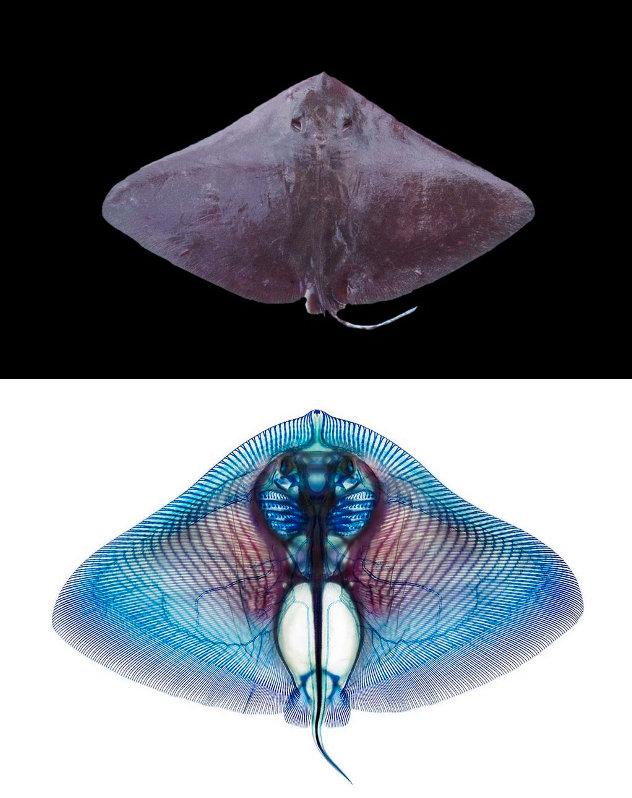 Gymnura crebripunctata (PETERS, 1869), top: © Centro Interdisciplinario de Ciencias Marinas (CICIMAR-IPN) http://coleccion.cicimar.ipn.mx;
down: © Adam P. Summers, SAFS Friday Harbor Laboratories, University of Washington
Common names

Raya manta,

Raya mariposa picuda,

Tuyo picudo,

Raie-papillon bécune,

Butterfly ray,

Longsnout butterfly ray,

Mazatlan butterfly ray
Distribution
Eastern Central Pacific: Gulf of California and Panama. Source:
www.gbif.org
Human uses
fisheries: minor commercial; price category: medium; price reliability: unreliable: based on ex-vessel price for species in this order
Biology
Exhibit ovoviparity (aplacental viviparity), with embryos feeding initially on yolk, then receiving additional nourishment from the mother by indirect absorption of uterine fluid enriched with mucus, fat or protein through specialised structures
[733]
. Distinct pairing with embrace
[17086]
.
Size / Weight / Age
31.0 cm TL (male/unsexed; (Ref.
9255
))
Parasites (arranged by Jürgen Pollerspöck)
Cestoda