NCBI GenBank
Gymnura micrura
(BLOCH & SCHNEIDER, 1801)
Smooth butterfly ray
Classification:
Elasmobranchii Myliobatiformes Gymnuridae
Reference of the original description
M.E. Blochii Systema Ichthyologiae iconibus ex illustratum. Post obitum auctoris opus inchoatum absolvit, correxit, interpolavit.
J.G. Schneider, Saxo: 584 p., 110 pl.
Image of the original description
No image in first description.
Synonyms / new combinations and misspellings
Dasyatis micrura, Gymnura cf. micrura, Gymnura micura, Gymnura (Gymnura) micrura, Pteroplatea micrura, Pteroplatea micrurus, Raja micrura
Description :



Citation:

Gymnura micrura

(BLOCH & SCHNEIDER, 1801): In: Database of modern sharks, rays and chimaeras, www.shark-references.com, World Wide Web electronic publication, Version 05/2019

Please send your images of
"Gymnura micrura"
to
info@shark-references.com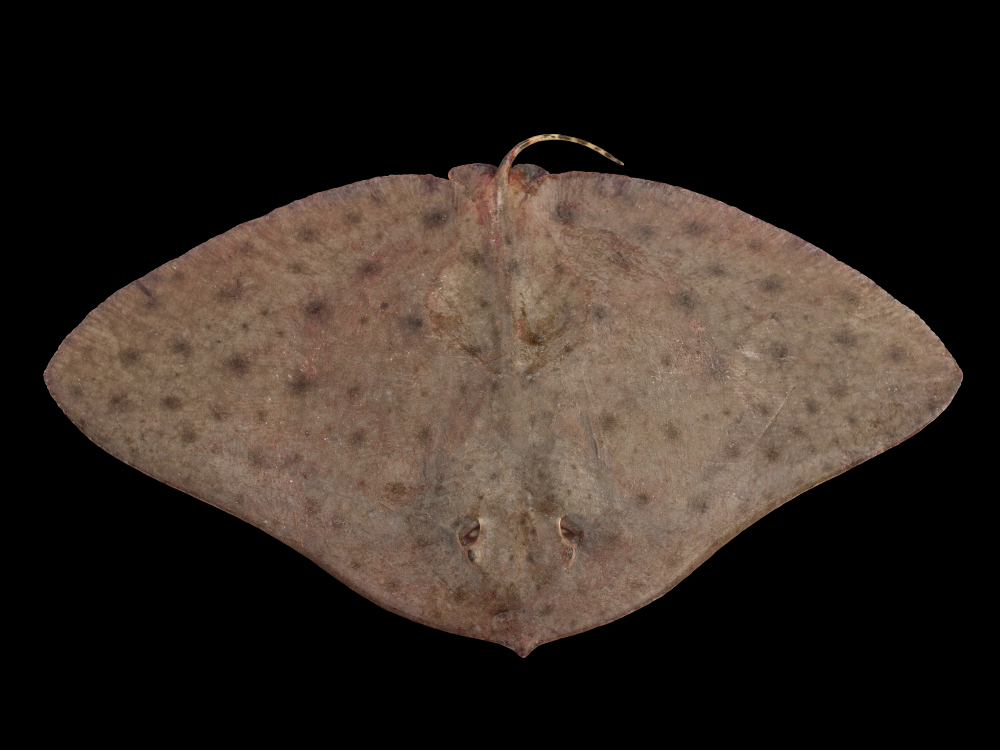 Gymnura micrura (BLOCH & SCHNEIDER, 1801), caught offshore off Paramaribo, Suriname, © Tomas Willems & Hans Hillewaert
Common names

Guayanesa,

Raya cola de rata,

Raya guayanesa,

Raya mariposa,

Raya mariposa menor,

Rayamariposa menor,

Raie-papillon glabre,

Butterfly ray,

Diamond skate,

Lesser butterfly ray,

Short-tailed butterfly ray,

Short-tailed lesser butterfly ray,

Skeete,

Smooth butterfly ray,

Arraia,

Arraia baté,

Arraia-borboleta,

Arraia-caã,

Arraia-manteiga,

Borboleta,

Carapiaçava,

Raia-borboleta,

Raia-manteiga,

Raia-mariquita,

Raia-olho-de-ovelha,

Raia-olhuda,

Uge-borboleta
Short Description
Broad, diamond-shaped ray with a very short tail lacking a dorsal spine
[17659]
. Snout protruding. Front edges of disk concave. Tail with low dorsal and ventral finfolds and 3 - 4 dark crossbars
[17658]
. Upper surface gray, brown, light green or purple with round spots. Lower surface white
[199]
.
Distribution
Western Atlantic: Maryland, USA to Brazil. Also Gulf of Mexico and northern South America to Brazil
[17659]
. Eastern Atlantic: Senegal, Gambia, Sierra Leone, Cameroon and Democratic Republic of the Congo (to the mouth of Congo River) (Ref.
4439
). Reported from Mauritania (Ref.
55783
). Nominal records from off Sri Lanka, India, Malaysia, Singapore, Viet Nam, Borneo and Sumatra in Indonesia, and the Philippines need to be verified if indeed it is the same species that occurs in the Atlantic (Ref.
9918
).
Human uses
fisheries: minor commercial; price category: medium; price reliability: unreliable: based on ex-vessel price for species in this order
Biology
Exhibit ovoviparity (aplacental viviparity), with embryos feeding initially on yolk, then receiving additional nourishment from the mother by indirect absorption of uterine fluid enriched with mucus, fat or protein through specialised structures
[733]
. Distinct pairing with embrace
[17086]
. Reproductive biology (data from 905 individuals were sampled, 377 of which were used for the reproductive study): Size at birth ranged from 135 to 175 mm WD (19·5 to 55·0 g), with a mean of 165·1 mm WD (43·3 g). The embryo sex ratio was not significantly different from 1:1. The ovaries of pregnant females were undergoing vitellogenesis during gestation, with females ready to ovulate soon after parturition.
[16817]
Feeds on fish and shrimps
[20216]
.
Size / Weight / Age
137 cm WD (male/unsexed; (Ref.
4439
))
Habitat
demersal; brackish; marine; depth range ? - 40 m (Ref.
5217
)
Remarks
shark-references Species-ID=2577;
Parasites (arranged by Jürgen Pollerspöck)
Monogenea
Cestoda
Trematoda
Hirudinea